SIPA S.p.A.
Via Caduti del Lavoro, 3
31029 Vittorio Veneto (TV)
Italy
+39 0438 911511
info@sipa.it
www.sipa.it
Company profile
News
Downloads
Contact
SIPA. The PET Specialist.
With 30 years of experience in PET containers solutions, SIPA has acquired considerable expertise in all available bottle manufacturing and filling technologies, from preforms to finished products, for the food and beverage, chemical products, cosmetics, detergents and pharmaceutical sectors.
SIPA is a technological partner whose main goal is to transfer its skills and expertise to its customers, offering innovative and competitive solutions to meet specific customer needs.
Our extensive product range includes equipment for production of preforms as well as single-stage injection-stretch-blow moulding systems and stretch blow moulding equipment (both rotary and linear), filling monoblocs, process equipment and a full range of robotised and palletising solutions. SIPA is also a mould maker for blowing and preform injection systems, both SIPA and non-SIPA, and it also has an important bottle design and engineering operation at the service of its customers.
With such a wide range of technical solutions, SIPA is able to offer a manufacturing scenario that best fits its customer's requirements, taking into account factors such as bottle cost, energy savings, space and the need for flexibility.
With headquarters in Italy, the company can rely on 17 sales branches, 3 manufacturing facilities (two sites in Italy and one in China) and 26 service centres for fast access to service, parts, and expert engineering support. SIPA also offers injection mould refurbishing and conversion services, with refurbishment centres in Italy, China, Japan, United States, Mexico, Brazil and South Africa.
Packaging solutions
Creating a better bottle
"Good design is partially creativity and innovation, but primarily knowledge and awareness." Chuck Green, designer, ideabook.com
We offer you a wealth of PET design, engineering and production knowledge all in one place. SIPA takes a truly holistic packaging development approach based on experience with the entire supply chain. Plus, SIPA is the only company offering innovation and engineering capabilities in both injection and blowing processes. You can consult SIPA experts for advice and solutions at any stage of the PET production process to keep costs down and productivity high. The packaging a consumer sees on the shelf greatly influences the purchase decisions. Ideally, bottle design marries perfect function with seamless brand expression. To reach that ideal, final containers and preforms must complement each other perfectly.
That's where our packaging expertise comes in. Our technical, creative and marketing professionals collaborate with you on all kinds of packaging projects. SIPA's "better bottle" development ensures you can achieve your goals for market appeal and functionality while reducing risks and costs. Design ideas undergo rigorous testing and development via process engineering and our uniquely advanced prototyping before moulds are manufactured to produce the final container.

Mould production
Technological leadership
With 30 years of technical experience in the field of moulds and machinery for the production of PET containers, SIPA is today the world's second-largest mould maker, with state of the art tooling facilities in 2 continents (Italy and China) and more than 350 people involved in the design and manufacturing of moulds.
SIPA is the only company offering innovation and engineering capabilities in both injection and blowing processes. You can consult SIPA experts for advice and solutions at any stage of the PET production process to keep costs down and productivity high.
SIPA is able to deliver global tooling programs for new moulds or mould conversions from single to 144 cavities. To ensure top quality, every SIPA mould is tested before shipping on dedicated XFORM machines. Over the years we have developed extensive knowledge of many different applications, even the most specialised ones, from narrow necks to wide mouths and thick walls.
SIPA offers capillary set-up and commissioning for installation of SIPA and competing machine moulds. Our field engineers will be right by your side to provide complete process solutions for SIPA and non-SIPA machines. We can also provide an accurate refurbishing and conversion service for PET preform moulds, with specialised centres in 4 continents.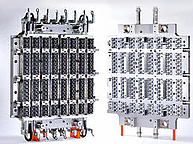 Injection moulds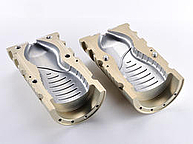 Blow Moulds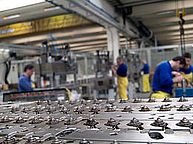 Refurbishment & Conversion
Preform and bottle production
Flexibility and innovation
SIPA is the only supplier on the market to offer a complete range of PET preform and container production systems. SIPA is a technological partner whose main aim is to transfer its own skills and experience to its customers, offering innovative and competitive solutions for every specific need.
Thanks to this extremely full range, SIPA is able to work alongside customers and select the production scenario that best satisfies their needs, taking into account factors such as bottle cost, energy savings, space and flexibility.
SIPA's offer comprises various families of machines for preform production, each of which has its own unique technology: single stage systems with high and low productivity and two-stage systems that include high performance line and rotating blowers.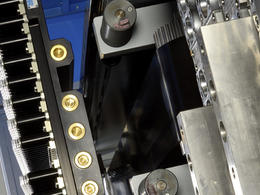 Preforms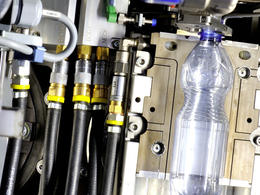 Containers
Complete lines
Complete, flexible and customised lines
Sipa specialises in the supply of complete bottling lines for PET bottles filled with mineral water, soft drinks, juices and sensitive products, milk and dairy products, edible oil, alcoholic beverages, food products, household detergents and personal care products.
A full range that combines diverse yet complementary skills, giving a 360° view of packaging. Sipa is the only supplier on the market capable of providing you with specific know-how for the entire bottling process, from the design and production of preforms and containers all the way to the creation of turnkey production lines.
A global service that is not only made up of technology and quality, but also of passion, creativity and the ability to listen to the actual needs of those who want to build a system with us: "building systems around our customer".
Sipa is the ideal partner with whom to imagine and create your projects: Feel free to imagine, we make it happen.
We provide solutions for extremely flexible, high efficiency and highly customised bottling lines: by means of engineering activities we are able to design solutions that satisfy our customers' most diverse manufacturing requirements.
The added value of the "line" product: engineering, standardisation and customisation.
WITH PLANT ENGINEERING THE DESIGN IS RATIONALISED BY COMBINING A NUMBER OF FACTORS, SUCH AS:
The customer's production needs.
The structural limits of the area in which the line is to be installed.
The machines and conveyors making up the system.
The cost of the individual components.
Our commitment to respecting the Environment.
System operating flexibility and optimisation of logistic flows.
Guaranteeing a reduced global TCO.
Our experience allows us to define specific standards, both for the quality of service and components (standardisation).
Finally, the systems are designed and created to meet the specific needs of each individual customer, while respecting the high standards of quality guaranteed by our Company. (customisation).

Mineral water

Carbonated beverages

Juice tea isotonic

Milk and dairy products

Edible oil

Alcoholic beverages

Food products

Non food products