SMI S.p.A.
Via Carlo Ceresa, 10
24015 S.Giovanni Bianco (BG)
Italy
+39 0345 40111
+39 0345 40209
info@smigroup.it
www.smigroup.it
Company profile
News
Downloads
Contact
The role of producers of bottling and packaging technology as SMI is particularly important for the success of companies operating in the food & beverage, household cleaning, personal hygiene, chemical and pharmaceutical sector. Success which can be achieved only through an optimal combination of competitiveness, cost-effectiveness, efficiency and environment-friendliness of the manufacturing process.
With the launch of the ERGON technology SMI has shown its extraordinary capability to supply advanced solutions to the market and to provide efficient, flexible, eco-friendly, ergonomic, easy-to-monitor and easy-to-manage bottling lines and packaging machines, even more inspired by Industry 4.0 and Internet of Things (IoT) principles.

The SMI Group's data as of 31.12.2022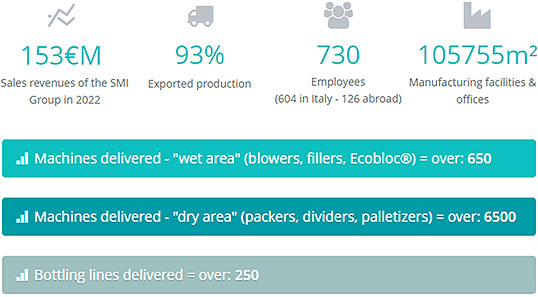 SMI innovations meet the beverage and "liquid food" industry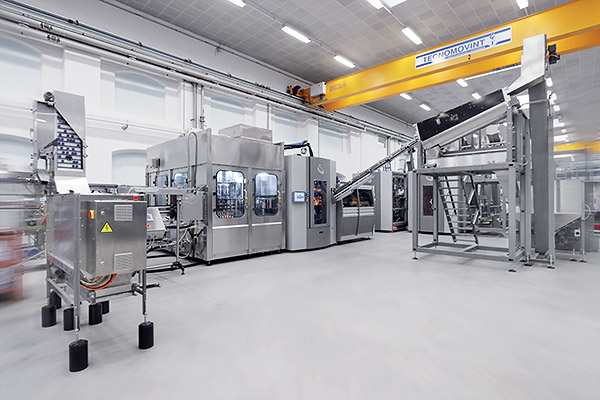 The SMI Group is today one of the world's largest manufacturers of bottling and packaging plants, able to meet production requirements up to 50,000 bottles/hour, devoted to the liquid food industry and standing out for low power consumption, high performances and a quality/price ratio among the best in the market.
SMI stretch-blow moulders: the ideal solution for the production of PET and rPET containers up to 50,000 bph
SMI rotary stretch-blow moulders are available both stand-alone (EBS ERGON series) and integrated into complete stretch-blow moulding, filling and capping systems (ECOBLOC® ERGON series).
The EBS ERGON series of stand alone stretch-blow moulders includes:
EBS K ERGON models, from 2 to 4 cavities, ideal for the production of PET bottles from 0.10 to 3 litres, with a maximum output of 2,500 bph/cavity*;
EBS KL ERGON models, from 4 to 10 cavities, ideal for the production of PET/rPET/PP bottles with a maximum output of 2,500 bph/cavity*;
EBS E ERGON models, from 12 to 16 cavities, capable of producing bottles from 0.10 to 3 litres, with a maximum output of 2,500 bph/cavity; (*)
EBS KL HC (High Capacity) ERGON models, from 3 to 6 cavities, specifically designed for the production of high-capacity containers (from 3.5 to 10 litres) with a maximum output of 1,200 bph/cavity; (*)
(*) *depending on the machine model and the container type and size.

Top-notch reliability and efficiency. Why to choose SMI EBS stretch-blow moulder.

The EBS ERGON series of rotary stretch-blow moulders ensures high performances in the stretch blow-moulding of PET, rPET, PEN and PP bottles.
Thanks to high-tech components, minimized maintenance and operational costs and excellent quality/price ratio, the EBS ERGON series is the ideal solution for the production of plastic containers of different capacities, featuring various shapes, from the most simple to the most sophisticated ones.
A long list of advantages:
1) EBS E ERGON SERIES
compact, ergonomic and functional frame, capable to considerably simplify its running, cleaning and maintenance operations and to ensure significant space saving in the bottling line;
new preform heating module, characterized by compact dimensions, horizontal frame of the preform-holding mandrel chains (37 mm pitch for the production of bottles up to 3 L) and an optimized ventilation system. The new heating module is equipped with heat-reflecting, high energy efficiency panels made of composite materials positioned both on the front and to the rear of the he at lamps in charge of preforms heating. It ensures a high reflection of the heat generated by the lamps and its more uniform distribution on the preforms surface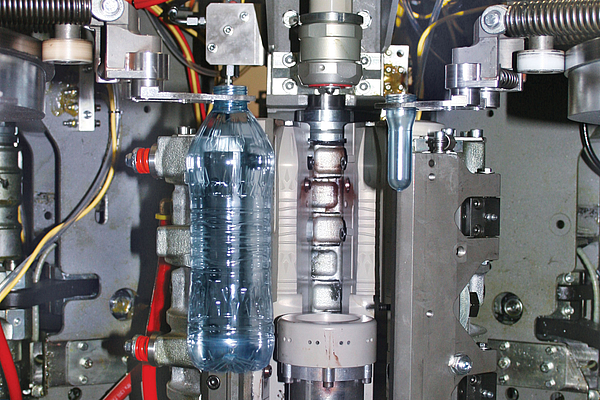 blow-moulding module equipped with motorized stretching rods whose functioning is controlled by electronic drives with no need of mechanical cams. This new technology enables a precise descent of the stretching rod, an accurate control of its position, remarkable energy savings along with a reduced stress generated by the vibrations of mechanical components. Moreover, this new technology enables to adjust the stretch-blowing speed without mechanical interventions (cams replacement)
high performance, low dead volume valves system which has reduced the pre-blowing and blowing times with the subsequent great advantage in terms of machine's efficiency and quality of the final bottles
automation and control by Motornet System®, which ensures the constant keeping of optimal working parameters during the whole production cycle and directly adjusts the machine's settings, simplifying format changeovers

2) EBS K AND KL ERGON SERIES
the preform heating section (tunnel) is integrated with the stretchblow moulding section (carousel) in a single, extremely compact module, that makes the system suitable to installation even on small bottling lines. This innovative preform heating module, integrated in the machine module with the stretch-blow moulder carousel features a horizontal preform feeder chain and an optimized ventilation and aeration system.
the structure that contains the tunnel and the carousel is equipped with slightly rounded safety doors, providing more space inside the machine to perform cleaning and maintenance tasks easily and safely.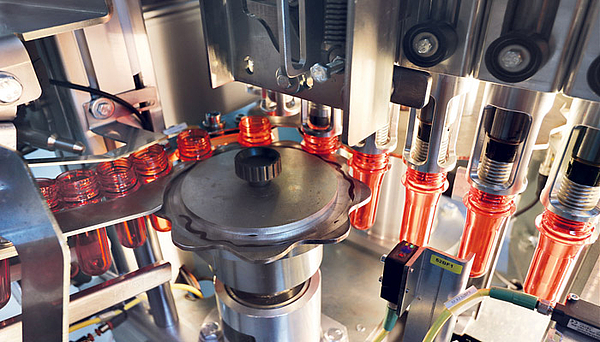 The carousel of the stretch-blow moulder is equipped with motorized stretch rods controlled by electronic drives and do not require mechanical cams. This innovative solution ensures precise control of the stretch rod's path and position, as well as significant energy savings. It also makes it possible to change the stretching speed without mechanical intervention (switching cams) and greatly reduces the vibration stress on the blowing carousel compared to traditional solutions.
the stretch-blow moulding system uses high-performance, low deadvolume valves that reduce pre-blowing and blowing times, thereby improving efficiency and the quality of the bottles produced.
the mechanical assembly of the mould is equipped with its own motorization, which ensures the utmost precision for the up/down motion of the mould bottom and the opening/closing of the mouldholder unit. The integration of this innovative solution with the electronic stretch rod system, makes the SMI ERGON EBS K stretch-blow moulder a "cam-free" system, with considerable advantages in terms of greater kinematic accuracy, less maintenance, less vibration, less noise and increased system life.
the machinery is managed by the Motornet System® for automation and control.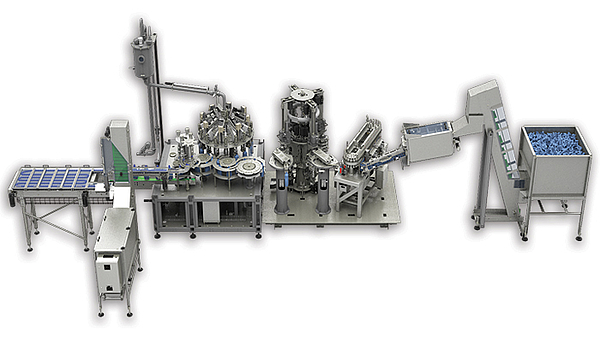 ECOBLOC® ERGON series of integrated systems of blowing-filling- capping
Is the ideal solution for manufacturing, filling and capping PET, rPET, PEN and PP containers of many different sizes and shapes, from the simplest to the most complex and innovative. Combining stretch-blow moulding, rotary electronic filling and rotary capping in one single machine offers major economic benefits:
No need for a rinser, accumulation conveyors and conveyors between the blower and the filler;
Virtual elimination of container contamination risks;
Considerable reduction of line inefficiency causes.


ECOBLOC® range can be used in several sectors: flat and carbonated water, fresh milk, juices, edible oil, vinegar, CSD and detergents.
The table below shows the possible combinations of stretch-blow moulders and fillers for the creation of ECOBLOC ® solutions, according to the product type and the speed (indicated in bph).
The electronic filling system is based on the use of a flow meter for each filling valve. The flow meter detects the flow of the product being filled into each bottle; once the correct volume is reached, the flow meter controls the closing of the filling valve.
Characterized by a high operational flexibility and capable of meeting the market requirements in terms of hygiene, reliability, ease of use and maintenance, electronic fillers can be divided as follows:
HEVF series suitable for filling flat water, vinegar, juice, fresh milk and detergents
HEMF series suitable for filling oil
HEVS series suitable for filling carbonated products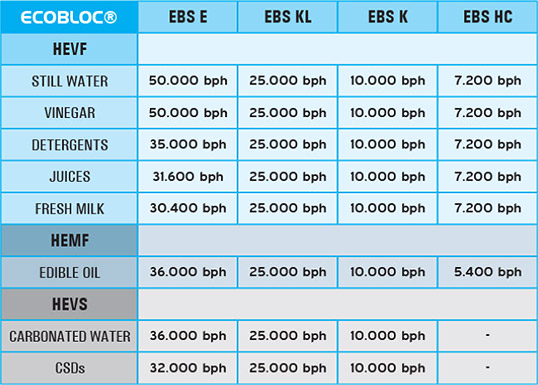 The advantages of the ECOBLOC® ERGON integrated solutions.
The ECOBLOC® ERGON series offers the end user countless economic benefits such as:
modular and compact design, which combines in a single block the stretch-blow moulding, filling and capping modules;
low consumption of water and energy, thus allowing low running and maintenance costs and safeguarding the environment;
excellent accessibility and easy maintenance operations;
automation and control system allowing the management of the system by only one line operator through a simple and userfriendly man-machine interface;
high precision system, for the application of screw caps and pressure caps;
cap hopper feeding placed outside the machine at a height easily accessible by the machine operator;
electronic filling system: no contact between the bottle and the filling valve (in case of still products).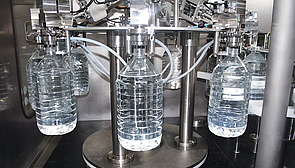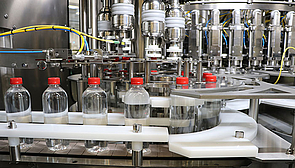 SMI solution for the "green factory"
The rotary, compact, efficient and ergonomic stretch-blow moulders from the EBS ERGON range, in stand alone or "combi" version, perfectly meet eco-friendly strategies and the new manufacturing paradigms of "smart & green factory".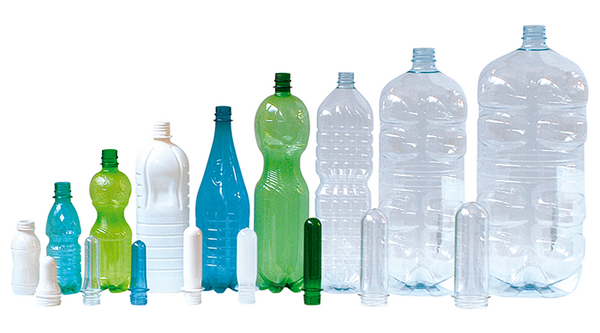 Ideal system for producing PET and r-PET bottles
The use of r-PET (recycled PET) for manufacturing new bottles is the core concept of circular economy, that consists in collecting materials after they have been used and processing them, so that they can be reused or recycled. Every time a PET container is recycled, its oil reserve is recovered and reused, eliminating the waste and reducing the packaging environmental impact, provided that efficient systems for managing waste and recycling exist.
Light bottles
Another strategy that contributes to the environmental protection is based on the design of even lighter PET containers, that allow to save on plastics and that, indeed, fully comply with the environmental policy of most manufacturers of beverages.
The idea takes shape
From the design to the production of containers
SMI designs and manufactures moulds and machines for stretch-blow moulding, filling and packing containers in PET. Thanks to a team of highly specialized engineers and latest generation tools, SMI is able to design, develop and virtually prototype a wide range of packaging solutions in rPET and PET, according to the customer's specific requirements.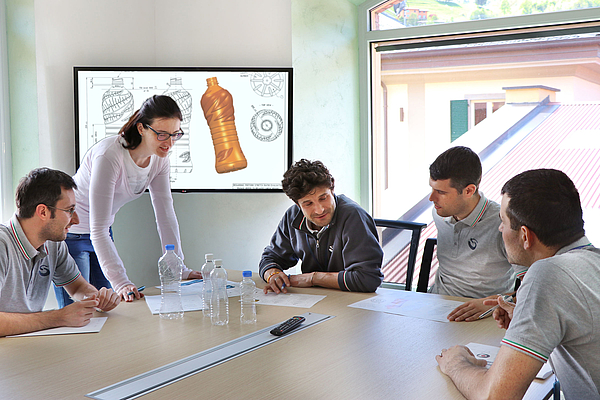 Advanced 3D CAD Department for the design and graphic processing of the bottles;
accurate analysis of the customer's requests;
design of different containers, featuring various shapes, from the simplest to the most sophisticated;
Moulds production
special laboratory for the production of moulds and mechanical components;
moulds made of a special aluminium alloy;
more than 15,000 moulds produced per year;
a top-quality level of the moulds fabricated;
company equipped with an FMS line consisting of 12 CNC machining centres: highly automated machines, running 7 days a week round the clock;
Preform and bottle check
modern laboratory, equipped with sophisticated technologies for preform check;
preform size test through a video-camera and special software comparing the dimensional parameters, measuring their thickness by infra-red rays and verifying the polymer homogeneity through polarized light equipment;
testing of new materials or applications, especially multi-layer or hot filling preforms.
Testing of the bottle design in order to certify and guarantee that the bottles meets pressure and volume expansion.
Detergents in PET. Practical, safe and advantageous choice
Now more than ever we are surrounded by PET containers of sanitizers and room and personal hygiene detergents.
Safety, functionality, innovation and ergonomics are the main features that the containers used by manufacturers of detergents and sanitizers must have. These characteristics can be easily achieved by using a packaging material that is now back in fashion: plastics.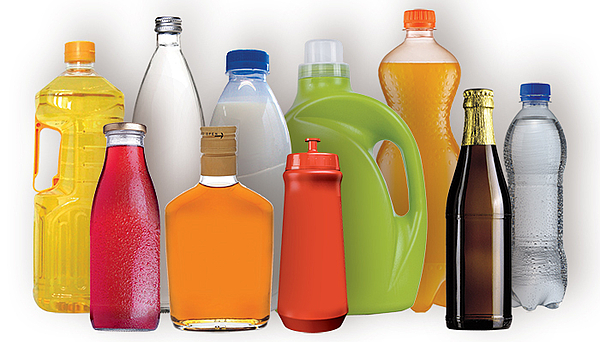 The advantages of plastics (especially of PET) in the production of containers for personal care and pharmaceuticals are many. This material is cheaper than other packaging solutions, it is light, flexible and has a high resistance: a very useful feature, especially during the transport and storage of products; furthermore, the processing of plastics requires less energy compared to other materials (such as glass).

Smart bottling and packaging complete lines
SMI is specialized in the design, manufacturing and installation of complete lines for bottling and packaging flat and carbonated beverages and liquid products in PET containers from 0.10 to 10 L and with output capacity from 3,600 to 50,000 bottles/hour.


SMI offers complete bottling and packaging lines equipped with cuttingedge technological solutions for energy saving and cost reduction. SMI innovative technical solutions enable to dramatically cut the production costs of each bottle produced by the plant thanks to specific devices designed to save energy and streamline production cycles of every machine in the plant.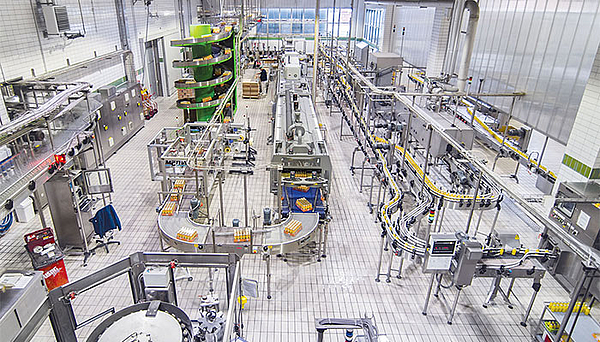 An advanced automation and control system, equipped with sophisticated sensors distributed all along the bottling line, enables to achieve high machine yields in all of the steps of the manufacturing process; furthermore, highly-automated equipment allow optimising the employment of raw materials, work force and energy resources thus improving the environmental and social compatibility of the solutions proposed.

Augmented Reality Glasses: when technology helps the operator remotely

Today, thanks to augmented reality, every SMI customer can benefit from immediate technical support in real time, even if they are thousands of kilometers apart. SMI has developed a remote support service, inspired by the most recent innovations in IoT and Industry 4.0, which uses augmented reality technology to create a " virtual presence" communication system.
SMI technicians can provide increasingly effective, timely and high-quality remote support to the customer's operator, in charge of managing the machines and / or plants, guiding him during repairs and maintenance by sharing useful and practical information.
By wearing special glasses, called Augmented Reality Glasses, the machine operator can remotely, send real-time images of the problem he is facing, to an SMI expert at the Help Desk, in order to receive direct and immediate instructions on how to resolve the critical situation.
Main advantages:
Easy to use by any operator
smart and efficient tool: thanks to audiovisual support, the operator does not have to send e-mails and heavy attachments (images and videos) to receive immediate assistance
technical assistance in real time during the operating hours of the SMI Help Desk
precise and effective remote service: seeing a situation live allows you to solve problems "at a glance"
reduction of machine downtime and consequent higher productivity
reduced costs: the new tool ensures savings on travel costs, as for medium-low complexity problems it will no longer be necessary to pay a technician and all the costs associated with his intervention at the plant where the machine is located.

Upgrades: the benefits of the latest technologies within everybody's reach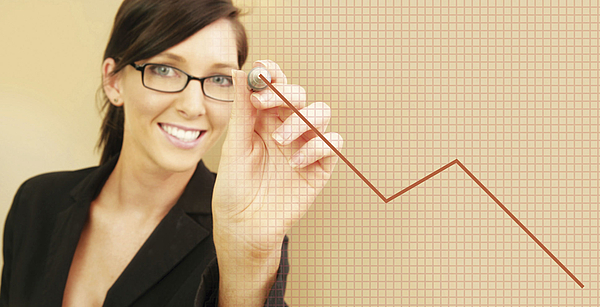 Thanks to an intense activity of Research & Development, SMI machines are constantly innovated and enhanced by adding new models and variants equipped with the latest technology; the latter enables the machine's end user to benefit from greater operating flexibility, lower production and maintenance costs and higher energy efficiency.
All customers who wish to improve the efficiency and streamline the performances of their machines can take advantage of a broad offer of upgrades, new applications and additional functions that SMI has created for packers, blowmoulders and palletizers. Upgrades are installed by specialized engineers of SMI's after-sales service, in order to ensure a perfectly done job and a quick restart of the machine.

The SMI Group in the world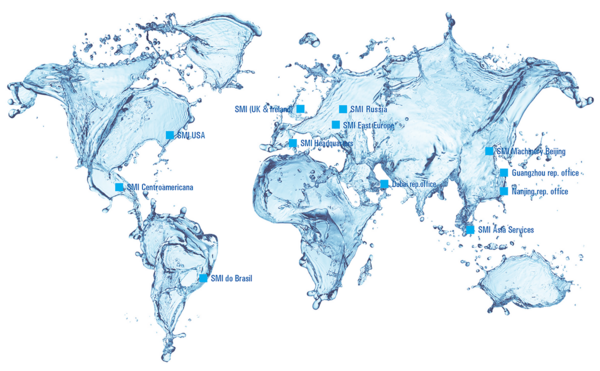 The SMI Group operates outside Italy through a widespread network of branches and representative offices.
No contact data available