Stretch-Blow Moulding
SMI: From the source to the table quality in a rPET bottle
| Blow Moulding & Coating |
SMI S.p.A.
| San Giovanni Bianco (BG) | Italy
100% rPET bottle for pure spring water - When we talk about water purity, it is inevitable to think about the accurate work carried out by the Societé des Eaux de Volvic, company part of the Danone Group that has continuously invested in new solutions for preserving the quality. For stretch-blow moulding, filling and capping 8 L containers, with a square base, in 100 % recycled plastics (rPET), Volvic has recently turned to SMI for the installation of an integrated system ECOBLOC® ERGON HC.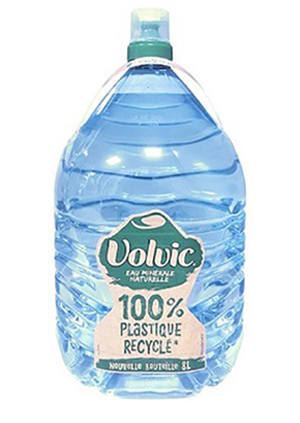 Designed to ensure respect for the environment, the new eco-friendly bottle is the result of joint work between the specialists at Danone and at SMI, which has allowed to develop a preform able to guarantee the constant resistance of the container during the stretch-blow moulding process.
Packaging, indeed, plays a key role in the maintenance of water purity and the high regard of environmental issues has led Volvic to develop innovative solutions for the recycling of PET, so that a new bottle can be produced from an old one.
SMI solutions for Société des Eaux de Volvic SA
The complete production process has been designed so that every step of the bottling process is kept under constant control; for this reason, the machine supplied by SMI has been integrated with sophisticated inspection systems, that, starting with the preforms, carry out a long series of checks to maintain the quality and the purity of the spring water.
Main advantages:
compact and flexible solution with low operating and maintenance costs;
isolating system between the dry area of the stretch-blow moulder and the wet one of the filler through a jet of sterile air in excess of 5PA, that acts as a clean room and guarantees a clean, hygienic filling system;
innovative preform suction system, situated on the heating tunnel infeed star to remove any tiny impurities;
machine equipped with sophisticated inspection systems with cameras, in order to guarantee the quality of the bottled water and monitor the production process;
preforms are blown with sterile air in a sterile environment; this sterility is maintained for all the process of filling and capping;
precision and fast operation, thanks to an electronic operation control system to motorized stretch rods and the use of high efficiency valves controlled by flowmeters;
reduced energy consumption thanks to a double stage air recovery system installed on the stretch-blow moulding module;
high energy efficiency, thanks to IR ray lamps installed on the preform heating module;
filling area designed for the COP (Cleaning Out of Place) and equipped with optional systems of stainless steel bulkheads to separate the wet area of the filler from the dry area of the stretch-blow moulder;
base of the filling area made of stainless steel and slightly sloped to ensure that any split liquids go down the drains;
sterilization of the caps through jets of ionised air on the cap channel.
---
Stay updated with our weekly PET briefing newsletter
Subscribe now
Back