Krones AG
Böhmerwaldstraße 5
93073 Neutraubling
Germany
+49 9401 70-0
info@krones.com
www.krones.com
Company profile
News
Downloads
Contact
Everything you need for PET
The closed PET cycle under one roof
Can plastic packages be sustainable? Yes, they can, if the process for producing them is resource-economical and if they are kept in a closed cycle. You can achieve both of this with technology from Krones and the services it provides. Starting with material-saving packaging design, then low-energy container production right through to recovery of used plastics: Krones offers PET bottles and other packages a chance for a sustainable, eco-compatible life-cycle – not only once, mind you, but again and again.
Practicably planned and profitably practised
A sustainable beverage factory with a closed PET cycle? As things stand at present, that may still be a vision of the future, but it is definitely within reach, because all the building blocks needed to accomplish this do in fact already exist. And each of them is aimed at rendering sustainable use of resources as simple and profitable as possible.
---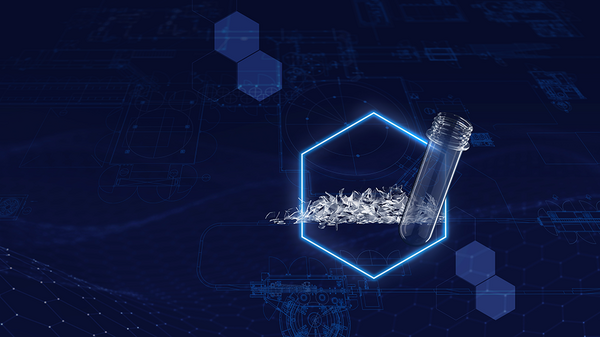 Preforms
In the preform production process, every tenth of a second in cycle time and every tenth of a gram in weight count. And there are plenty of potentials for meaningful savings. To exploit them, two things are necessary: firstly comprehensive knowledge of the properties and the behaviour exhibited by the various preform materials, and secondly a profound insight into the production processes involved – both into preform injection-moulding and into the salient aspects governing subsequent container stretch blow-moulding. You will find both of these in the Krones Group.
MHT AG, a company that has specialised in making PET tools for producing preforms, has been part of the Krones family since 2018. Its performatively excellent high-tech injection-moulding tools
image all preform designs and threads in common use;
are suitable for almost all machine platforms known on the market;
are based on an innovative hot-runner technology developed in-house.
---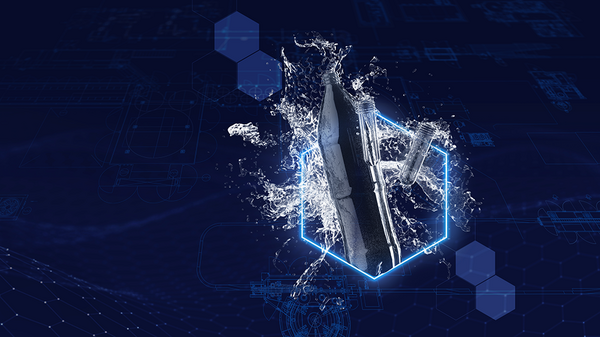 Containers
The ideal package offers persuasively attractive pluses in all situations: in the production process and at the point of sale, during transport and finally during recovery as well. Since Krones has signed up to providing holistically conceived solutions, development work on both bottle design and machine technology goes hand in hand. It is only when both these aspects supplement each other to perfection that the best solutions are arrived at – for producers, consumers and the natural environment alike.
The packaging designers from Krones
advise clients on design, material, product requirements and technical implementation of packages;
optimise existing designs in terms of weight, haptics and line efficiency;
possess in-depth expertise in the ecological and economic requirements involved, such as material selection, recyclability or weight optimisation.
A whole bandwidth of different technical solutions can be found in the Krones portfolio for the journey from the preform to the ready-for-sale product. And the innovation process embraced by Krones sees to it that these solutions grow in line with more stringent market requirements and also provide answers to the challenges of tomorrow. One element of crucial importance in this context is the enviro sustainability programme, because it makes sure that any newly developed products, and any upgrades, too, are focused on eco-efficiency and environmental compatibility right from the start.
Contiform paves the way to the future
The fourth generation of the Contiform is here! It uses the market-proven technology of its predecessor – but only as a basis. For be it flexibility, hygiene, user-friendliness or digitalization: In the course of a complex development project, the blow moulder has been given a whole series of new features and optimisations. Among them, for example, the Air Wizard Triple: a three-stage air recycling system that is unique on the market and reduces compressed air consumption by another 20 percent.
Contiform also proves to be a pioneer when it comes to AI: The automatic Contiloop AI process control makes it possible to detect the smallest deviations in the material distribution during the production of PET containers and to adjust the decisive blow moulding parameters automatically and in real time – thus ensuring a defined bottle quality.
Quantum leap in block technology
When it comes to output per square metre, the current ErgoBloc L is in a league of its own. The wet section block produces up to 100,000 containers per hour – and requires 70 percent less space than conventional lines. At the same time, it proves that a record output does not require a record consumption, quite the opposite. That is from the servo drives to the electromagnetic and stretching systems free of compressed air: The topic energy efficiency goes all the way through the entire technical components just like a red thread.
Another highlight of the machine: the "no bottle – no label" function. If, for example, there is a gap at the labeller infeed due to service rejection in the blow moulder, no label is transferred to the vacuum-grip cylinder. At the same time, the relevant vacuum bars on the vacuum-grip cylinder are retracted in front of the gluing unit. The advantages are plain to see: On the one hand, neither labels nor glue are wasted, and on the other hand, gaps in the container flow no longer affect the efficiency of the machine and thus the entire line.
---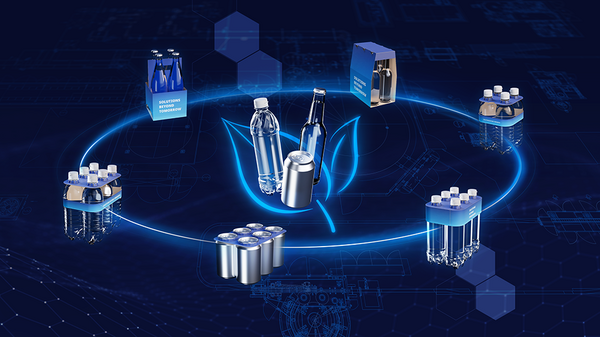 Secondary packaging
When it comes to economising on material, then the paramount focus is often on the beverage containers. But if you take a closer look, you can detect quite a bit of savings potential with the secondary packaging as well.
The Variopac Pro packer offers several options for perceptibly cutting the consumption of shrink film – by upgrades aimed at reducing
film thickness down to 25 µm;
the amount of film required to be protruding at each side;
the amount of film remaining on the reel.
The LitePac
is created by wrapping two strapping bands around the containers to be packed – thus saving up to 65 per cent of the material costs incurred for a shrink-pack;
consumes up to 90 per cent less energy in production and causes up to 70 per cent less waste than shrink-packs;
can be produced in the EvoLite packer at high speeds.
The strapping bands are produced from homogeneous raw materials and pose no problems at all during recycling.
---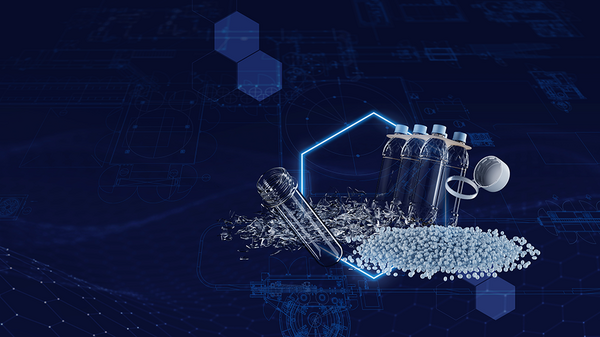 Recyclate
Buy, drink – and that's it? Not by a long way! From a consumer's viewpoint, the lifespan of a PET bottle may seem short. But the bottles themselves know better. After all, they are made of a material with outstanding recycling properties. And that talent can be utilised again and again.
So it is all the more surprising that billions of PET bottles per year are still not being re-used – meaning a gigantic raw-material source is simply lying fallow. The Ellen MacArthur Foundation estimates the value of plastic waste unused today at 80 to 120 billion dollars a year. An enormous potential just waiting to be tapped. And that's not all: recycling plants turn waste into new products – and can thus make a substantial contribution towards reducing the global littering problem.
The MetaPure recycling systems
Recycle PET containers

into flakes (on request with direct downstream processing into new products)
in different material qualities
right up to food-grade PET in line with FDA, EFSA and other certificates

Recycle containers made of polyolefins (PO)

into flakes
in the upcycling approach for high-quality re-use

Are available as individual machines – or in the shape of a complete single-sourced recycling plant
Jochen Forsthövel
Expert Product Management Plastics Technology
Germany