CYPET Technologies Ltd.
45 Lefkosias Str
Dhali, Nicosia
Cyprus
+357 22 610 700
ue.tepyc@ofni
www.cypet.eu
Company profile
News
Downloads
Contact
CYPET Technologies LTD is a European manufacturer of innovative single-stage Injection Stretch Blow-Moulding (ISBM) systems, that transform PET resin directly into finished containers such as bottles, jars, jerrycans, drums and pressurized containers. CYPET serves its global customer base on all five continents from its headquarters based in Nicosia, Cyprus, with additional offices and manufacturing facilities in Ahmedabad, India.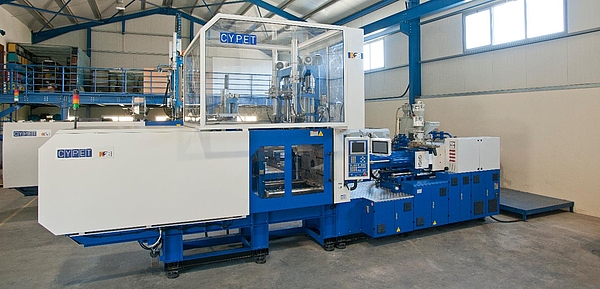 CYPET Single Stage Injection Stretch Blow Molding Machine
The technology of CYPET's production machines is world leading with respect to its flexibility and very low energy consumption. Packaging producers can now incorporate handles as one piece with the blown container, can produce containers from tiny 20ml bottles up to huge 120Ltr industrial drums and can use their CYPET machine both as a blow molding system as well as a standard injection molding machine.
CYPET's industry-changing innovations have been recognized internationally – CYPET won the Cyprus Innovation Award in 2017 and its world-first 120Ltr PET Drum was a finalist in the global Sustainability Awards in 2019. Throughout its history CYPET has been awarded both local and European grants relating to business innovation, helping the company to accelerate the development of its technologies and products.
The CYPET Process is set apart from conventional single-stage technologies in that it utilises a single clamping unit for opening and closing both the injection and the blow moulds. As a result, instead of using a specially designed machine, the process utilizes the clamping unit (and injection unit) of an injection moulding machine base, converting it into a single-stage machine by integrating it with a stretch-blowing unit, a set of moulds and a control system. The stretch-blowing unit carries out the functions of transferring the preforms from the injection to the blow moulds, blowing them into containers and removing the finished containers.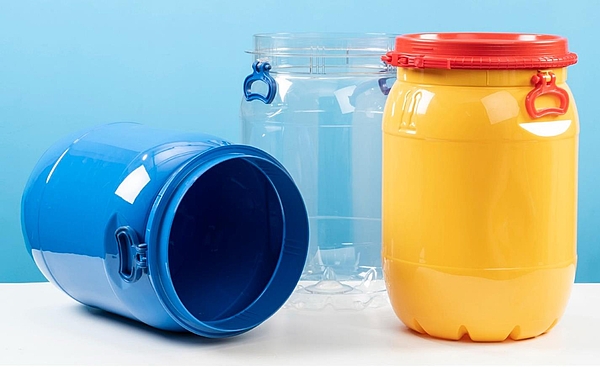 Next Generation Industrial Packaging: PET Drums
The company focuses on PET processing because PET has very good mechanical properties and excellent recyclability. It can be easily separated from other plastics in mixed waste, can be re-used as re-grind or recycled into granules with equal properties as the virgin material, including suitability for food contact. Therefore it can be recycled repeatedly, making it ideal for use in a circular economy.
CYPET systems retain all the advantages of conventional single-stage systems, while offering a range of important additional benefits:
Lower Electricity Consumption.
Lower investment cost for equivalent output.
Ability to mould very large containers – allowing PET containers to expand into new markets.
Ability to integrate handles as one piece with blown container – lowering costs, improving ergonomics and making recycling easier. PET containers can now replace HDPE containers with handles.
Higher production flexibility – allowing operation in multiple markets using just one machine.
All-electric production – especially suitable for medical, pharmaceutical or food contact applications.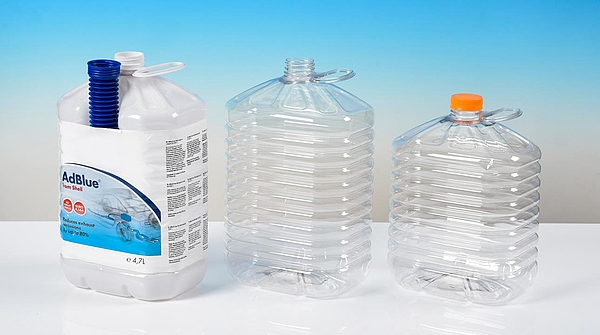 PET Jerrycans with handle are replacing HDPE equivalent jerrycans at a fraction of the cost
We are customer focused and committed to maximising the value we provide, not only via the products we sell but also with additional bottle development services, 24/7 technical support and commercial support. Whether you are new in PET container production or an established company looking to lower costs, make new products and enter new markets, or an end user looking to vertically integrate, CYPET can offer solutions that maximise return on investment and keep you ahead of the game in an ever more volatile and competitive world.
No contact data available