Injection Molding
Milacron to feature a number of injection molding machine firsts at Fakuma 2018
| Injection moulding | Milacron | Cincinnati, Ohio | United States
Milacron, a leading industrial technology company serving the plastics processing industry is pleased to announce their upcoming participation at Fakuma 2018. This year's Fakuma will take place October 16-20th in Friedrichshafen, Germany. Milacron will be in hall B3 – Booth 3203, displaying its industry-leading technologies including Milacron injection molding machines, Mold-Masters hot runners and control systems, DME mold technology solutions and industrial supplies as well as TIRAD high precision mold bases. This year's Fakuma will feature a number of firsts for Milacron's injection portfolio in Europe.
Milacron CEO Tom Goeke was quoted "As always Milacron is pleased to attend the Fakuma trade fair. Fakuma is known as a leading technical event for the plastic injection molding industry. Milacron Europe has some expanded offerings we're excited about including our newest toggle machine the Quantum T and the European debut of Milacron M-Powered. I'm certain that all of our current and prospective customers will be impressed by the M-Powered IoT suite of products, our revamped injection portfolio and our unmatched Aftermarket service and support offerings." Goeke added,
"All of Milacron's product brands place great value on our European customers, and we continue to invest and plan for the future. We have a technical team of experts to support a robust service and technology organization in Europe. I invite all customers new and old to stop by the Milacron booth to connect with our team."
This press release will focus on Milacron's injection machine technologies, Milacron's M-Powered suite of connected services and industry-leading Aftermarket Service and Support. Mold-Masters and DME technologies featured at Fakuma 2018 will be covered in subsequent press releases.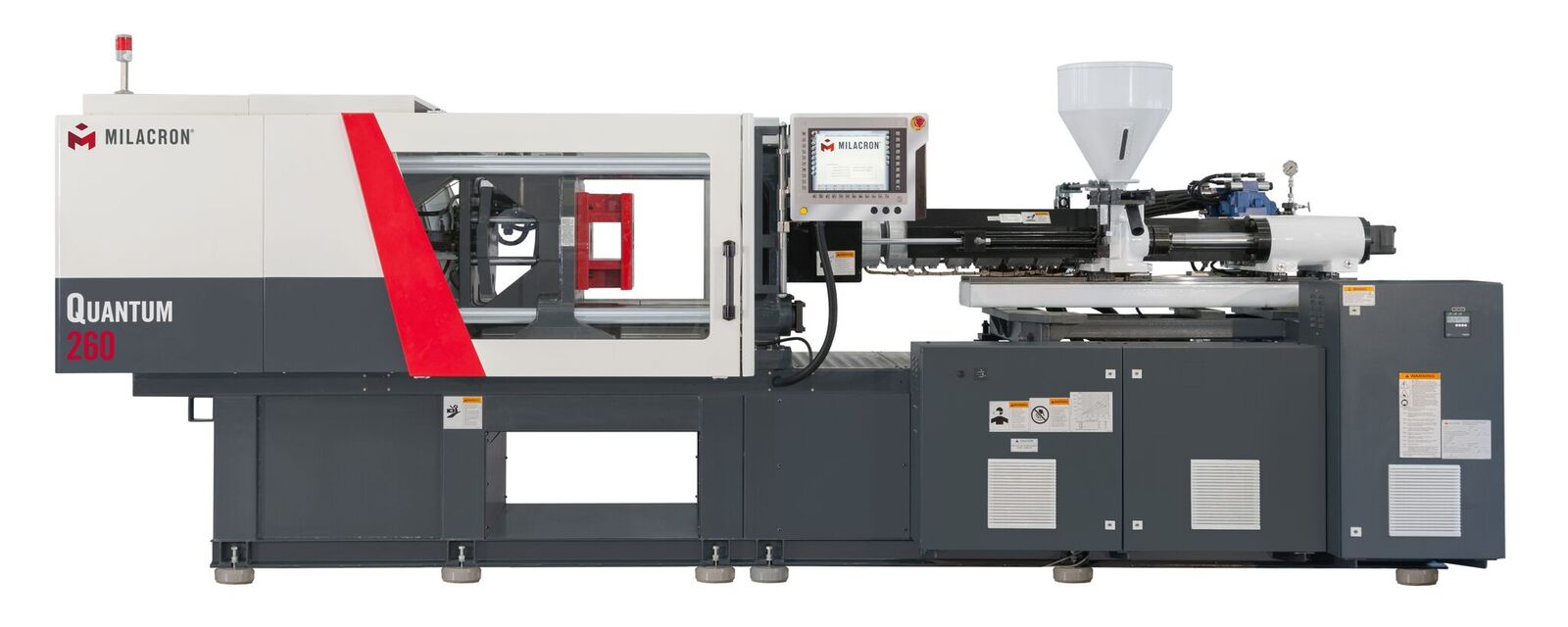 NEW Milacron M-Powered Suite of Connected Services – European Debut
Milacron's M-Powered suite of connected IoT solutions makes its European debut at Fakuma 2018. M-Powered is a portfolio of easy-to-use observational, analytical and support services that allow molders a competitive advantage through insight. M-Powered provides unique intelligence on a molders current operations and future needs, sharpens manufacturing quality and productivity, and optimizes uptime.
Milacron Chief Marketing Officer Giovanni Spitale stated, "Plastic parts: Making them better, faster and cost-effectively – That simple statement is at the core of everything Milacron does. Where does our IoT and connectivity offering play into all this? IoT optimizes our service availability by creating a technical link between our customers and Milacron technical experts. We use technology to be faster, more efficient and always available for our customers. We call it M-Powered."
M-Powered enabled machines currently include remote service capability with OEE and downtime analytics, and data collection with maintenance and parts recommendation intelligence. M-Powered also includes full API integration as a standard setup in addition to applicable hardware such as our Red/Green Boxes and dedicated network security.
Milacron M-Powered is based on "Big Data," qualitative art, and quantitative science and aims to continuously improve asset utilization and production efficiency. The Milacron M-Powered product offering will continue to advance and evolve, and Milacron is currently scheduling releases later this year to include services such as the M-Powered Fingerprint.
All-Electric Elektron EVO 155 with iMFLUX Technology – The Debut of iMFLUX Molding Technology on a Milacron Injection Molding Machine
The Elektron EVO is the product of Milacron's years of innovation in all-electric injection molding technology. The Elektron EVO was designed for a full range of applications, in a wide variety of sizes, offering outstanding value to customers to help them achieve their plastics manufacturing goals. The Elektron EVO uses 60% less energy and 90% less water than hydraulic injection molding machines, reducing operating costs substantially.
Setting the standard for movement repeatability, Elektron's stroke precision of servo-driven axes is significantly greater than top hydraulic systems, making it the best injection molding machine for the reliable production of high-precision parts. With no oil disposal, leaks or slipping hazards, Elektron EVO is perfect for clean room environments regardless of machine size needed.
---
Stay updated with our weekly PET briefing newsletter
Subscribe now
Back