Sustainability
Amcor recommends its AmPrima™ shrink film with PCR content to increase sustainability
| Global themes | Amcor | Ann Arbor, MI | United States
Bottled beverage producer seeks added sustainability benefits without compromising the run speeds and machinability necessary to their efficiency and profitability. Solution: AmPrima™ plus 30% PCR content.
With brands increasing their focus on 2025 sustainability pledges, exploring additional sustainability options is becoming increasingly central to meeting their goals. Many bottled beverage producers have smartly chosen Amcor's AmPrima™ recycle ready polyethylene (PE) shrink film over corrugate and paperboard because it uses less energy and lowers greenhouse emissions in the distribution channel, without compromising run speeds and machinability. PE shrink is one of the most recycled types of plastic films in the U.S., collected through the 18,000 in-store drop-off locations in North America or curbside where available (1).
By expanding efforts to close the loop on a circular economy – with post-consumer recycled (PCR) content – additional sustainability benefits can be achieved while providing the same versatility and performance as standard PE shrink films.
Recently, a bottled beverage producer asked Amcor for help to improve the sustainability metrics for their shrink film and adding 30% PCR content was the solution. AmPrima™ films with PCR content still maintain recyclability through the same drop off schemes, but the benefits multiply to provide a more sustainable package. By closing the loop, the brand improved its sustainability impact with an additional:

Amcor provided support to the producer to obtain How2Recycle® labelling, helping to provide an additional brand connection to sustainability focused consumers. Of consumers who saw the label on a product, 77% said using the label fostered a positive impression of the company (3). The How2Recycle® labeling system communicates recycling instructions and is instrumental in supporting the plastic-film recycling value chain.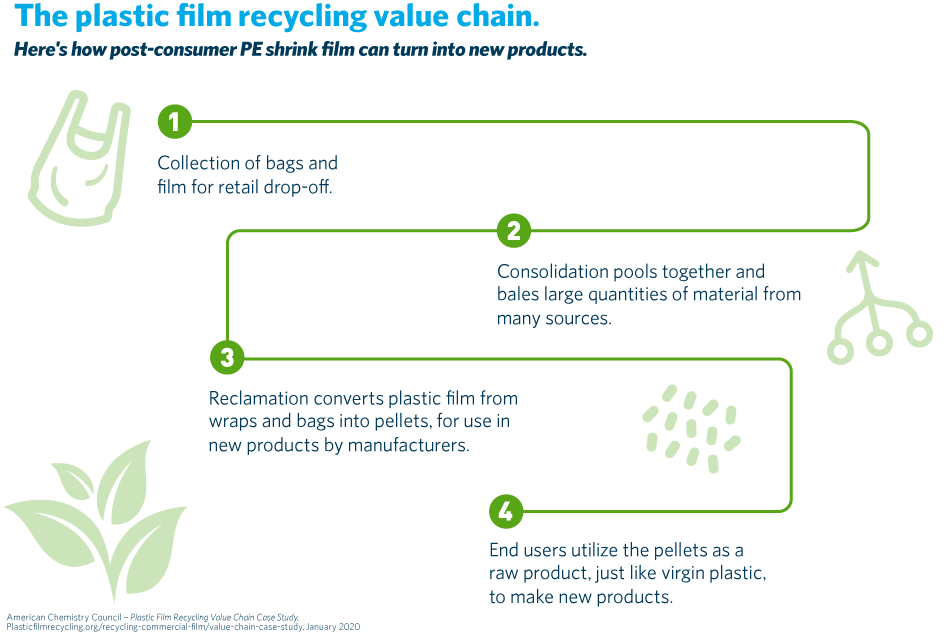 Q1: Can I use non-foodgrade PCR content in overwraps and shrink film, and what physical differences will it make?
Non-foodgrade PCR can be used in non-regulated packaging applications and in applications where a physical barrier separates the PCR content from the foodstuff. Bundle shrink film used around cans, bottles or other primary packaging items is a perfect application for non-foodgrade PCR. The quality of non-foodgrade PCR has improved significantly and we expect this trend to continue. Brands should expect a higher level of haze and appearance defects in the end product, especially at loads higher than 50%. On the other hand, the chemical composition of non-food grade PCR makes it more suitable in application that require toughness, and are not well served by the more brittle foodgrade PCR HDPE.
Q2: Is there a shortage of PCR content PE and how is Amcor responding?
Currently, supply comfortably meets demand, and we are encouraged to see investment in new processing capacity especially on the non-foodgrade PCR side. The availability of foodgrade-PCR HDPE is also expanding, with more companies securing letters of non-objection from the FDA for their PCR HDPE products. Total demand for PCR polyethylene (PE) is projected to increase over time, which could put a temporary constraint on supply, but also would attract further capacity expansion. This makes accurate forecasting of demand particularly important. Amcor has more than 20 years of experience working with our customers and recyclers to ensure continuity of supply of PCR PE resin.
Q3: How can Amcor help me secure labelling for my packaging?
Amcor can work with you to submit your package to How2Recycle® and secure a label. For innovations that do not have a precedent in the marketplace, Amcor partners with the APR, How2Recycle® and external testing labs to secure a pre-qualification for a label. The pre-qualification allows our customers to receive a label for their packages without further testing, which minimizes risk in the development phase, reduces cost and increases speed-to-market.
Q4: Can polyethylene (PE) shrink film be recycled at home in North America?
Curbside collection of PE films is a reality in urban areas of Canada and certain U.S. communities. Shrink films are accepted for recycling through those programs along with bread bags, PE overwrap, shopping bags and other PE-based items that are clean and dry. The most prevalent collection method for PE films in the U.S. remains the drop-off receptacles located in grocery stores and other public spaces. Consumers may return any PE films that carry the How2Recycle® Film recycling label to those collection points.
Q5: What is the difference in "recyclable" and "recycle ready"?
Recyclable has a legal definition in the U.S. and Canada. Per the U.S. Federal Trade Commission, a product or package should not be marketed as recyclable unless it can be recovered from the waste stream through an established recycling program available to at least 60% of the population. Recycle ready is a broader term that denotes whether a material is technically formulated to be recyclable, i.e., meeting the technical standards for recyclability according to the Critical Guidance protocol by the APR. Whether a recycle ready package qualifies for recycling may still depend on other factors, such as whether the product was in contact with and/or in the presence of attachments such as labels or opening features.
_______________

(1) American Chemistry Council – Recycle Beyond the Bag – Recycle Plastic Film, www.Plasticfilmrecycling.org/recycling-bags-and-wraps, January 2020
(2) Comparative Amcor ASSET™ life-cycle assessment on PE film containing 30% non-food contact PCR vs 0% PCR with all other variables remaining equal, January 2021
(3) GreenBlue Institute – www.How2Recycle.info/join, January 2020
---
Stay updated with our weekly PET briefing newsletter
Subscribe now
Back
---
Next medium to appear:
ePaper: PET insights 6
Publication: August 27, 2021 | Advertising deadline: August 13, 2021
Your contact:
Barbara Appel | b.appel@petnology.com