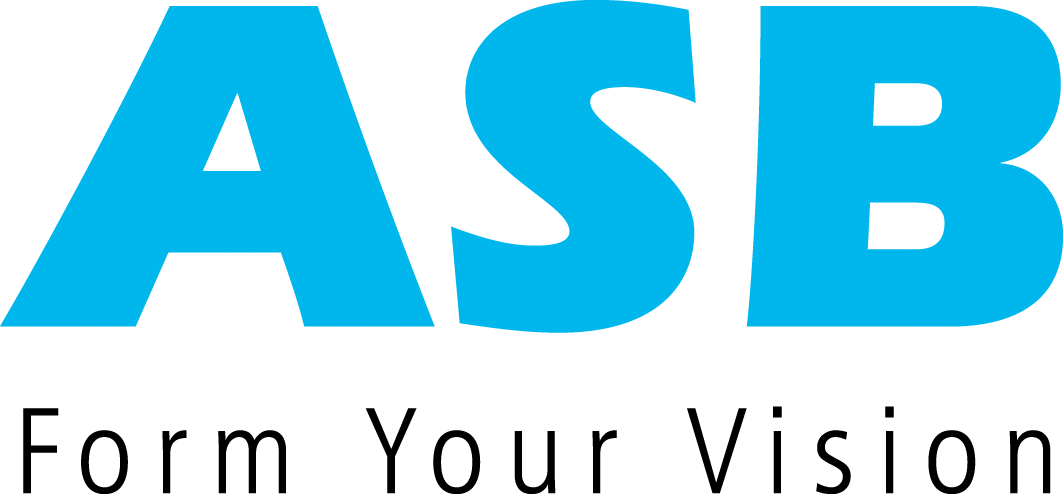 Nissei ASB Machine Co. Ltd.
4586-3 Koo, Komoro-Shi
Japan
+81 267 23 1560
+81 267 23 1564
www.nisseiasb.co.jp/
Company profile
News
Downloads
Contact
Corporate Outline
ASB's headquarters is situated in Nagano prefecture. In the best location to enjoy abundant nature, we are watching the world from a distance. Our headquarters - located on a spacious 150,000 square meter site - is a factory in the hilltop forest at the foot of Mount Asama, 940 meters above sea level. This refreshing environment in the highland region not only offers comfort to customers visiting from all over the world but also provides an atmosphere for employees to expand and form pliant ideas.
ASB was founded in 1978 and is a pioneer of PET bottle molding machines. In the early 1970's, PET bottles became commercially viable in the U.S. and began circulating in Japan at the same time our company was established.
Our sales make up about 15%-20% of those of the entire PET bottle molding machine industry.
---
About the PET Molding Machine
Reasons for purchasing an injection stretch blow molding machine when a direct blow molding machine is much more inexpensive:
Bottles molded using injection stretch blow molding machines are superior in terms of lightness, strength and transparency. In addition, the cap has a very good fit with the bottle, preventing the contents from leaking. Direct blow molding machines cannot make certain types of bottles, such as bottles for carbonated beverages.
Reasons for choosing a one-step blow molding machine over a two-step blow molding machine:
One-step blow molding machines are configured to make it difficult to put scratches on products during the bottle molding process. On the other hand, for two-step blow molding machines, because creating the preform and molding the bottle are two separate processes, the preform is likely to be damaged during preform transport process. Therefore, one-step blow molding machines are better for bottles where how they look are important (ie. for cosmetics, pharmaceuticals, etc.).
They are also suitable for molding bottles with extreme shapes and great oblateness. A preform thickness with different circumferences for optimal bottle shapes can be achieved.
They are suitable for unusual neck shapes and preform shapes, and wide-mouthed bottles.
It can take care of handles added later and special handle designs.
In addition, one-step blow molding machines are most suitable for molding from materials such as PP (polypropylene), PC (polycarbonate), etc.
---
Technologies
Molding Process
Generally there are two steps to injection stretch blow molding. The first step is to injection mold preforms and the second step is to blow mold containers from the preforms. These two steps can be done in one machine in 1-step molding, or two different machines are required for 2-step molding. 1.5-step molding is a unique concept in between these two. ASB supports all three molding processes.
1-Step
Finished containers are produced directly from plastic resin in one machine. The 1-step 4-station molding process is the core of ASB.
The original 1-step process developed by ASB.
By utilizing the residual heat from the preform injection molding process,
energy consumption of the 1-step process is dramatically lower than that required for 2-step molding. After injection molding, preforms are transported throughout the rest of the process by the lip cavity (neck split).
Necks and body parts never contact another preform with the result that visual quality of the finished containers are completely free from the scuff marks or blemishes that are a common feature of 2-step molding. And, because the preform stays within the machine, hygiene is assured.
The flexibility of the ASB Series conventional 1-step machines is ideally suited to extreme custom molding and non-PET applications.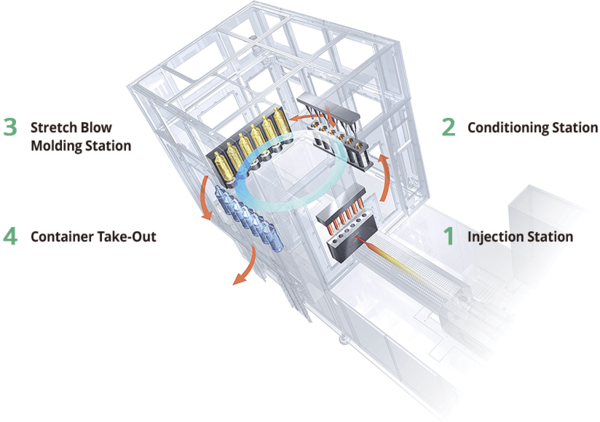 1.5-Step
Finished containers are produced directly from plastic resin in one machine. Preform molding and blow molding are divided for efficiency.
Unique concept by Nissei ASB, specialist of the 1-step system.
In designing the PF Series concept our engineers carefully looked at the advantages of the 1-step and 2-step manufacturing processes, broke them into individual elements, then re-combined them into the most efficient method yet devised for manufacture of PET containers.
In the "PF Series" machines, the preform is injection molded, partially cooled, temperature equalized,
re-heated and blown in what is termed a "cool parison" system. This concept, incorporates the advantages of both the 1-step and 2-step systems container molding methods in a unique bottle production system.
The practical result is a very compact injection clamp system at the preform injection station, while the blow station uses 2, 3 or 4 times less blow cavities to achieve a matching output.
This vastly reduces the mold investment cost when molding a variety of bottle shapes from common preforms.
Further simplification of the molds also results in vastly reduced downtime during mold changeover.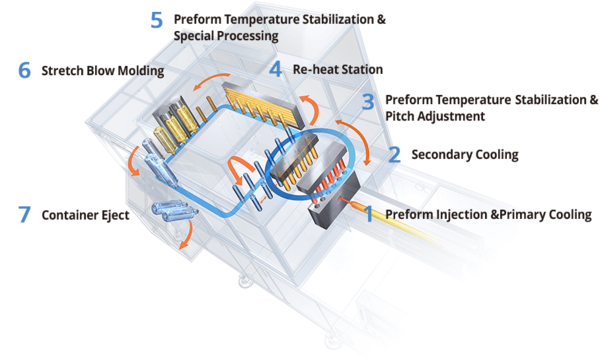 2-Step Double Blow
This process enhances heat-resistance of PET containers increasing usability. 2-step double blow heat-set technology from ASB.
2-Step for heat resistant containers
ASB has been continually developing and refining the double blow heat-setting method over more than two decades.
Containers produced by this method have unique properties that expand the uses of PET resin into new market segments.
Applications
Heat-Set bottles and jars are commonly used for filling juices, teas, pickles,
sauces and other bacteria sensitive products under pasteurized conditions.
Typical filling and/or pasteurization temperatures will vary from 65 to 95°C* depending on the product to be filled.
Heat-Setting can also be applied to returnable/refillable containers that need to be rinsed at high temperatures.
This minimizes shrinkage and adds other advantages to the container such as improved stiffness and scratch resistance.
Depending on the machine model used, up to 20 liter (5 US gallon) bottles can be molded.
? Maximum achievable temperatures are subject to container design and specification.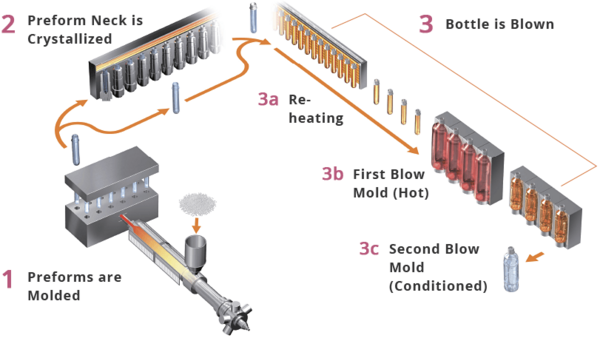 ---