C.M.G. S.p.a.
Via Antonio Sarti 2
Cento di Budrio (BO)
Italy
+39 051 6920875
ti.gmc@selas
www.cmg-granulators.com
Company profile
News
Downloads
Contact
CMG - 40 years of innovation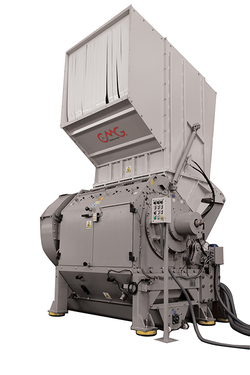 CMG was founded in 1979 in Budrio in the district of Bologna. The company has always and exclusively designed and implemented solutions for size reduction, including granulators, single-shaft shredders, evacuation systems and dust separators.
Quality, innovation and a particular attention to the specific needs of the customer have always been the guidelines of CMG, which today has one of the widest and most qualified product ranges covering all the sectors of the plastics industry.
With over 20,000 units installed at customers in Europe, America, the Middle East and Asia, CMG is today among the leading companies in the world.
CMG has always faced the global scene with efficient and competitive solutions and many manufacturers of machinery for the processing of plastic materials have relied on CMG for size reduction applications.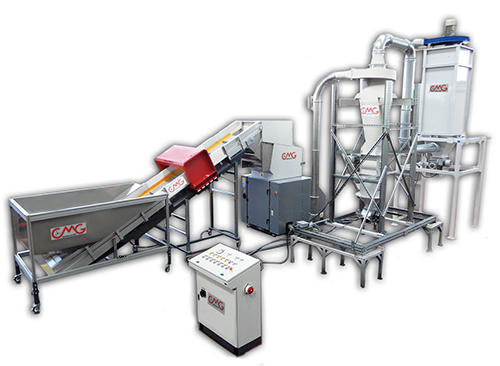 Today CMG operates in six Application Sectors in the plastics industry:
Thermoforming - continuous and single-station applications
Extrusion - sheet, film, pipes, profiles
Blow molding - packaging, tanks, fittings
Injection molding - bumpers, dashboards, lights, manifolds, PET preforms, PVC fittings, electrical equipment, boxes, bins
Recycling - in-house and post-consumer with the exclusive design of the U&G disposables blades
Cables - plastic and copper grinding and recovery systems
Forty years of growth are an important goal, but also a starting point that CMG faces with a strong range of products ranging from small granulators for injection, to the most advanced ATEX solutions for the automotive industry, from the wide range of granulators and dust separators for PET applications in packaging (blown bottles and thermoforming) to large granulators and shredders for post-consumer recovery of plastic materials.
Robustness, reliability and innovation of the CMG products, are proven by the more than thirty years of loyalty of electric cable recyclers which, for their business, have always preferred both granulators and single shaft shredders.
The introduction of electronics and information technology in daily life and the advent of Industry 4.0 make CMG one of the forerunners in the development of advanced solutions for energy saving, operational efficiency and integration in the production chain. All the units produced by CMG today are configured as Cyber Physical Systems and meet the technological requirements necessary to satisfy the guidelines of the circular economy.
With headquarters, factories and technology center in Italy and the world's largest distribution network in the plastics industry, CMG is active worldwide with service and sales centers and localized skills.

Injection
CMG manufactures special machines for products deriving from injection moulding processes. This is technologically advanced equipment capable of meeting all scrap recovery requirements. During the injection moulding process, plastic first undergoes a casting process and is then injected in a closed, high pressure mould. After it cools, this transformation creates the finished product.
This process implements a high variety of finished products, from technopolymers and other thermoplastic resins, the most common of which are:
Polymer chlorides (PVC)
Polyolefins (PE, PP)
Polyether imides (PEI)
Polysulfones (PSU)
Polycarbonates (PC)
Polyamides (PA 6, PA 66, PA 11, PA 12, PAMXD 6, PA 63T)
Acetal resins (POM)
Polyesters (PET, PBT)
Polyphenyl sulphur (PPS)
Styrolic resins (MBS, MABS, ABS, SAN, PS)
Acrylic resins PMMA)
Polyphenol oxidase (PPO)
TREATED MATERIALS
The task of transforming scrap coming from injection moulding into granules is entrusted to CMG granulators and shredders capable of reducing the following products:
Sprues
Plastic material processing scrap and swarf
APPLICATIONS AREAS
The main application sectors are:
Automotive industry
Packaging
Construction
Optics
Cosmetics
Biomedicals
Electronics
Electric equipment industry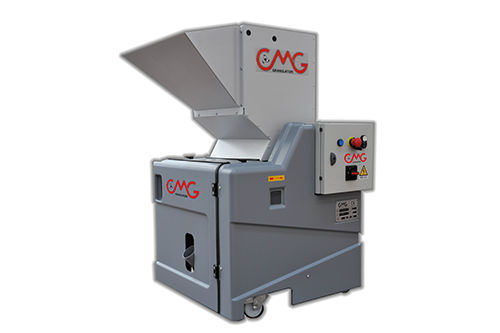 ---
Size Reduction
For many recycling operations, size reduction is not only necessary as a preliminary phase, but it is also economically convenient. It allows high levels of production with low energy consumption and recovery of plastic materials, purging, film, car parts, electric cables, wood, paper, etc.
The investment which companies make thanks to the size reduction operated by granulators or shredders allows them to drastically reduce costs for storage and transport to landfills.

---
Recycling
Waste recycling and the recovery of materials are ever more important in the world economy.
CMG considers recycling an important economical aspect which, with over thirty years of experience in manufacturing high-quality granulators and shredders, can offer excellent machinery for scrap recovery. CMG granulators and/or shredders are used for the industrial recycling of several post-consumer materials such as: plastic, used bottles, wood waste, paper and documents, electric cables, fabrics, film, tyres, etc.
For the recovery of post-consumer materials and recycling large pieces of scrap or entire bales, the recovery process entails an initial rough size reduction with efficient CMG shredders. CMG granulators then take over when further size reduction is required to obtain quality granules, flakes or powder used for regeneration or reused in productive processes, even on board the machine.
These processes save a considerable amount of money as they allow vast quantities of waste to be reused, transforming them into new raw or regenerated materials.

---
Dust Separation
CMG manufactures systems designed to separate and remove dust from granulates, releasing filtered air into the work environment. The dust separation and removal system was designed with the following features:
Made for the transport and dust removal of material with release of filtered air into the work environment
Many models to meet every requirement
Transport under vacuum to reduce dust and noise
Transport systems with easily accessible and renewable filtering cartridges
Modular, sturdy and compact structure to adapt to any system solution
Accessories: antistatic bars, metal separators, DPM measurers
Safety devices compliant with EC standards
Automatic and independent operation or interfaced with granulator or shredder

---
Thermo Forming
Thanks to experience built up over the years in the production of machinery suitable for grinding plastic materials, in a very short time, the new "NT" series has successfully entered a market where reliability of machines and quality of the ground material are fundamental elements. These models have low operating noise, though without sound-proofing enclosures. They are capable of grinding the entire sheet when the line starts up, as well as the sheets with thermoformed parts and plastic waste feedstock. This is possible because of the special inclination of the blades which helps cut down energy consumption by using electric motors with limited power.
This process transforms a vast range of technopolymers into a finished product, the most common of which are:
TREATED MATERIALS
CMG granulators and shredders can meet the scrap recovery requirements of this industrial sector, obtaining the following products:
Waste feedstock
Processing swarf
Line start scrap
APPLICATIONS AREAS
The main application sectors are:
Automotive industry
Household appliances industry
Packaging
Beverage
Food industry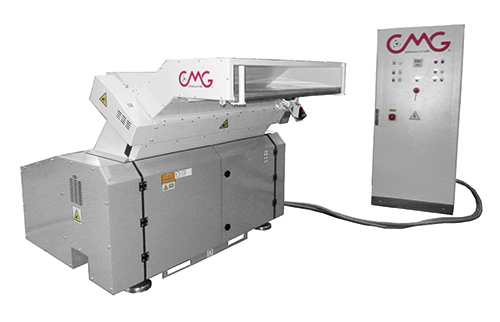 ---
Extrusion
CMG has a wide range of solutions for granulating plastic products deriving from the extrusion process.
These products can be:
Sheets and trims
CMG supplies 6 in-line granulation models of profiles provided with roller units with independent single, double or triple speed adjustment.
Several special hoppers which can be combined with different unloading systems complete our range of trim applications.
There are more than ten models for in-line or off-line grinding of all types of sheets with independent roller speed.
Straps
The in-line granulator allows the manufacturer to reintroduce straps into the productive cycle.
This machinery which reduces the size of the straps is widely used in warehouses and shopping centres as it reduces space and transport costs.
For this reason, CMG supplies a granulator equipped with special blades which can easily be replaced or removed for sharpening.
Film
CMG has a wide range of granulators, over 15, and single-shaft shredders for in-line and off-line grinding of all types of film.
The customisable feed system combined with a discharge belt or exhaust system is an ideal solution for manufacturers and/or recyclers.
Expanded Foam
Several CMG granulators and shredders are capable of grinding expanded foam.
A wide range of models, with or without rollers or paddle feed systems, are capable of meeting different customer requirements.
A customisable feed system combined with a discharge belt or exhaust system is an ideal solution for manufacturers and/or recyclers.
Pipes and profiles
The in-line grinding of extruded pipes and profiles prevents the accumulation of bulky waste when starting up a plant, aside from considerably saving on time and space.
Several special hoppers which can be combined with granulators or shredders complete our range for pipe and profile applications.

---
Blowing Scrap
The recovery of blowing scrap is entrusted to granulators and shredders built with several variants and customised according to customer requirements. This blowing scrap comes from processing swarf obtained during an industrial process, in which a portion of cylindrical shaped resin is expanded by blowing compressed air inside a hollow mould which, swelling up, takes the shape of the inside of the mould. After cooling off, the finished product is removed from the open mould.
The range of scrap materials coming from the industrial blowing process includes the following products:
Polyethylene terephthalate (PET)
High density polyethylene (HDPE)
Low density polyethylene (LDPE)
TREATED MATERIALS
CMG granulators and shredders can meet the scrap recovery requirements of this industrial sector and transform the following products into granules:
Bottles
Hot sprues
Large containers
Bins
Jerry cans
APPLICATIONS AREAS
The main application sectors are:
Food industry
Packaging
Beverage
Automotive industry
Cosmetics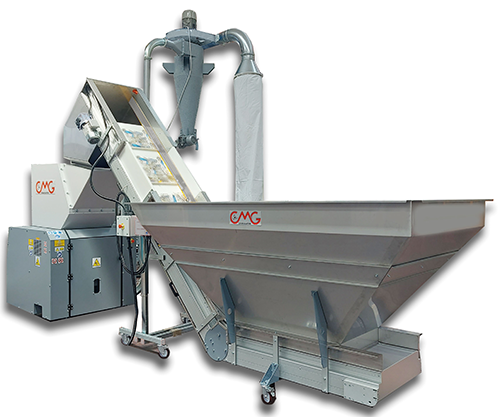 No contact data available