PETnology Europe 2019 Programme Highlight
PET Recycling Boost in the Wake of EU's Single Use Plastic Directive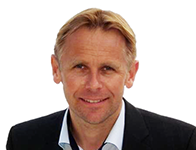 Geir Sæther
Senior Vice President, Circular Economy, TOMRA Systems
Geir Sæther's professional experience ranges from design of mechatronic systems, performing radical innovation, heading technology-, product- and innovation management to heading marketing and sales functions.
His experience is gained mainly from the reverse vending- and renewable marine energy industry, where environmental contributions always have been an important and motivating factor in addition to profitable business cases.
He has a master's degree in Science from the Norwegian University of Science and Technology (NTNU) and a master's degree in Management from the Norwegian School of Management (BI).
The presentation discusses how the PET industry and its stakeholders best can contribute to solving two current major global challenges; global warming and marine plastic littering.
Assuming targets defined in the recent Single Use Plastics Directive (SUPD) are met, Europe is likely to experience a massive increase in availability of high quality post-consumer PET suitable for production of food grade rPET.
Fueled by significantly increased focus from consumers, fast-moving consumer goods companies are aggressively making pledges regarding recycled content in their packaging, which often exceed requirements set by the SUPD. It remains to be seen whether the pledges will and can be realized.
By ensuring a high degree of circularity in the use of PET packaging for beverages, greenhouse gas emissions can be minimized further compared to most previous estimates. SUPD can prove to be an important enabler for such a highly circular systems based on initiation of several new Deposit Return Schemes (DRS) for used beverage containers.
If implemented on a pan-European scale, DRS will also represent one of the most powerful solutions to inhibit terrestrial and marine plastic litter in Europe.
Finally, the presentation will touch on how Tomra Systems plans to contribute to increased recycling of plastics, beyond PET and beyond Europe.