PETnology Europe 2019 Programme Highlight
The Industry Challenge "Tethered Caps" and the Impact on the Future Neck Standard for a 26 mm CSD Neck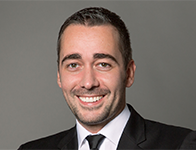 Andreas Brem
Group Director Technical Sales Beverage and Food
Andreas started his plastic packaging career about 10 years ago where he worked for Aptar as
Director Custom Development Closures beauty+home Europe.
In 2018 Andreas decided to join BERICAP, where in his current global position as Group Technical Sales Director Beverage and Food, Andreas works in a close contact with the leading companies of the beverage industry.
Andreas holds a mechanical engineer degree of the technical college Eckert Regenstauf, and supported several packaging Expert groups, like Material Strategy Task Force, Injection Machine and Mold Expert Group, Elastomeric Flow Control Expert team and Additive manufacturing Global Expert Group during the last 10 years.
Andreas is an actively member of several committees and beverage dedicated workgroups like
German DIN, Cetie, CEN and isbt.
The requirements of the beverage industry towards the new closures are clear: while maintaining consumer convenience and quality, the new closures must not affect the cost of production, the bottle design, the bottle neck, the filling line or the capper. In addition, the closures should be available both as light-weight press-on caps, which are mainly used in non-pressurized bottles such as still water, and as screw-on caps for higher demands on the tightness of the closure. BERICAP has succeeded in fulfilling all these requirements, even if this necessitated a re-design of the existing closures.