PETnology Europe 2019 Programme Highlight
Waste to Wealth Program in India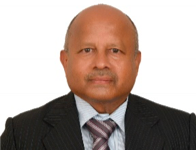 Subba Bangera
Chairman of Active Biz Solutions. Pvt. Ltd
Involved in Research, Raw Material and equipment selling, turnkey Project Management. Innovative thinker and known for his Strategic Advices for organizational growth and a well- recognized figure in Indian Plastic Industry.
With an experience of over 45 years, In his initial service years he served in Polychem Ltd, Garware Plastics Ltd and ABS plastics Ltd. Subsequently he was adviser for expansion projects of Safai Luggage, Alkon Plastics, Mapco Industries and many others.
He was associated with International companies like Solvay, Husky and Sidel.
He joined SIDEL India as their Managing Director in 1998 and retired in 2013.
He is presently governing council member of CGSC, Director of PMMAI, Vice Chairman of Steer Engineering Pvt Ltd, and Advisor to ELECTROPNEUMATICS & HYDRAULICS PVT. LTD and Bana Group of companies. As an Advisor his aim is scripting the future and overall increase in the efficiency of existing company system.
He has made many presentations and chaired lot of conferences. He also teaches in Management Colleges on call. He advises local companies on LEAN manufacturing to raise their level to global platform.
He believes nothing is waste till it has value built in it, everything that we call as waste has energy and material in it to be explored and encased.
An avid traveller reaching across the globe and his hobbies include wild life photography.

Waste to Wealth Program in India
India declared its alignment to the UN call for plastic waste management in 2018. The government declared a plan to make India litter free. Huge focus by new start ups have bought digital platform to waste collection and auction. The Indian industry and academy responded well with innovative ideas for a plastic waste to wealth program.
This presentation will highlight all efforts from segregation to sorting and end application development.