In preparation for my visit to Sesotec, I read on the Sesotec website how the company describes exactly this challenge: "reconciling sustainability and profitability".
How do machine manufacturers face these challenges? What are their solutions, and what is the potential?
"Sesotec construction site" - the sign at the entrance to Schönberg in Bavaria informs Sesotec visitors of a planned expansion of the location as soon as they arrive. That radiates confidence.
I met Michael Perl, Group Director Sales Division Sorting Recycling at Sesotec, to discuss challenges and solutions for the recycling market. He reports on the beginnings of sorting technology for glass recycling in the 80s. In 1980, the company brought the first sorter onto the market. Initially, it was about the detection of metals in waste glass material flows.
In the 1990s, Sesotec began developing products with laser technology to differentiate between transparent and non-transparent materials (stones, metals, ceramics, etc.). In addition, the requirement arose to sort by color, which was solved with the use of color cameras at the end of the 1990s. At this point, Sesotec's focus was still on glass.
At the turn of the millennium, Sesotec began to deal with plastics recycling with sorter solutions coming from the glass sector. According to Perl, the pure sensor technology is comparable, but the basic construction of the actual sorting technology is entirely different.
The first flake sorter came onto the market in 2001/2002 (more precisely). Around 2005, the product range was expanded to include bottle sorters with NIR technology, which later, from around 2010, were also used in flake sorters. With this technology, Sesotec is now on the move worldwide in both glass and plastics.
The products are divided into three business areas:
Sorting technology
Product inspection of plastics
Product inspection of packaged and unpackaged food.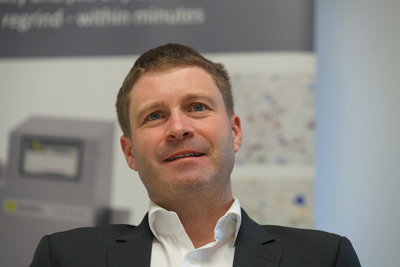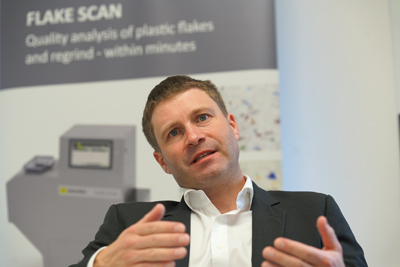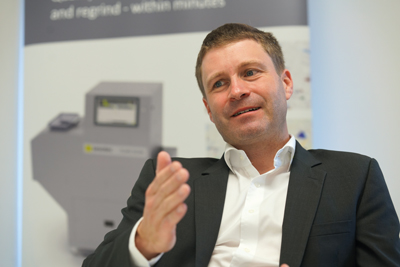 The machines for product inspection of plastics include tunnel detectors and free fall systems. In the case of packaged and unpackaged food, the inspection for foreign substances is carried out, e.g. using X-ray technology. Detecting metals in packaging, e.g. in the food industry, is particularly challenging if the packaging itself has a barrier layer made of aluminum, for example.
How is Sesotec positioned for today's market challenges?
Perl is initially focusing on the exceptional situation caused by the pandemic. The subsidiaries in Asia - China, Singapore, India and Thailand - and the sales companies in other countries have done a lot to maintain customer contact. Sesotec weathered the crisis well, and so the company was able to meet the ambitious sales targets for the three business areas of around € 70 million.
According to Perl, the high level of inhouse production depth helps Sesotec in the current tense situation of delivery bottlenecks. The further development of the delivery situation is difficult to predict. Also, the delivery times are very different due to the diverse product portfolio - from simple metal separators to complex sorters. The Sesotec service sees itself well-positioned to look after the installed base and the the new deliveries of sorters, detectors and separators in the global market.
Perl again includes the claim "reconciling sustainability and profitability" when looking at the challenges. Profitability requires high purities; this applies to both glass and PET. Very high purity for glass means sorting out the heatresistant glass, leaded glass, metals, etc. Very high purity is also required for PET recycling, especially in the area of food contact, i.e. bottle-to-bottle recycling. The technological challenges are therefore absolutely comparable.
This brings flexibility and reduces costs, also in connection with logistics. Perl: "A conveyor belt takes up a lot of space for transport." Nevertheless, one should not underestimate the demands of the conveyor belt - primarily if it is operated with a width of over 2m. The belts also have to meet the technical requirements of the metal detection coils and NIR technology. "There are a few things to consider," says Perl, and specifies the output for a bottle sorter with a width of 2m on approx. 5 - 5.5 t PET bottles, depending on the bottle weight.
Perl draws particular attention to further developments of the Varisort bottle sorter: the NIR measuring bridge was previously placed above the conveyor belt and is now located in the separator housing. This reduces the distance and thus the time between detection and sorting. This brings security when sorting and offers the option of placing a fourth sensor system, e.g. for detecting watermarks or other - AI-based - technologies above the conveyor belt.
Material allocation or recognition through marker additives, watermarks or other structures for recognizing applications in the food or household sector, etc. are the future technological challenges in which AI will play an increasing role. Depending on the technology, the preform and / or bottle could be provided with a marker. According to Perl, technological specifications need to be defined in this area. Without specifications, a kind of development vacuum could arise that makes decisions about developments or retrofits difficult.
When asked which basic approaches in packaging design he would consider helpful from the point of view of a sorting system manufacturer, Perl mentions the equipping with labels: "Partial labels or no labels at all would simplify sorting and thus recycling." He can also imagine limiting the number of additives. And in the long run, in his opinion, a reduction in the types of plastic/variety would certainly also be helpful.
_______________
Facts & Figures: SESOTEC GMBH
Sesotec goes back to the former S + S electronic KG, founded in 1976. As S + S Separation and Sorting Technology GmbH, the company specialized in detecting metals, e.g. in wood processing. After several changes of ownership, the company has been trading as Sesotec since 2015. In the meantime, today's Sesotec has also expanded internationally.
_______________
Flakesorter
A so-called re-sorter is now standard for the flake sorter. The separate inlet channel for materials that have already been sorted out is intended to reduce incorrect sorting. A flake sorter with four inlet channels and one re-sorter channel has a width of the discharge strip of 1.30 m and achieves throughputs of 3.5 - 4 t / h. The nozzle and valve grid of the discharge strip (fig.: 2) is 3.2 mm. According to Sesotec's experience, this constellation is the most efficient variant for sorting or cleaning material flows.
When, for example, juice bottles are added to the material flows to be recycled, equipped as a multi-layer, with barrier materials and special additives, new requirements for recyclers - and thus of course for suppliers of sorting technology - come into play. Technology is required here, says Perl.
Sorting in general
If the technological approaches of the PET flake sorter are transferred to polyolefins such as HDPE and PP, new technological challenges arise nonetheless. It's all about the handling: The handling of 2D parts ("foil flakes") is significantly more difficult with these materials than compared to 3D parts (e.g. regrind from closures).
Perl makes the entire complexity clear using the example of sausage or cheese packaging, which consists of different materials in 2D and 3D geometries and with a film used as a composite film. In addition, there are challenges due to different thicknesses and sizes and also sticking due to contamination.
Complex sorting and handling ultimately lead to a reduction in profitability. The requirement that recycled materials are food-safe is not (yet) as essential as it is with PET. However, there are already demands to produce sealing caps again from sealing caps, for example.
In areas where mechanical recycling is technologically or economically problematic, Perl can imagine that, given today's possibilities, chemical recycling may be financially advantageous after a certain pre-sorting.
General market requirements
PET recycling has changed a lot in the last 15 years. Investments in PET recycling systems depended on the price of virgin PET material, reports Perl. With the increasing importance of the circular economy, recycled goods are gaining a new role, which leads to a certain reliable demand and market stability in PET recycling now and in the future. This is helpful, not only for the recycling industry but also for machine suppliers when it comes to new developments. Perl: "Making recycling economical is a great challenge."
This also applies to access to the material flows. New recycling plants are being installed in all regions of the world. In metropolises, larger quantities and more stable material flows can be generated than in rural areas with a lower population density.
The Sesotec technical center tests and detects these material flows, separates and analyzes them. Perl: "The test facility is important in terms of performance commitments to our customers - and recyclers want to know which substances their material flows contain."
In this context, Perl talks about flake qualities that can be inspected and analyzed with the newly developed FLAKE SCAN (see fig. 4). With this, Sesotec provides a tool that checks input and output quality with the help of NIR and color cameras.
Perl: "Our drive, namely reconciling sustainability and profitability, determines our view of the market and our products. As Sesotec, we see ourselves ideally positioned for the circular economy's challenges and thus for our customers' challenges."