Session 1: Beyond the virus – the path to the new normal
Sylvain Talarico, Global PET Tooling Director of Husky Injection Molding Systems, highlighted three ways in which beverage manufacturers can successfully adapt to the pandemic situation: correct adjustment, increased productivity and reduced production costs. He also discussed basic approaches to lightweight construction in the PET packaging industry that focus on various components of a PET bottle: neck, cap, bottom and body. During his lecture, Mr Talarico asked the audience what challenges they are currently facing, caused by the pandemic. The vote showed that it is difficult for most companies to adjust production quickly.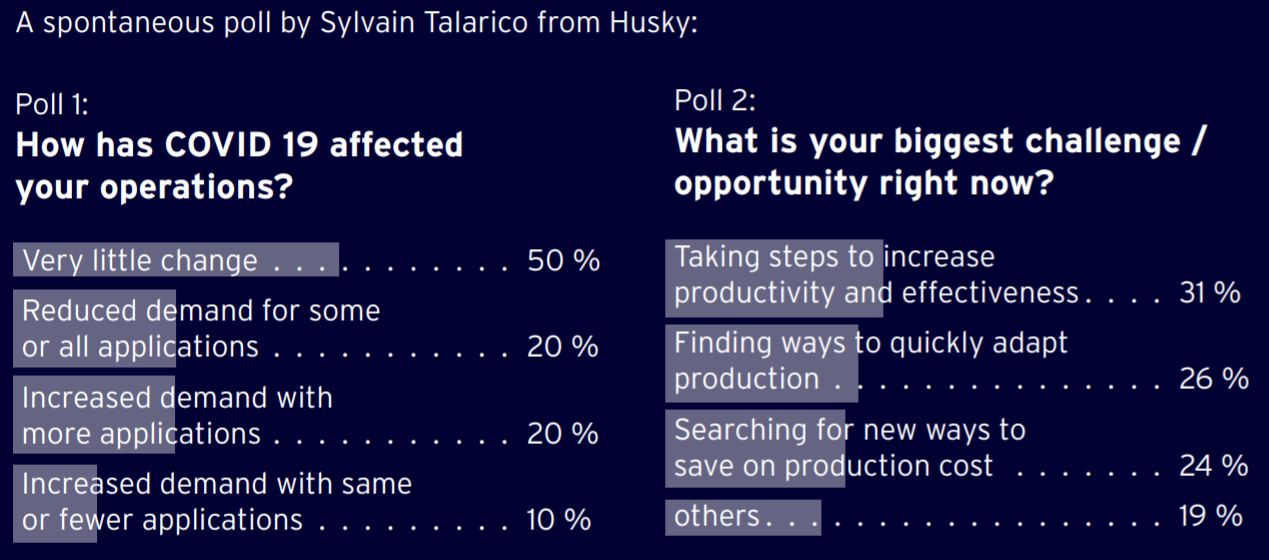 Paulo Correia, CTO of Logoplaste, shared the company's view of trends perception before, during and after COVID-19. He pointed out that plastic is not inherently bad, but only disposable, and stressed the need to move from palliative to sustainable environmental sustainability through the introduction of a new, conscious business model. Paulo Correia recognized a trend from mass to personalized production - from the crowd to the individual. He also presented innovative services such as "Remote Assistance" using video calls and augmented reality to help customers worldwide, and "Virtual Factory" for the user to get new machines in real size online can experience.
Session 2: Production between pandemic and market demands
Roberto Cucciol, head of SIPA's specialties and beverages division, demonstrated the company's ability to adapt to the current pandemic and presented the switch from beverage packaging to PET masks and hand sanitizers. He explained the main features of SIPA's machine range and drew the attention also to a future research and development project for a 1-litre bleach-resistant rPET bottle. Mr Cucciol also focused on the joint development with EREMA, "Xtreme Renew". It enables the production of rPET preforms from 100% washed flakes to food quality preforms in one cycle.
The central question in the presentation given by Thierry Fabozzi, CEO of PTI, was: How can the processing needs be supported at plant level? He showed the PTI solution for replication of plant states with "Virtual Blow Molding Simulation". The range of online services, from virtual prototyping to plant support, shows that the performance of PET materials is under pressure, due to advancing lightweighting and the optimization of packaging performance. High production speeds and changing material quality due to an increase in the percentage of rPET also contribute to this stress. In summary, all of this has a substantial impact on bottle performance and stretch blow moulding processes. He claimed that a resin prediction index was required to find the best material depending on the application.
Session 3: Blowing, Filling & Capping
Richard Fröhlich, Sales Director Packaging of Engel, presented ''e-cap NG,'' a machine that stands out due to its clean production and solid performance. With its tie-bar less technology and additional inject units the ''e-victory'' is another model that allows a highly flexible output for a wide range of closures. ''Inject 4.0'' aims to leverage the full potential of injection moulding with three targets: smart machine - ''intelligent Quality'' solutions such as ''iQ weight control''; smart service - an e-connect customer portal; smart production - ''authentig'', offering transparency in the production processes.
Philipp Langhammer, Product Manager Plasmax Barrier Technology and Christoph Georg von Aichinger, Global Product Manager for Nature MultiPack™ of KHS, gave a joint presentation about holistic PET bottle & pack design. The specialists informed the audience on KHS' lightweight packaging system "FreshSafe PET" that makes 100% bottle to bottle recycling possible and is easy to integrate into production lines. "Nature MultiPack" is a 100% rPET solution, that can be palletized directly at the point of sale. A look at the graphics revealed the significant reduction of secondary packaging material by up to 90% in one year.
Session 4: New Plastics Economy
Dr Christoph Hoffmann, Director Strategy, Sustainability & Circular Economy at the Alpla Group, outlined strategies for the transition to a new plastics economy. With products such as the light prototype "The Clear One", a bag made from easy to recycle PET and rPET, or the latest 1 litre refillable PET bottle - developed jointly with KHS - ALPLA meets the requirements for sustainability. Dr Hoffmann also reported on initiatives in which ALPLA is committed to sustainability, such as the "New Plastics Economy Global Commitment" launched by the Ellen MacArthur Foundation or the "Packaging with a Future" platform.
Paul DiZinno, Manager Process Performance Optimization, and Damon Choate, Process Engineer Consultant of Agr, laid out increased obstacles to rPET conversion caused by the pandemic. Among those were immense financial stress on brand owners and reduced rPET supply with increasing prices. Online solutions like advanced visual inspection and automated closed-loop control of the blow moulding process are ways to adapt to the current situation without facing severe brand damage.
Steve Lyons, Director, rPET Strategic Environmental Analysis and Business Development of SBAcci, commented on the low US recycling rate of 29% and the need for consumer participation in the recycling process. Providing information, training and education to consumers is the basis for doubling the PET recycling rate by 2025. "The Battle for the rPET Bales" will test the US rPET system, but the drive of the Brands for content and the ingenuity of the value chain partners will find a way to grow the total supply. "It is an exciting time to be involved with rPET, and I look forward to the positive solutions for rPET growth we expect to see", he finished his presentation.
Session 5: From Preform To Bottle
Christoph Wöss, Business Development Manager of Erema, informed the online audience about the rising demand in recycling material for packaging. The recycled PET market is benefiting from the increasing consumption of packaged food products and carbonated & non-carbonated drinks across the world. He also gave a detailed introduction to ''Vacunite'', the company's new vacuum technology, which benefits include a wellcontrolled thermal process and excellent preform clarity.
Dr. Matthias Kruse, process developer at KHS, spoke about the influence of rPET on PET bottle properties. The special rPET preform and bottle design enable homogeneous material distribution and stable bottle production. Together with Alpla, they finalized the development of a very light - 55 g - refillable 1.0-litre PET bottle made with rPET. That is a weight reduction by up to 15% compared to standard 1.0-litre refillable containers. The key of the bottle performance is rPET quality, preform design, the blowing process and the process stability.
Session 6: Quality And Process Control
Martin Gerber, Global Sales Director of IMD, picked up the rPET topic and claimed that Zero Defect Production is even more challenging with rPET. With ''PECO LUX INLINE Preform Monitoring'', he explained, IMD offers an inspection system that monitors each shot for production security and allows testing a high variety of preforms without any mechanical adjustments. At the end of his presentation, he described the IMD ''PORTAL'' network solution, that gives an overview for all connected systems and features production and quality transparency.
Stefano Severi, Vision Systems Sales Area Manager of SACMI, emphasized the advantages of automatic quality control. It ensures dedicated lighting, tools, high precision, objective criteria and a less timeconsuming, robust analysis. Solutions developed by SACMI include machines such as "PVS-2 +" and "PVS-5". The software "D.R.I.V.A." recognizes and measures the preform in order to set both PVS10L machines and their sorters / feeders automatically.
At the end of the successful three-day conference, Otto Appel's closing speech dealt with the question of how the new normal will show after these challenging times. He thanked the speakers for the lectures and the participants for their attention and closed the event with the wording: "Everything is going to be fine in the end. If it is not fine, it is not the end."