Macrolex Gran from LANXESS for application in
amorphous and semicrystalline plastics
High-tech microgranules for brilliant colors
LANXESS's Rhein Chemie Additives (ADD) business unit is showcasing its organic Macrolex Gran colorants for the brilliant coloring of amorphous and semicrystalline plastics. Thanks to their microgranule form, the colorants compare extremely favorably with powders and compact granules owing to their excellent dispersion and processing properties and safe handling.
Macrolex microgranules consist of hollow spheres that can be very easily crushed, which means they can be quickly, evenly and completely distributed and incorporated into the plastic. The excellent processability of the product is due to the fact that the hollow spheres comprise particularly small primary particles of between around two and ten micrometers depending on the color. The good free-flowing properties of the 0.3-millimeter spheres make precise metering easier and prevent clumping in the mixing process. The four times higher bulk density compared with powder pays dividends in processing, transport and storage alike.
In addition, the granules make an important contribution to occupational safety and environmental protection. Containers can be completely emptied, for example. Dust development in the processing of Macrolex Gran is much less than with powders. This means there is a considerably reduced risk of dust explosion, and expenses for protective measures and facility cleaning can be considerably reduced.
The design of Macrolex Gran is such that on the one hand its hollow spheres are big enough to hardly form dust and on the other the much smaller particle size compared to powder enables rapid and complete solution dissolving in the plastic.
"We achieve a high microgranule quality with Macrolex Gran through a special production process that applies an enormous spray dryer that stretches across three stories," says Ralf Scholtz, head of the Colorant Additives business line in LANXESS's ADD business unit. "The expenditure involved is well worth it because it enables us to supply our customers with a high-tech product for brilliantly coloring plastics that offers both top quality and high cost-efficiency," adds Scholtz.
VELOX to present its expanded POLYRAM tie layer portfolio with two new grades for PS and PET multilayer
VELOX GmbH announces its extended product portfolio in partnership with POLYRAM Plastic Industries Ltd.
Polyram Plastic Industries Ltd. ("POLYRAM") is a leading global supplier of high performance thermoplastic compounds. VELOX is distributing POLYRAM's adhesive resins, Bondyram TL, since beginning of 2003 Well-established in the market are ready to use polypropylene-grades and concentrated anhydride polyethylene-grades designated for multilayer coextruded structures. These Bondyram grades are primarily used for food packaging applications.
Introduced in 2016 the new grades TL4530 and TL4401 of the Bondyram series will allow customers coextrusion of copolyester (PET / PETG) or polystyrene (PS) to adhere to materials such as EVOH, PA and PE resins.
Dror Koen, International Marketing Manager – Europe at POLYRAM, explained that the development of the new grade and all necessary tests are completed. Bondyram TL4401 was developed especially for polystyrene hot fill applications. The principal characteristic is the high Vicat Softening Temperature (VST), which is above 85°C.
This new grade offers a very good adhesion for coextruded films, which could have the following structure: PE/TL4401/EVOH/TL4401/PS (see image).
Hall 6 / A23
Milacron will be displaying its
Advanced Plastics Processing Technologies
Milacron will be displaying its Advanced Plastics Processing Technologies (APPT) featuring Milacron, Ferromatik and Uniloy product branded injection, PET, blow and extrusion offerings in Hall 15 Booth C06. Milacron's Melt Delivery and Control Systems will be in Hall 01 booth A39 featuring Milacron's product brands Mold-Masters, DME, TIRAD and CIMCOOL.
Among other topics visitors can expect:
K-TEC Machine Platform to Mold Two Component PET Preforms with Cosmetic Finish Partnering with MuCell and Foboha Cube Mold Technologies
Milacron's K-TEC machine platform ensures high speed, high accuracy and high uptime. The K-TEC's exceptional precision and repeatability, fast cycle times, high injection rates and pressure, parallel functions, and easy maintenance are the hallmarks of the K-TEC, one of the most productive injection molding machines available on the market today. The K-TEC is available in full hydraulic or servo hydraulic configurations. It is especially suited for customized solutions for large production outputs. The K-TEC comes in eleven sizes from 60 to 450 metric tons clamping force, and is also available as a multi-component, monosandwich, or cube machine. The cell utilizes Foboha's cube mold expertise and Trexel's innovative MuCell system to produce a visually appealing cosmetic finish inside the PET preform.
Cell Specifics:
4 cavity, 30.5 gram preform,
Mold-Masters 16 zone TempMaster
hot runner controller, MuCell technology, Foboha cube mold
PET Preform System with Co-injection Barrier Technology
Milacron re-entered the PET machine market at NPE 2015 and will mark its European debut at K 2016. The M-PET 300, a servo-hydraulic PET system, which combines key components across Milacron's product portfolio – machines, clamps, injection unit, end-of-arm tooling, hot runner, mold and robots – into a single solution. The M-PET series offers leading edge performance and low energy consumption plus new options for post mold handling at an attractive price-to-performance ratio. The system operates with Milacron's
Preform Tooling, as well as existing industry tooling solutions.
Cell Specifics:
M-PET 300, 72 cavity, 37 gram preform, 14 second cycle time, inspection system from IMD
Game Changing Klear Can with In-mold Labeling
Milacron's Klear Can is a recyclable multilayer plastic can that is poised to dethrone metal food cans for the packaging of long shelf-life items such as fruits, vegetables, fish, meats, and more. Milacron recently confirmed the sale of the first Klear Can production system, with Klear Cans expected to hit grocery store shelves in Q1 2017. This Klear Can offers the clear advantage of allowing the consumer to see the quality of the food at the point of sale, the package is BPA free and can run in existing filling, seaming and retorting lines at canneries. The cans will be in-mold labeled using Verstaete IML technologies. The Klear Can will run on Milacron's Ferromatik-Series machine. The Ferromatik Series machines are designed to meet the needs and demands of the packaging industry with fast cycle times and high injection speeds. Ferromatik Series are available in nine sizes: from 120 to 650 metric tons of clamping force and are pre-configured for easy multi-component, mono-sandwich, cube, and co-injection capability. Customers can also choose from electric, hydraulic, and hybrid drive options to meet their energy and performance requirements.
Cell Specifics:
Ferromatik Series 280, integrated Mold-Masters iM2 48-zone controller, in-mold labeling from CBW, inspection system from IMD
Hall 1, A39
Hall 15, C06
Husky: Closure molding, multi-layer
barrier technology and more
Husky's booth will showcase the company's complete range of solutions and services for the beverage packaging, closures, medical, personal care, home care, consumer electronics and automotive markets.
"Husky's participation at K 2016 is our opportunity to really showcase the diversity of the markets we serve, and demonstrate how we help customers optimize production and increase their speed to market," said John Galt, Husky's CEO . "We work closely with our customers to get a true appreciation of what drives their business and the technologies we're showing at K 2016 reflects this partnership. I'm excited to speak to customers about how our new Multi-layer Barrier Technology is unlocking the potential for conversions from alternative packaging to PET, and to demonstrate the industry's first fully integrated, and most energy efficient systems for beverage and specialty closure molding. The melt-delivery systems we are showcasing are tailored for the automotive and medical markets, so that customers from across sectors will find the right solutions for their production needs on our booth."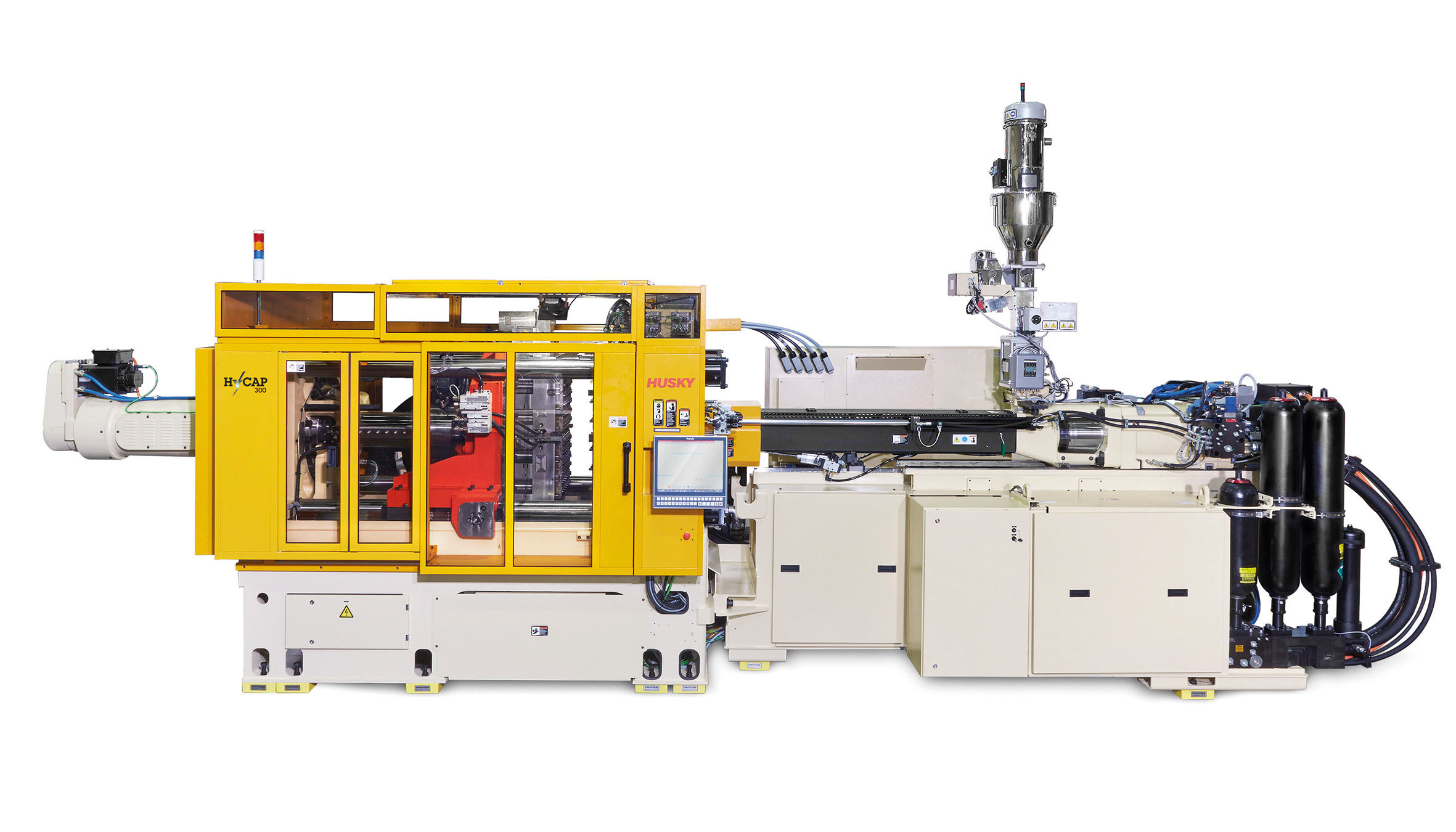 Global debut of two completely integrated closure molding systems
Husky will be globally debuting two new systems, including its recently launched HyCAP™ 4 system for beverage closure molding, as well as a revolutionary new fully integrated solution for the manufacture of specialty closures. HyCAP™ 4 is an integrated solution where mold, machine and auxiliaries are built to work together to deliver improved productivity, better energy efficiency and enhanced ease of use. The HyCAP™ 4 system will run a 1.25 gram 29/25 closure for a mineral water application at a 2.4 second cycle time. The specialty closure system will produce a 6.1 gram flip-top closure for a shampoo bottle application running a cycle time of under 8.5 seconds. The fully integrated eIMC in-mold closing technology provides more precise control during molding to enable better part quality, while providing a more than 20% cycle time improvement.
Multi-layer Barrier technology opening doors for PET packaging
Husky's exhibit will highlight the vast range of packages that can now be manufactured in PET. Featured will be an experience center showcasing Husky's Multi-layer Barrier technology, including examples of existing converted applications. Husky's Multi-layer Barrier technology is built on the HyPET™ HPP5 platform. The technology has seen positive acceptance in the market, offering tremendous opportunity to explore PET as a packaging material for products requiring enhanced barrier properties that are traditionally packaged in materials such as glass, carton and aluminum.
Agr to display the CrystalView™ system for
managing PET bottle crystallinity
And the Automated Laboratory Test Cell for bottle quality management At K 2016
Agr will display their latest developments in this line of products as well as an array of quality management and process control equipment for plastic containers at K 2016, Stand 11B40. Products featured at this year's event will include the following:
Process Pilot®
The Process Pilot® automated blowmolder management system is designed to help PET bottle manufacturers measure, control and optimize their bottle blowing process in order to produce the highest quality, best performing bottles possible while maximizing production efficiency. The Process Pilot system interfaces with the blowmolder to provide precise material thickness distribution on a per bottle basis while managing the blowmolder to eliminate the effect of process and environmental variables that impact bottle material distribution throughout the production cycle.
CrystalView™
The latest enhancement to the Process Pilot product line is the CrystalView material optimization system. The CrystalView system, the latest enhancement to the Process Pilot product line, provides PET bottle manufacturers with the means for automatic management of material orientation/crystallinity, making it possible to produce the best possible bottles at the coldest practical processing temperature.
Automated Laboratory Test Cell
The Laboratory Test Cell provides an automated solution that tightly integrates multiple testing operations, including thickness, dimensional, topload, volume and pressure, with a precision pick and place industrial robot. The laboratory test cell offers a solution to meeting the challenges of over-worked testing labs and the ever increasing demand for sampling and testing to manage quality and support ongoing production.
Hall 11, B40
KHS demonstrates the future of PET processing
Compact filling and packaging systems Processing
diverse packaging tasks with energy efficiency
Individual bottle design with Bottles & Shapes™
KHS GmbH will be presenting its current highlights in plastic packaging. Among other innovations, the manufacturer of filling and packaging systems will be exhibiting modules for special packaging formats which have been specifically designed for the InnoPET Blomax Series IV stretch blow molder. The Bottles & Shapes™ program for individual bottle design will also feature at the trade show.
The preferential heating system (PH) developed by the KHS Group now enables bottlers to achieve perfect bottle quality even with extremely oval bottles in an energy-saving, safe and reliable process. Especially when processing cleaning agents, laundry detergents or personal care products, which are very often filled into oval PET bottles, this process has many advantages. The systems provider now also offers this option for its successful InnoPET Blomax Series IV stretch blow molder. During preferential heating the preform is selectively heated according to its later bottle shape to prevent any uneven distribution of materials. Preferential heating is made possible by a special heater section at the end of the heating segment. Here, the system first rotates the PET preforms through the heater to obtain a basic heating profile. In the downstream PH section rotation is stopped, giving the preform its selective heating profile.
Also on show will be innovative systems for special stretch blow molding requirements, such as PET packaging with 70-mm necks. These receptacles are known as wide mouth containers and used for various types of food packaging.
In the form of a video presentation KHS will also be showing visitors its future-proof block system; with the KHS InnoPET TriBlock the KHS Group has now launched a filling and packaging system for PET bottles to market which incorporates a stretch blow molder, labeler and filler.
From the initial design to the ready-to-produce bottle
Another focus will be sustainable bottle design. With its Bottles & Shapes™ program KHS GmbH offers beverage and food producers an all-round service which starts with individual suggestions for possible designs and ends with a bottle that is ready for production.
One of the developments to come out of the Dortmund systems provider's Bottles & Shapes™ program is a lightweight 1.0-liter PET bottle for milk and mixed milk beverages. Weighing just 20 grams, it demonstrates what the milk bottle of tomorrow could look like: attractive, light – and easy on resources. In order to protect the milk against external influences, two different types of UV light barrier are used. Unlike the classic milk carton, this bottle is fully recyclable.
Hall 13, A 75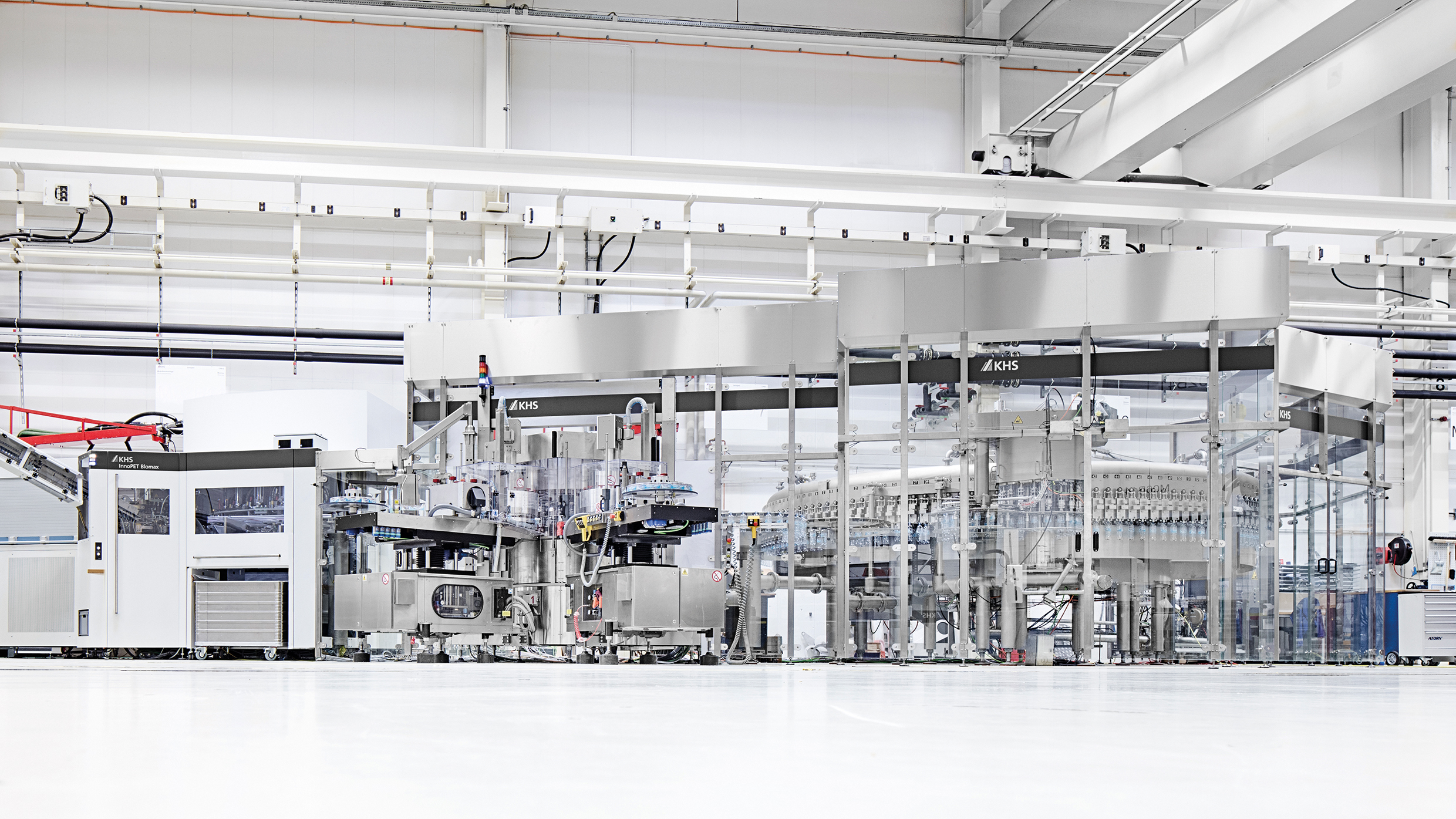 Jomar launches next-generation
injection blow molding (IBM) machine
The Jomar IntelliDrive series features precise servo-driven hydraulics that reduces energy consumption by 40%-50% and boasts a dry cycle time of 1.8 sec. which is significantly faster than standard hydraulic machines. Jomar engineers worked in partnership with Bosch Rexroth, Charlotte, N.C., to develop a proprietary use of servo-driven hydraulic technology to power the plastifier.
"We've developed a machine that reduces operating costs and increases production, thus delivering more profits for our customers, " said Ron Gabriele, Sales Manager for Jomar. Along with the lower energy and utility costs, the IntelliDrive series offers a reinforced main platen which reduces the possibility of deflection. The machine also features a closed-loop system for the machine's clamping system, which delivers exact control over the clamp's speed and position. This creates faster speeds for opening and closing while simultaneously reducing impact upon tooling, thus prolonging the lifespan of the molds.
Hall 14, A32
Mould & Matic presents latest blow-moulding machines
The K 2016 is to be the venue for Mould & Matic's presentation of an innovative product for the injection-, stretch- and blow-moulding sector. This newly designed machine for single-stage blow moulding convinces on the basis of production quality and individual size configurations.
The key features of Mould & Matic's new Blowliner Medium machine include productivity combined with greater flexibility. This new Kiefel subsidiary will be introducing itself at October's K 2016 trade event in Düsseldorf with a two-row series production tool for blow-moulded items.
The decisive competitive advantage lies in the single-stage injection/stretching/blowing procedure, which Mould & Matic completes with consistent production quality. All the machine movements of the stretch/blowmoulding station are actuated by a servo-electric system designed for maximum control of the process. Cooperation with a renowned partner guarantees the provision of the best injection moulding technology in the entire sector, while ensuring a combination of maximum productivity, reliable processing and consistent product quality. This combination of production machines delivers a configuration designed for maximum energy-saving.The performance of the Blowliner Medium is such that it can produce approximately 10 to 30 million items (a figure based on 0.5-litre containers) per year. The integrated removal device picks up the blow-moulded bottles and positions them precisely on the conveyor belt for subsequent handling by the stacking System.
Hall 1 / C 40
SMI: ECOBLOC® ERGON
LG-VMAG
Stretch-blow moulding, filling and capping integrated system with output
rate up to 33,600 bph (0.5 L)
The integrated system of stretch-blow moulding, filling and capping of the ECOBLOC® ERGON LG-VMAG series combines the functions of a rotary stretch-blow moulder, of an electronic rotary filler and of a rotary capper. The ECOBLOC® integrated system stands out for:
-compact modular frame, with a wide choice of customization options
-latest technology innovations adopted in the machine design
-perfect synchronization between the "dry" environment of the stretch-blow moulding module and the "wet" environment of the filling module
-minimum number of transfer star wheels, as the stretch-blow moulding module and the filling/capping module stand "back to back", with no need for connecting conveyors
-operating and maintenance costs dramatically cut
-outstanding price/quality ratio.
SMI's ECOBLOC® ERGON LG-VMAG series models are the ideal solution for manufacturing, filling and capping PET, PEN and PP containers of many different sizes and shapes, from the simplest to the most complex and innovative. Combining stretch-blow moulding, filling and capping in one single machine offers major economic benefits:
-no need for a rinser, accumulation conveyors and conveyors between the blower and the filler
-virtual elimination of container contamination risks
-considerable reduction of line inefficiency causes
All models are equipped with an innovative bottle transfer system, minimizing the risks of product contamination and increasing the machine's overall performance; ECOBLOC® ERGON LG-VMAG integrated systems can be employed in the bottling lines of sparkling water and CSD.
Hall 14, B69
Nissei ASB to demonstrate four high performance
machines & advanced technologies
Among other products visitors can see the following exhibit:
ASB-70DPH/DB – Double-Blow Heat-Set Molding in One Step
Due to its continual development and extreme molding versatility for a wide range of container designs and resins, the medium sized ASB-70DP range of one-step injection stretch blow molding machines have remained as one of ASB's best-selling products since their introduction resulting in the sale of more than 1,800 units
ASB has now developed the all new ASB-70DPH/DB for global debut at K2016 that combines the versatility of the ASB-70DPH with the double-blow technique of the HSB series into a compact and versatile one-step injection stretch blow molding platform. It is expected to be a major opportunity for those smaller molding companies wishing to move into niche area hot filling, without incurring the investment costs and narrow product range of larger, more dedicated machinery.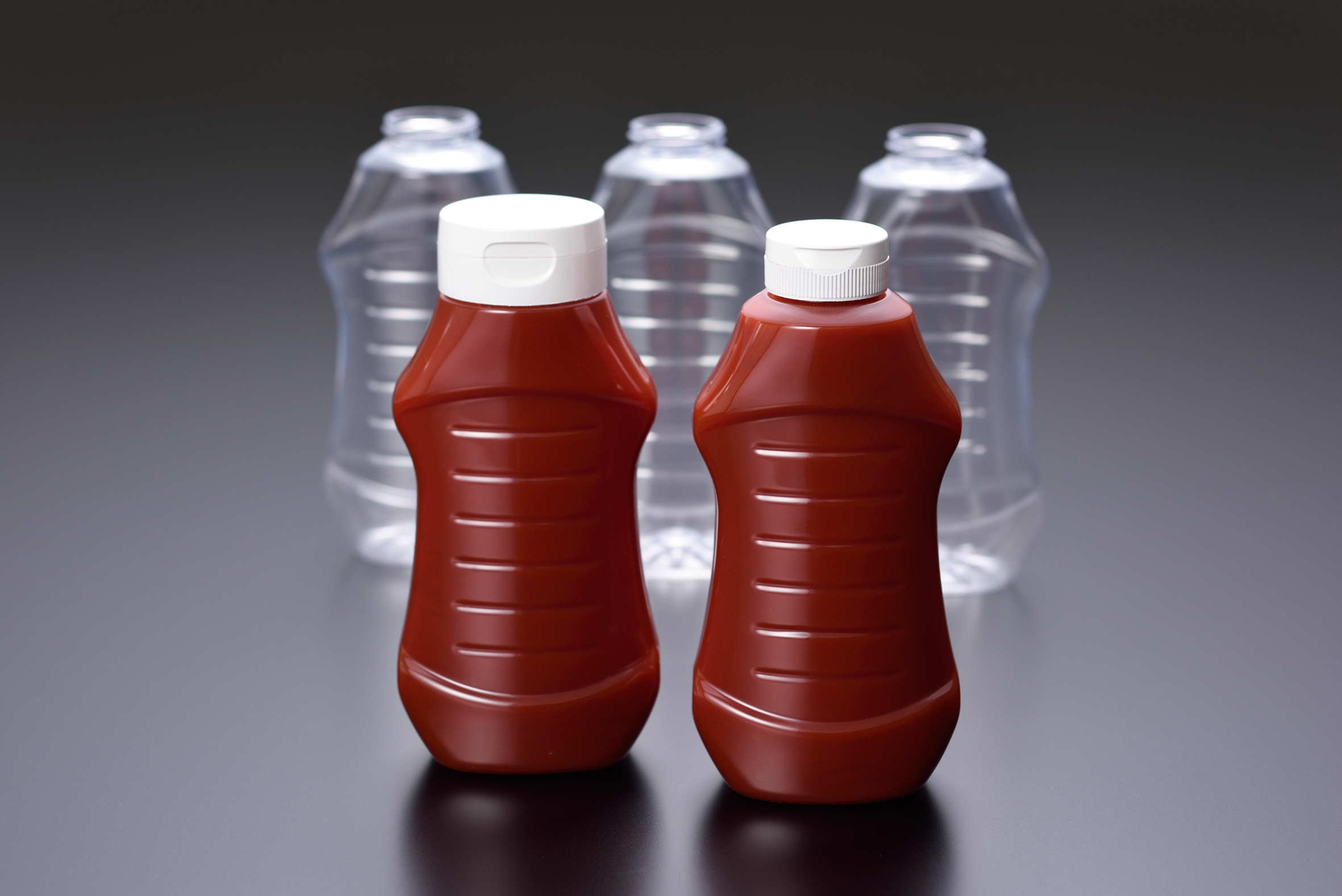 To achieve this, the blow station has been heavily modified to incorporate two sets of blow molds mounted on a servo driven shuttle system. Since one-step molding cycle times are largely dependent on the preform molding time, the primary and final blow molds are able to mold PET containers that are hot fillable at up to 90°C, subject to container design, while operating within the same cycle time as a conventionally molded container.
Servo driven hydraulic pumps are fitted as standard, contributing to major energy saving and offering clean, quiet operation while all motions above the molding plane are either pneumatic or servo motor actuated, as in the case of the stretch / blow unit, ensuring that molded products are free from the risk of contamination.
For increased versatility, the machine is also capable of molding conventional containers for a wide range of applications including jars and in a wide range of molding materials. Injection clamp daylight has been extended up to 700mm for even greater flexibility in molding of longer preforms as is often required when molding non-PET resins, and an optional injection unit with increased capacity further extends molding flexibility.
At K2016 the machine will be demonstrated molding a 500ml PET ketchup bottle in five cavities suitable for hot filling at up to 87°C.
Hall 14, B38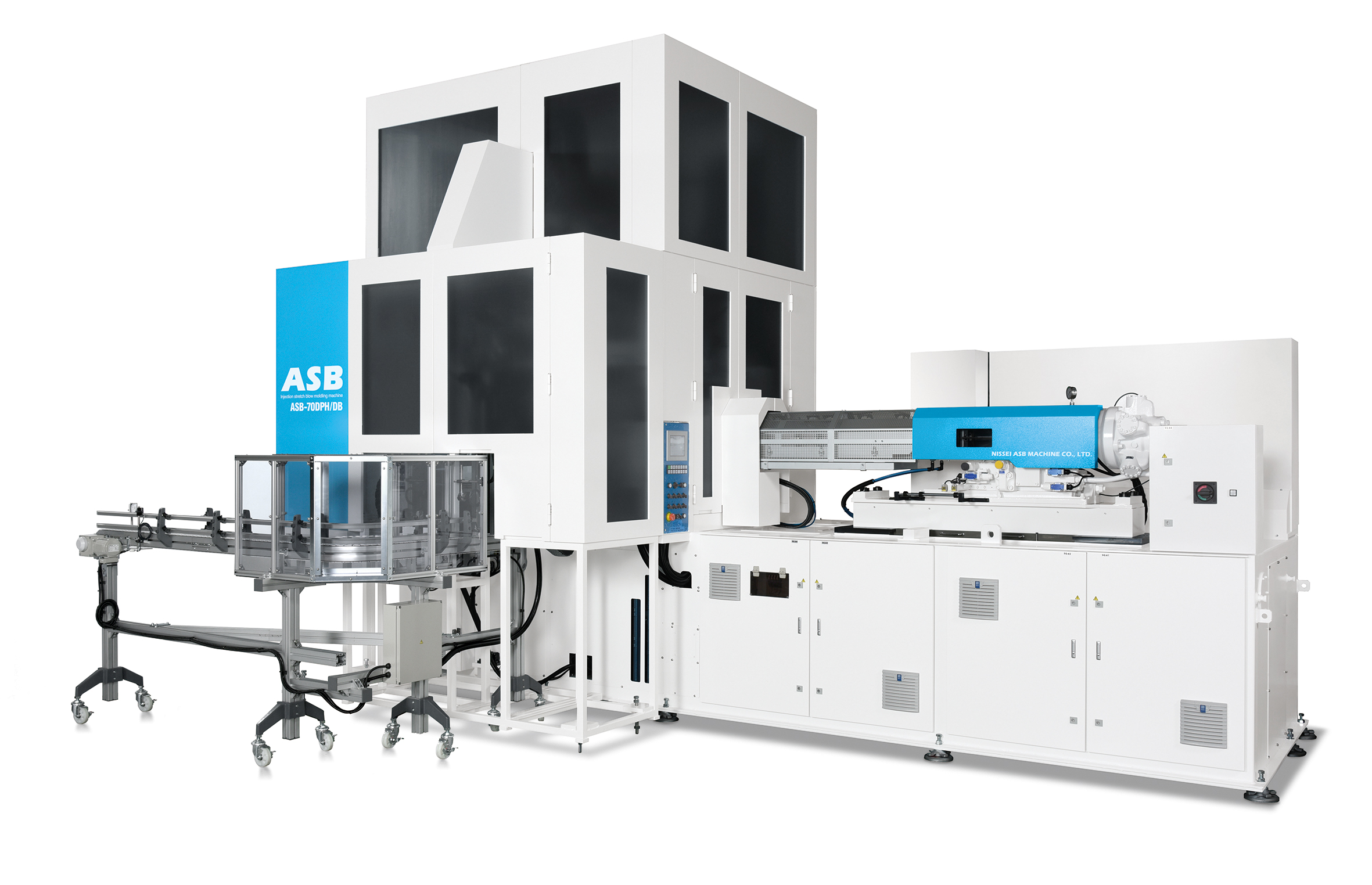 CYPET to show the biggest (50 ptr) PET containers
CYPET Technologies Ltd of Nicosia, Cyprus, manufacturer of single-stage PET processing machines using its own, patented technology, will show at the world's two biggest 50 litre PET containers.
The a 50l beer keg is capable of withstanding over 9 bar burst pressure, now in production in Australia on a CYPET K 53 machine model. To complement this 50 Litre keg size, the machine also produces 30 Litre beer kegs as well as 35l conical-shaped PET fermenters for home brewing.
The new 50l container for transporting milk, with a 180 mm neck diameter and with unique moulded-in handles for easy carrying, is now in production in Kenya on a CYPET K 38 machine model. To complement this 50l milk jug size, the machine also produces a 20l version with the same neck and handles.
Hall 14, C58
Uniloy Blow Molding
Uniloy All-Electric Shuttle Blow Molding Machine M20.75 ED Producing 32 oz. Bottle
Manufactured in Milacron's brand new, state of the art facility in Policka, Czech Republic, the NEW Uniloy All-Electric Shuttle machine specializes in the production of bottles, containers and technical parts from 100 ml up to 20 liters. This machine represents the first model of the NEW M-Series, 3rd generation of Uniloy's successful All-Electric Shuttle blow molding machines. The new M-Series provides the benefits of all-electric, modular design, simplified and reliable components, reduced operating costs, and is clean room friendly while not sacrificing performance. The new Uniloy M-Series Shuttle can process virtually all commercial resins enabling you to produce everything from tiny cosmetic containers to large industrial packaging and offers guaranteed production time, minimized downtime, lower maintenance costs, easy operation and consistent product quality.
Cell Specifics:
5+5 cavity, 47 gram, 13 second cycle time
Hall 15, C06
Starlinger:
Bundled expertise on PET
Since the presentation at K 2013 of the first FIBC made of 100 % woven PET, and based on many years of company experience in PET recycling, Starlinger textile packaging has developed proprietary technology for the production of woven tape fabric from up to 100 % rPET flakes. Since the properties of rPET match those of virgin material, fabric woven from rPET has exceptionally high tensile strength coupled with a high creep modulus. It is extremely resistant and retains shape stability over a long period of time even under the effects of load and temperature exposure – advantages which make PET fabric the material of choice for a wide range of new applications.
Food-safe and suitable for attractive designs, PET fabric also lends itself ideally to packaging food products and consumer goods. Thus, Starlinger will be showing for the first time a "PET pet food sack" at K – a sack for dog food made of 100 % rPET flakes. The pinch bottom sack from the PP*STAR product family consists of rPET tape fabric laminated with printed OPET film, offering all necessary barrier properties for the safe packaging of sensitive contents such as dog food or fertilizer.
Also in keeping with the focus on PET are the viscoSTAR SSP reactor and the viscoSHEET line from Starlinger viscotec. With the viscoSTAR SSP reactor, PET pellets or flakes are decontaminated and rendered suitable for use in applications with food contact while increasing the intrinsic viscosity (IV) of the material. viscoSHEET lines produce sheet from up to 100 % rPET – out of flakes from production waste, skeleton waste, or edge trims. Along with the viscoSTAR SSP reactor, individual components of the viscoSHEET line such as calender and winder will be on display at K
Hall 16, B 47
Hall 9, D 21
Ettlinger:
Efficient filtering of melts
Ettlinger Kunststoffmaschinen GmbH will showcase an enhanced range of high-efficiency melt filters. With regard to the melt filters, the ERF series, which is also suitable for heavily contaminated plastics, is now capable of handling even higher throughputs, while the ECO models are optimized for filtering PET and PE in film and foil lines as well as low-viscosity thermoplastics and polyamide.

The patented, continuously operating ERF and ECO melt filters can be incorporated into almost any extrusion line. At the heart of both filter types is a rotating filter drum with conical perforations through which the contaminated melt flows from the outside to the inside. A scraper continuously removes the contaminants that are held back at the surface of the drum and feeds them to an exit screw. This enables the filter to be used continuously and fully automatically over a period of weeks and months without having to replace the screen.
ERF-filters, for high throughputs of up to 6,000 kg/h, are suitable for separating contaminants such as paper, aluminum, wood, silicones or high-viscosity plastics from heavily contaminated polyolefins and poly-styrenes.
ECO melt filters, designed for maximum throughputs of 1,800 kg/h (ECO 200) and more than 3,000 kg/h (ECO 250), respectively, have been optimized by Ettlinger specifically to support sophisticated extrusion processes such as the manufacture of films, sheets and other semi-finished products. They are ideal for filtering polyolefins, PET and PA as well as recycled materials containing up to 1.5% contaminants.

Halle 9 / E24
KREYENBORG Plant Technology
Drying, Storing, Mixing,
Conveying and Dosing
Particular focus this year will be on the range of topics regarding drying and crystallizing, as well as comprehensive solutions for bulk-material handling processes.
Among other innovation the new
PET-BOOSTER. will be presented
This continuously operating system dries PET within 7-10 minutes. Focus here is specifically on applications in extrusion of plastic films and fibers with degassing extruders (twin-screw, planetary- and multi-screw-extruders). Varying levels of input moisture that results in process fluctuations in the extrusion process (as well as fluctuations in end-product quality) can be eliminated with the KREYENBORG PET-BOOSTER. By feeding pre-heated material with a consistent, low input moisture level, a smaller extruder and vacuum degassing system can be used. With existing plants, a quick 30% increase in throughput can be realized with the installation of the PET-BOOSTER. A further positive side-benefit: the toxic liquid precipitate from the vacuum system is reduced by up to 50%. The investment is thereby amortized in a very short period of time.
Hall 9, A55
Maag: A new standard in underwater pelletizing systems
At the upcoming K-2016 Show, the "new" Maag will unveil its most recent innovation, one that combines the capabilities of Maag and recently acquired companies Gala Industries and Reduction Engineering Scheer (RE Scheer).
Maag will showcase a new underwater pelletizing system that is a result of the synergies that have been created through the integration of the Gala underwater pelletizing product portfolio with those of Maag Automatik's industry-leading pelletizing systems. The end result is an underwater pelletizing system that successfully combines the know-how of multiple industry leaders in a design that promises to set a new standard for the pellet-processing industry.
The system has been designed to be a one-stop solution for its users as all of the components, from the tip of the extruder screw to the finished plastic pellets, are produced by Maag companies. This includes the melt pumps, screen changers, diverter valves, die plates, cutting chambers, water bath, strand dies, cutter systems, interlocking systems, cutter hubs, system controls, cutting tools, support frame, and any other required equipment.
Hall 9, A04