The plastic packaging industry continues to push the boundaries of technology and innovation. Pressure on plastic converters to produce more environmentally friendly & low cost solutions has resulted in advanced packaging designs. This in turn has increased the need for more stringent quality controls with a focus on traceability right the way through the process. Leaders in the industry are realising the value of data recording to identify and resolve the source of quality issues.
The industry is demanding a flexible and collaborative approach to meet their inspection requirements. It is imperative that the solutions are bolstered with reliable and efficient after sales support. Adopting this mind-set is imperative to meeting customers' demands in an ever changing industry.

Two Approaches to Product Development
To provide the plastics industry with the most reliable and accurate testing and inspection systems, Torus Measurement Systems carry out a two pronged approach of innovation and customer partnership to sustain a successful and ever evolving product portfolio. By researching the plastics market and listening to their customers, it was evident to Torus certain areas of bottle and preform inspection had become stagnated. With the need for a fresh approach being apparent, Torus adopted a customer-centric philosophy, endeavouring to introduce new inspection systems and technologies to solve specific customer problems. Focusing on customer relationships, Torus aim to become a trusted partner rather than simply offering transactional exchange of equipment, creating a collaborative environment benefiting both Torus and their customer partners.
Innovation
Traceable and Discernible Metrology
The importance of true metrology to the plastics industry is a growing trend. Existing controls have relied on process monitoring which is not an absolute procedure with traceable measurement. Process monitoring evaluates part to part variation, focusing only on the difference between one result and the next as opposed to determining the true value. Due to stable production requirements, the PET packaging industry originally implemented inspection systems based on process monitoring rather than metrology. With a strong emphasis now for true metrology, many plastic bottle manufacturers and fillers have commissioned Torus to help solve their inspection problems. Specialist knowledge of metrology makes Torus' approach unique. Stringent testing and validation procedures are put in place to ensure that the stated repeatability, accuracy and R&R values are met with a technical specification which is shared with every customer. Torus' experience of integrating various sensing technologies, contact and non-contact enables them to offer a complete quality control solution.
Fig. 1: Torus B300 Bottle
Wall Thickness
Revolutionising Bottle Thickness Measurement
Torus always strive to improve rather than just match competitive inspection systems, one such case-study is the development of the B300 Bottle Wall Thickness Gauge, see Figure 1. The implementation of a new sensor technology with 4-axis motion control reduced R&R values by between 10-30%. Additionally, a solution to measure base thickness has solved a problem persistent in the industry for some time. New base designs and light-weighting techniques mean that measuring base thickness is more critical than ever. The B300 gauge is a proven system operating in many plants around the world.
Fig. 2: Cavity ID Station of the Torus B305 Automatic Preform Inspection System
Speed versus information
Plastic packaging production demands quick and reliable preform checks, whilst harmoniously working with the injection moulding process. All preform manufacturers face the following challenges; start-up, tooling changeovers, small batches, trials and continuous production; thus requiring a comprehensive and flexible inspection system.
Vision based preform inspection gauges have been used within the industry for many years. Typically inspecting each preform produced using online systems. Unfortunately with high frequency inspection, important and detailed information regarding the preform performance is compromised.
Torus have developed the comprehensive and modular B305 Preform Inspection System, see Figure 2. Comprising of Cavity ID Recognition, Neck, Body and Height Measurement, Body Inspection, Weight Measurement, Gate & Seal Inspection and Polarised Light.
Advantages of the B305 Preform Inspection System include, but are not limited to; achieving true measurement through using patent-pending telecentric lenses and lights coupled with a traceable UKAS master and verification artefacts; 'start of thread' is located to ensure measurements are taken at 0° and 90° for increased batch repeatability; and a variety of Cavity ID fonts can be reliably recognised using shape recognition, not limiting the customer to a single OCR font, see Figure 3.
The technical advances and performance enhancements of the B305 Preform Inspection System will be explored in detail in Torus' next article.
Fig. 3: Cavity ID recognition of different fonts
Collaborations
Focusing on the customer is key to Torus' success, having built and continuing to build relationships and partnerships with leading plastic bottle and preform manufacturers, Torus have created a rewarding collaborative environment. Two examples of such collaborations are the Advanced Burst Testing (see Figure 4) developed in collaboration with ColorMatrix™ and the single operation Top Load & Volume Gauge.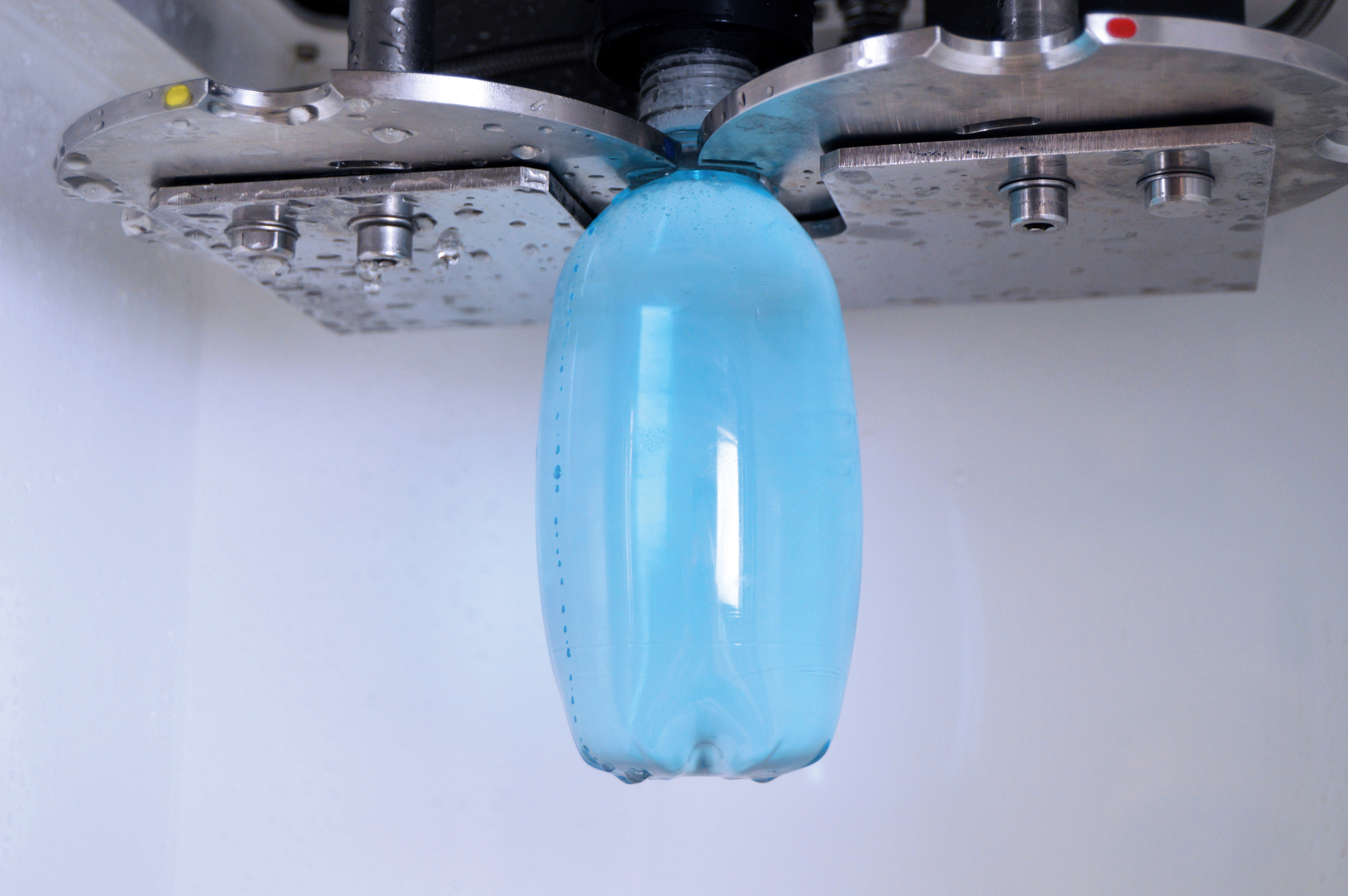 Fig. 4: Torus B303 Bottle Burst Tester
Advanced Bottle Burst Results
ColorMatrix™ sought out Torus to help overcome an inspection problem; they required detailed information regarding material performance; specifically Volume Expansion & Material Yield data. Working with ColorMatrix™, the Research and Development team understood the importance of why these features would be beneficial and created a specialised solution. The collaboration resulted in new features such as the Stress Strain Curve shown in Figure 5.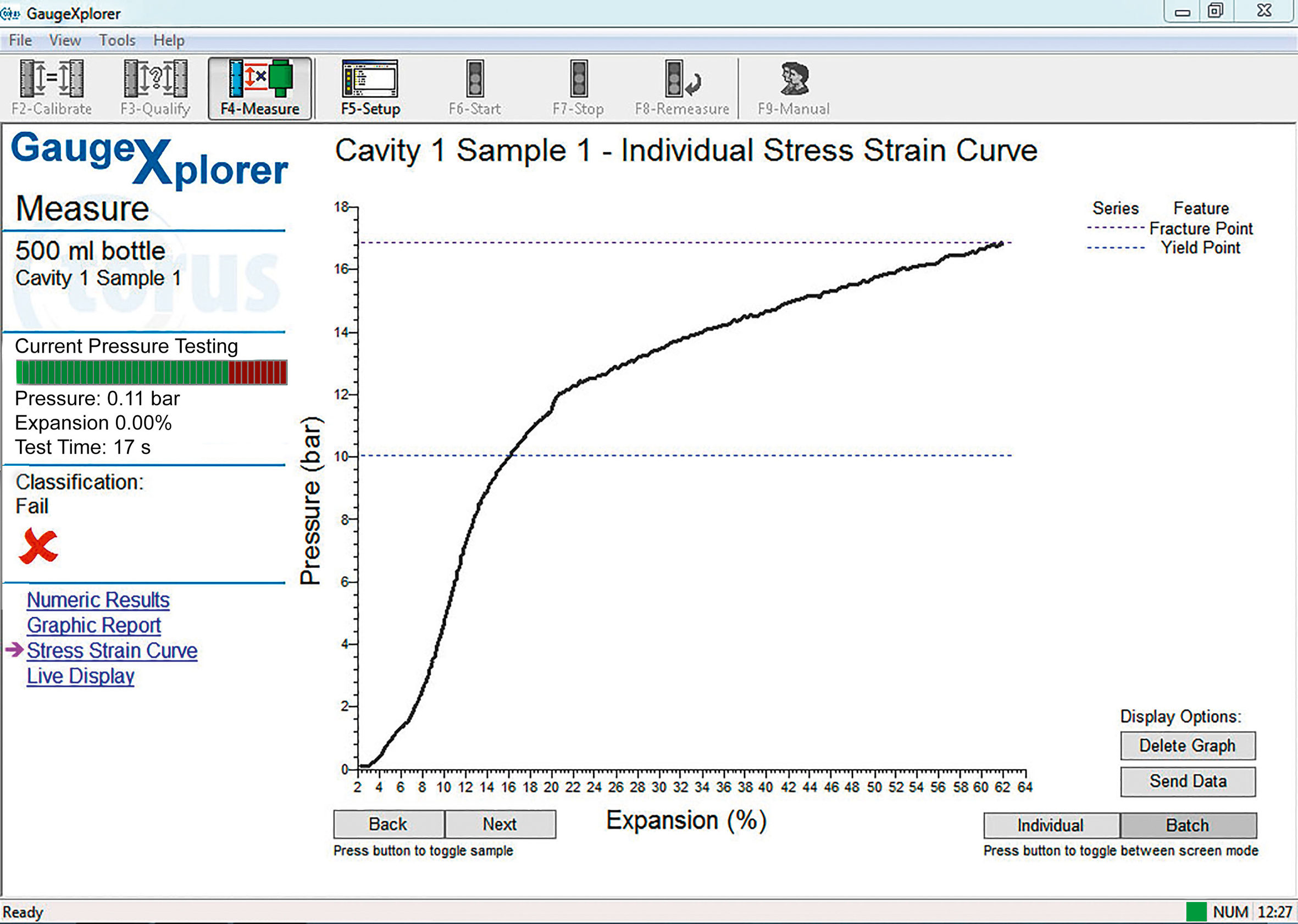 Fig. 5: Stress Strain Curve
Integrated Top Load & Volume Gauge
With guidance from the team at Logoplaste, Torus developed a single operation Top Load & Volume Gauge, see Figure 6. The system works by the user loading a bottle just once and performing both tests automatically. Torus researched the market and found that current systems were slow with insufficient support. In many cases manual volume measurements were still being performed, draining manpower and often inducing measurement errors. The B304 Top Load & Volume Gauge combines both tests into one robust system, reducing operator intervention and increasing part traceability, saving testing time and improving accuracy.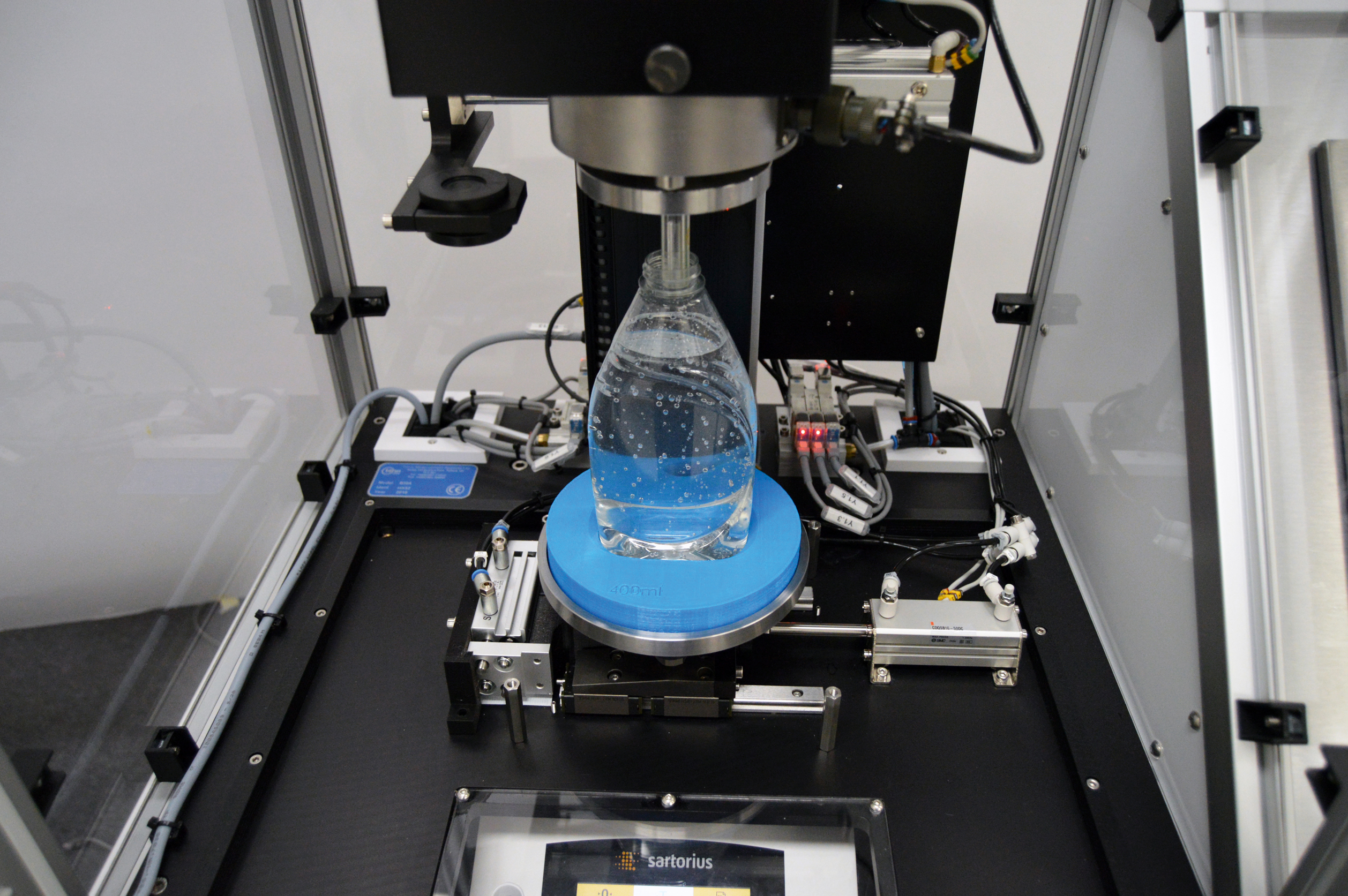 Fig. 6: Torus B304 Top Load & Volume Gauge
The Complete Solution
It is important to understand the inspection process from start to finish. Beginning with the requirement and working with the customer to develop a reliable gauge, but also assisting with results analysis. To facilitate this, Torus offer Statistical Process Control software, known as SPCXplorer. SPCXplorer can be configured for new Torus gauges and/or existing third party laboratory equipment. Using industry standard database platforms, SPCXplorer is suitable for single station application, through to full factory database-centric network installations.
Designed with the needs of shop-floor data collection in mind, SPCXplorer can be interfaced to a large variety of manual instrumentation via RS232 connectivity, or for more complex gauging systems it can process bespoke ASCII data files via Ethernet. SPCXplorer offers a comprehensive array of data analysis tools, such as the example control charts in Figure 7, which allows the end user to understand the measurement data and resultant effects on the production process. In addition, enabling data to be stored locally, networked or exported to the customers preferred package.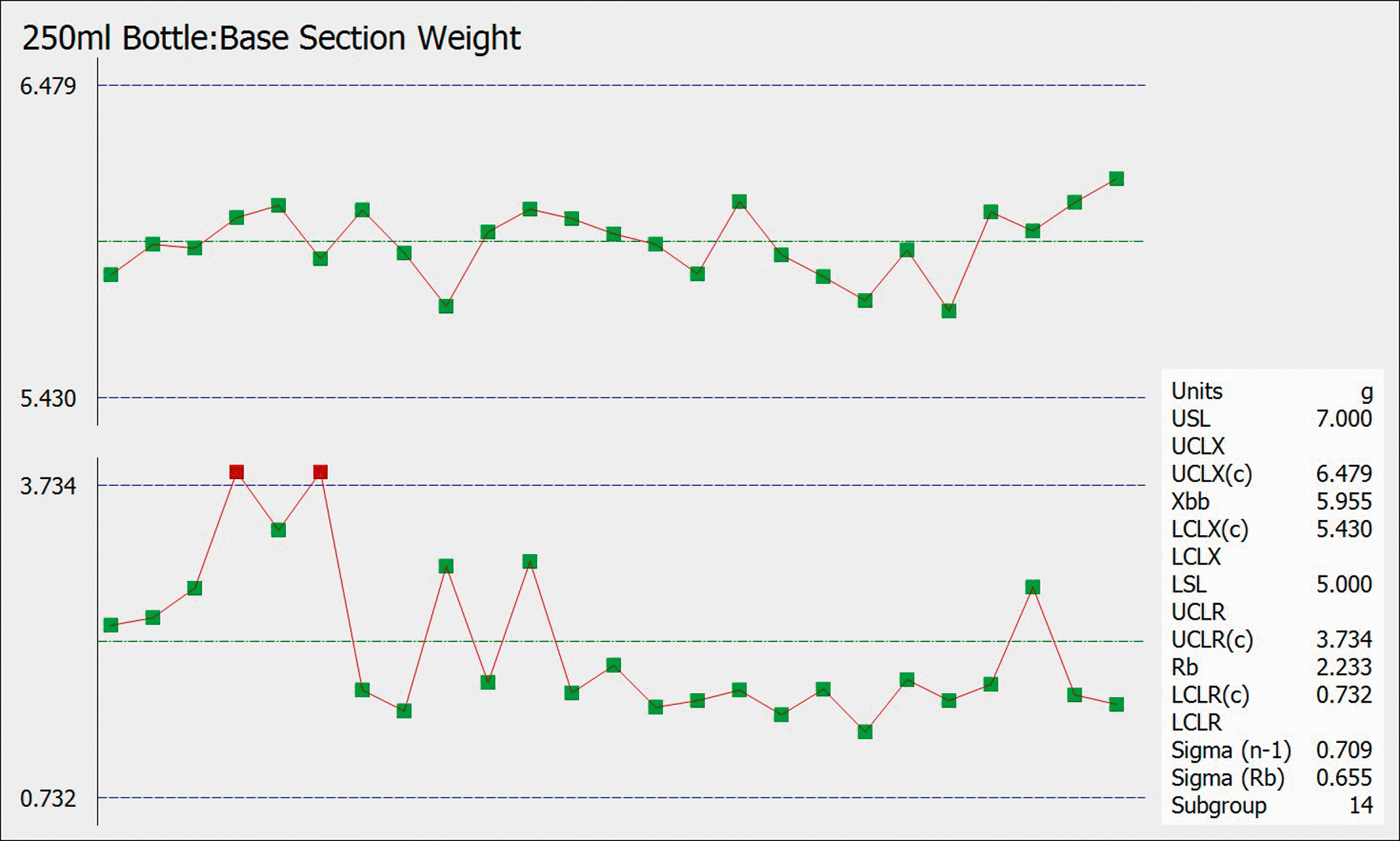 Fig. 7: Torus SPCXplorer Control Chart
Flexibility and Support
The plastics packaging industry is continually evolving and has a vast array of differing processes, designs, technologies and requirements. To best answer the needs of the industry it is important to understand that each customer can have distinct and contrasting needs. To reflect this Torus not only work closely with customers but also offer a level of customisation and support.
Customisation examples include; bespoke results screens, configurable network output, SHOTSCOPE integration and tailored batch set-up, see Figure 8.
Furthermore, our global service and support team offer a complete range of preventative maintenance contracts, on-site breakdown cover, recommended spares, verifications, re-calibration services and online remote support. Our engineers travel around the world supporting over 400 systems and providing installation and training services.
Fig. 8: Quick-start Batch Setup