Two Layers + Zero Cooling
Double Layer molding was originally introduced by ASB in the mid-1980's for molding of returnable 5-gallon water bottles. At that time, it was conceived as a workaround to overcome the shortcomings of the limited polycarbonate grades for stretch blow molding – but as material choice and stability improved, molding could be conducted by standard 4-station machines in a single layer so Double Layer molding was set aside.
Then, during recent studies into modernday thick-walled molding for cosmetics, the Double Layer technology once again showed advantages, especially when combined with the benefits of ASB's proprietary Zero Cooling™ technology that entered the market in 2019.
Building up thick preforms in two layers has the benefit of allowing each layer to cool more efficiently and as proof of concept, a prototype machine used five stations with first and second injection being performed sequentially. For the production model another station was added between these two injection stations to incorporate Zero Cooling providing further cycle improvements, especially with heavyweight premium containers.
Originally slated for demonstration at Chinaplas 2020 and Interpack, interruption to the 2020 trade fair scene has allowed the company to focus more energy on expanding application development - currently multiple patents are pending relating to the process and the machine design.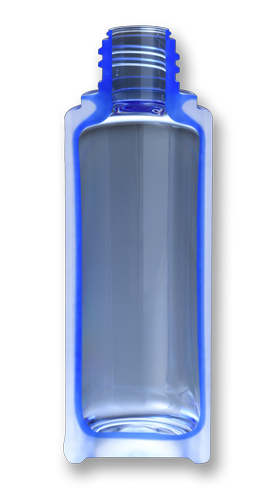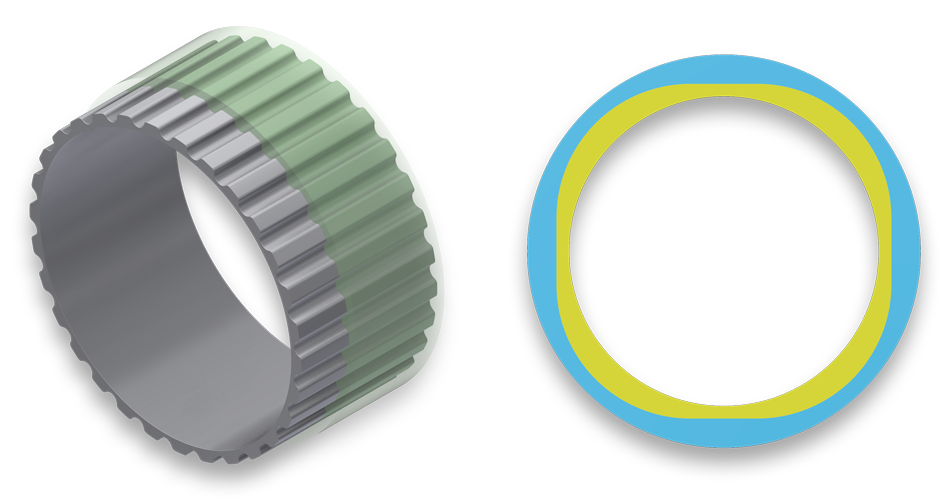 ASB-12M-2INJ
While the process can be applied to almost any class of ASB's line-up, the initial production model is the ASB-12M-2INJ, in the same class as the company's entry level model for small bottles. Despite having a very different design, existing single layer molds can also be utilized.
The overall molding process is almost identical to a conventional one-step machine except for the addition of one injection station and preform cooling station.
The individual injection processes are completely standard, and the Double Layer model shares the same molding daylight specification with its 4-station counterpart. As a way of minimizing operating costs and maximizing versatility, it is possible to operate a 4-station single layer mold on the 6-station Double Layer machine by simply adding one compatible hot runner and two lip plate sets. Moldable container dimensions are identical for both versions excepting very small containers in 7 or 8 cavity mold-sets.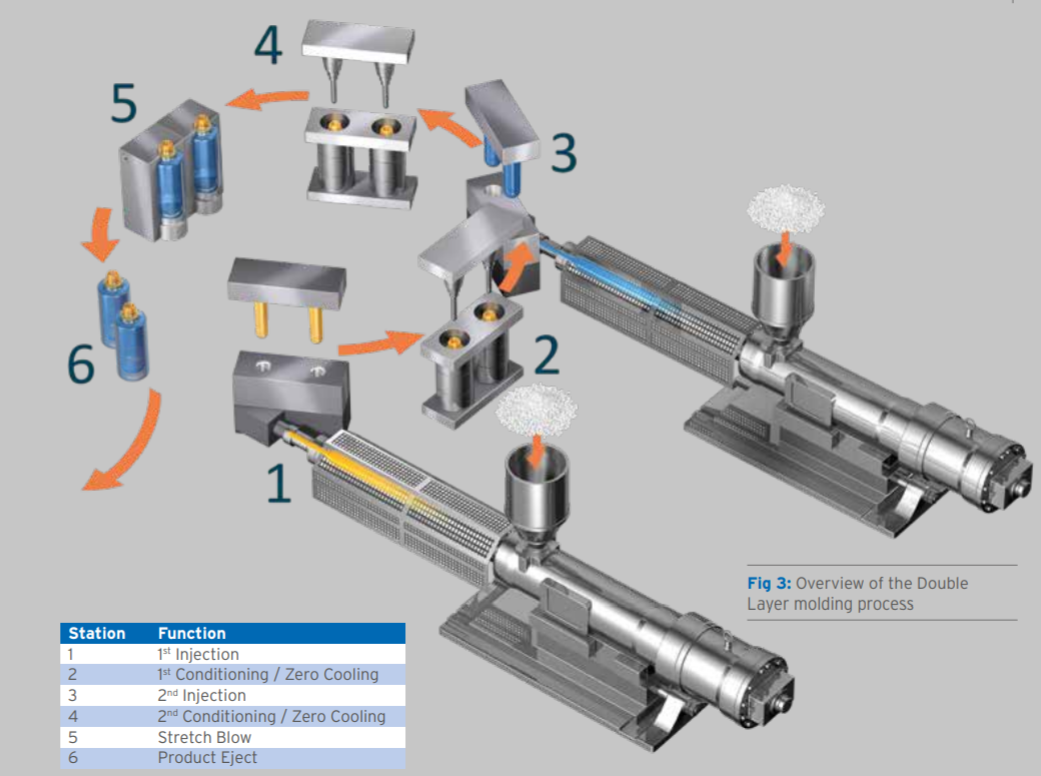 Materials
Up to now, five resin types (table) have been tested in multiple combinations, however as the ASB 4- station 1-step process is fully capable of stretch blow molding over 20 resins there are many more possible combinations available depending on the end-user's needs.
Unlike co-injection where layers can become intermingled during injection, the sequential process maintains a distinct boundary leading to acceptable separation during granulation and standard recycling processes. For materials having dissimilar densities, it is not expected to be any more difficult than separating caps and labels from bottles.
Molded-In Decoration
If the container can be effectively decorated direct from the molding machine, downstream costs for printing and decoration may be either reduced or eliminated.
Simply molding clear or tinted material over a solid background color gives many interesting and unique visual effects that generate a feeling of depth. For enhanced appeal, by profiling the injection tooling, the boundary between the two layers can be made non-uniform to achieve stripes or various gradation effects either vertically or horizontally.
Molding Inside Out
Conventionally, the inner layer of the preform will be molded first with the second layer being injected over it. But, depending on the material combination, neck design or the desired visual effect it is equally possible to mold the outer layer first then inject the second layer to become the inner layer of the preform.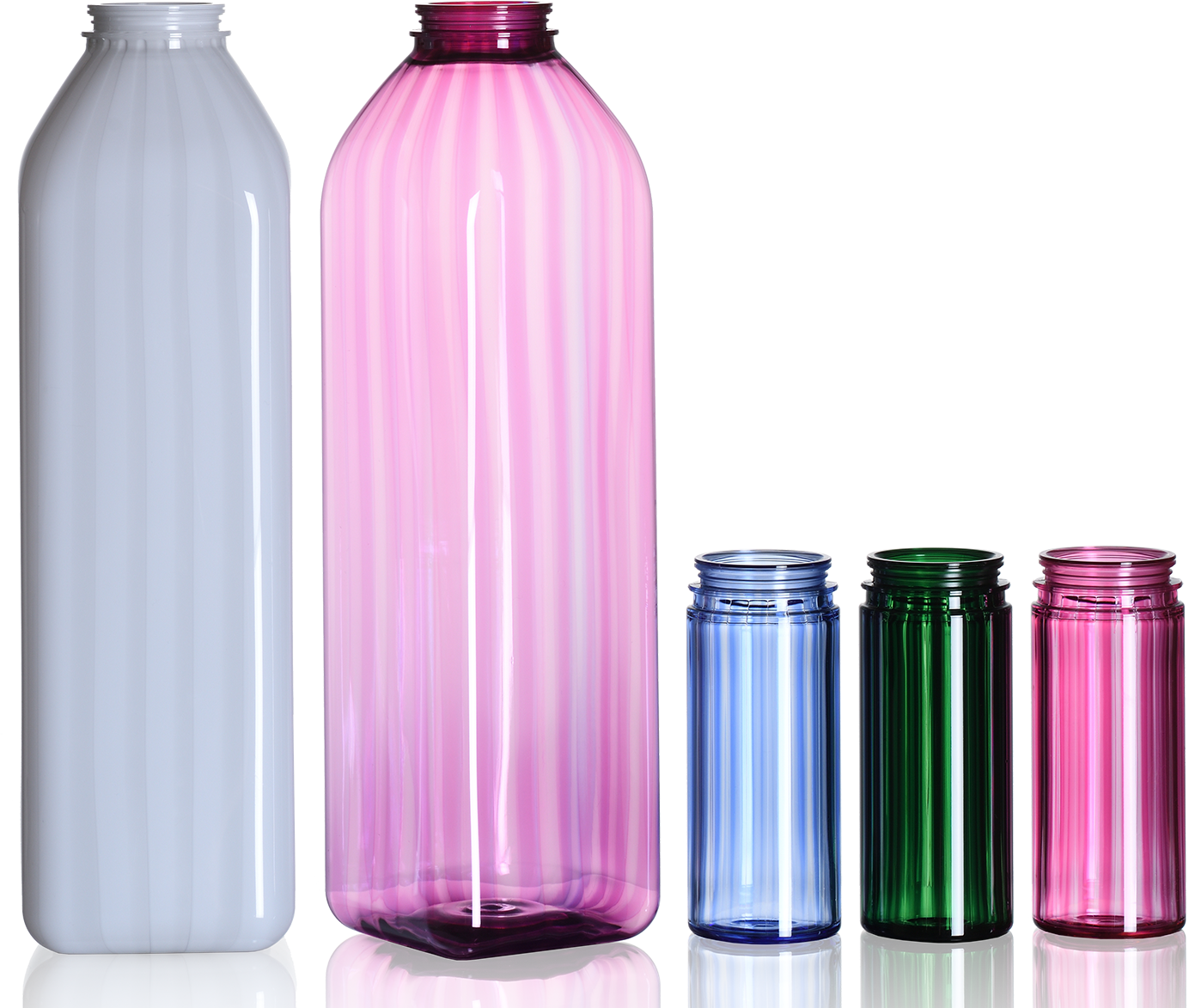 Food Safety with Recycled Resin
Regulations on food contact with recycled resins vary throughout the world, so the only way to be confident of global compliance is to eliminate the contact completely.
Multilayer co-injection molding, where more than one material is simultaneously injected, was pioneered by ASB in the early 1980's and still finds a use today for a variety of applications mainly related to gas barrier, utilizing low percentages of secondary materials.
One of co-injection's major drawbacks is the typically complex hot runner designs having high investment, and even higher maintenance costs. The molding process too, becomes more challenging requiring very careful attention to ensure even distribution of the secondary resins throughout the entire cavity set. With future legislation almost certainly requiring packaging to contain minimum prescribed percentages of recycled materials, process control is critical and co-injection cannot guarantee conformity. Although it can theoretically be used to inject recycled resin to avoid food contact, it was never designed for this purpose – and running at its maximum levels of around 15~20% of body weight there is a risk of encroachment into the preform's inner surface or internal leakage in the hot runner.
Because Double Layer molding is sequential, with each of the two hot runners being totally isolated there is zero risk of food contact with the secondary material. In trials, molding a minimal inner wall at the first station resulted in a body section made up of a 30:70 balance of virgin / recycled resins. Even when taking the neck weight into account, more than 50% of the overall container weight can be recycled resin.
During operation, the simple monolayer hot runners require virtually zero maintenance and no special attention needs to be applied to process conditions. And since both layers are injection molded, there is no possibility of any cavity-to-cavity imbalance or variations while recycled content levels can be designed into tooling to guarantee compliance with legal or contractual specifications.
Bag-in-Bottle
This variation provides an inner flexible bag that collapses as the product is dispensed. When used with an airless pump cap, this is especially effective at minimizing air contact for the product after initial opening to achieve longer product life. For the food market, this may enable a reduction in the use of preservatives, or for personal care products and may maintain improved consistency of moisture and fragrance.
The outer layer will typically be PET while the inner layer may be nylon, EVOH or polypropylene etc. depending on the barrier and operational properties required by the filled product. During preform molding, a series of small holes are formed around the gate area of the outer PET layer. After blow molding and during filling, the two layers initially remain in contact, but as the product is dispensed, air can enter the interface between the two layers, allowing the inner layer to collapse with the product and preventing a headspace from developing.
Cosmetics
Perhaps the most dramatic benefit of the process comes in producing functional, unique and eye-catching containers that cannot be molded by any similar process.
The usage life of many cosmetics such as mascara and lotions depend on maintaining a careful moisture balance within the product and for this reason, their packaging is often molded in polypropylene. In the Double Layer process, the option now exists to mold a different outer layer using PET or other resin to expand the opportunities for packaging designers to create completely new concepts. Furthermore, the thickness of the inner PP layer is virtually unlimited so very high moisture barrier can be assured.
Another common design used for premium cosmetics is the glass-like appearance for bottles and jars, but molded in safe plastics such as PET. Jars in the 30 to 100ml range are often preferred to have an extra thick base that enhances the brand image and shows off the product at its best.
These containers create two challenges – preform cooling and machine shotweight capacity. The Double Layer process solves these by; a) building up the preform in two, easier to cool, layers and b) the effective shot-weight capacity of the machine is doubled by the use of two standard sized injection units.
These very thick containers often require molding in high-priced resin grades having very low crystallization rates, but with the ability to mold two thinner layers with more effective cooling, it may be possible to shift to a lower cost resin while achieving the same clarity.
For added visual appeal, containers can be molded using two different colors to form each preform layer, and with tapered layer thickness, a gradation effect can be achieved in the blown container.
Summary
While Double Layer molding is most certainly a niche process, it further widens the 1-step molding possibilities for container design and manufacture where packaging has specific requirements for ecology, enhanced performance or eyecatching aesthetic design.