A wholly owned subsidiary of Krones AG since 2018, Dekron offers a diverse range of solutions for the industrial application of direct printing technology. The company is based in Kelkheim, near Frankfurt am Main.
Krones' involvement with digital decoration technology began back in 2006, with the aim of giving beverage and liquid food manufacturers a high degree of flexibility in the design of their product packaging, as well as by way of a rapid response to changes and trends in the market.
Today, more than a decade after those first steps in digital direct printing technology, a technology portfolio has emerged that covers a wide range of market requirements and is focused on industrial use.
By combining and precisely coordinating different process characteristics, digital decoration can be applied to a large variety of materials and container shapes. Whether glass, HDPE or PET, cylindrical or shaped containers, Dekron offers the right solution for every application.
The digital revolution now in progress will bring increasing customisation, even of mass-produced consumer goods. There will be completely new opportunities to stand out from the mass of competing products. Possibilities include custom packaging for special events and personalised, customerspecific decoration. Embossings and debossings can be printed for a fascinating combination of look and feel. Ever smaller batch sizes with high product variety and speed to market are increasingly important catchwords for the beverage and food industry.
Sustainability also plays a key role in Dekron's digital direct printing. The carbon balance is positive because no label material is used. No labels means no inventory. Containers are decorated right on the line with the ability to switch artwork within seconds during production.
Dekron offers the right machine technology from the outset, a mature business case model and an all-round package to customer specification.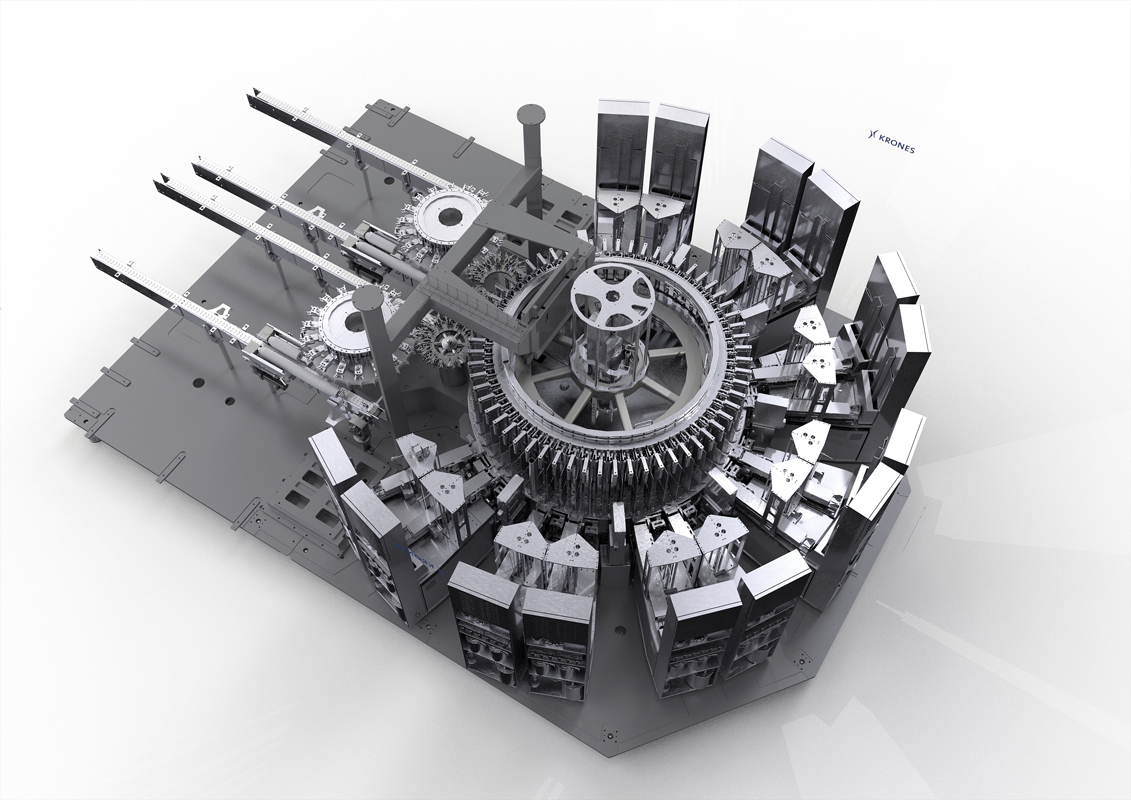 In addition to press and ink, the Dekron package also includes setting up the complete workflow on site. This means that the new technology can be put to profitable use straight away, at the touch of a button and with all features. Depending on machine and container type, Dekron's digital direct printing systems range in performance from 120 to 36,000 bph.
Examples include DecoType Lab, a laboratory machine for quantities up to 120 bph, DecoType Compact with a maximum output of 5,000 bph and DecoType Performance with up to 36,000 bph.
A highlight is DecoType Select, a technologically mature system available for PET and HDPE. Printing on other substrates such as glass is planned for the near future.
DecoType Select was developed for decorating moulded containers but has the flexibility to print cylindrical containers as well. Its maximum speed is 24,000 bph.
The number of colours can be freely selected and the print image height can be configured to 70 mm, 140 mm or 205 mm, leaving plenty of room even for complex designs to accommodate a large amount of text information on the packaging.
Equipped with a fully automatic print head cleaning system, an ink supply that meters the ink without stopping the system, and an artwork inspection system with high-resolution cameras, the machine meets the most exacting production requirements.
A special feature of the ink system developed for DecoType Select is that PET containers can go through the conventional bottle-to-bottle recycling process and be reused as packaging for beverages and food. In other words, the ink is recyclable.
Krones subsidiary Dekron has also obtained confirmation from the Association of Plastic Recyclers (APR) that beverage manufacturers who decorate their PET containers digitally are not subject to a separate recycling process as the standard recycling chain is not interrupted.
The American Association of Plastic Recyclers (APR) represents the plastics recycling industry. Its members are independent recycling companies as well as manufacturers of consumer goods, machinery manufacturers, test laboratories and associations.
APR aims to improve the quality of recycling and increase the supply of recycled material through technical means, testing programmes, training, etc. Krones is also a member of the organisation.
At this year's K 2019 trade fair in Düsseldorf, Dekron will present the Direct Print technology and focus entirely on sustainability and recycling. Booth number at K 2019 - OA Hall 15 / 15.1
Today, Dekron is represented worldwide with its machine portfolio. Its main customers are the beverage industry, the personal and home care sector and converters such as packaging manufacturers and packaging decorators.