GDXL – 360° PET Engineering Partner
Since its establishment, GDXL Precise Machinery Co., Ltd. (GDXL) has been dedicating in R&D and manufacturing of molds for PET packaging. It is a high-tech enterprise capable of offering professional engineering solution to the PET packaging industry. The extensive product scope includes blow mold, preform mold, closure mold, hot-runner and components. The company also engages in engineering projects involving PET production line conversions, complete preform production systems, as well as new applications such as multilayer co-injection.
The company also provides full series of technical services and supports like project feasibility analysis, preform, bottle and closure design, sample test, laboratory inspection and analysis, problem diagnosis, training and after-sales service, etc.
GDXL was established in 1993 with a starting capital of RMB 50 million. It is located in Foshan, China, occupying an area of 33,000 square meters. There are more than 430 employees working in GDXL and over 100 of them are engineers and technicians.
GDXL's premise is equipped with advanced flexible manufacturing lines and an intelligent logistics system to achieve high production precision and productivity, shorten product development cycle and meet customers' specific demands. The company has a professional laboratory accredited by the CNAS and various world-class beverage brands. It's complete mold testing systems guarantee product's quality and performance prior to delivery. GDXL also runs a PET packaging industry platform to share latest industry news and information, and provide a bottle design and patent database for market research and R&D.
With a view to meeting market demand, GDXL proposes multilayer co-injection system solution to help customers realize engineering projects for packages with barrier properties and color gradation. The proposal extends durability and shelf life for products, and enhances market appeal, creating higher values for customers.
GDXL's products are widely used in beverage, food, edible oil, condiment, cosmetic, household and pharmaceutical industries. With our competitive technical expertise, excellent product performance and professional service, GDXL has successfully served more than 600 customers in over 40 countries and regions, covering China, the U.S., Japan, Europe, Australia, Russia, South Africa, Malaysia, Singapore, Indonesia, Vietnam, Thailand and the Philippines, etc.

Blow molds
PET containers for the beverage industry such as water, carbonated soft drinks (CSD), hot fill and aseptic bottles, etc.

Containers for other industries such as edible oil, condiment, cosmetic, personal care, household and pharmaceutical containers, etc.

Compatible with various brands of two-stage blowing equipment and single-stage blowing equipment.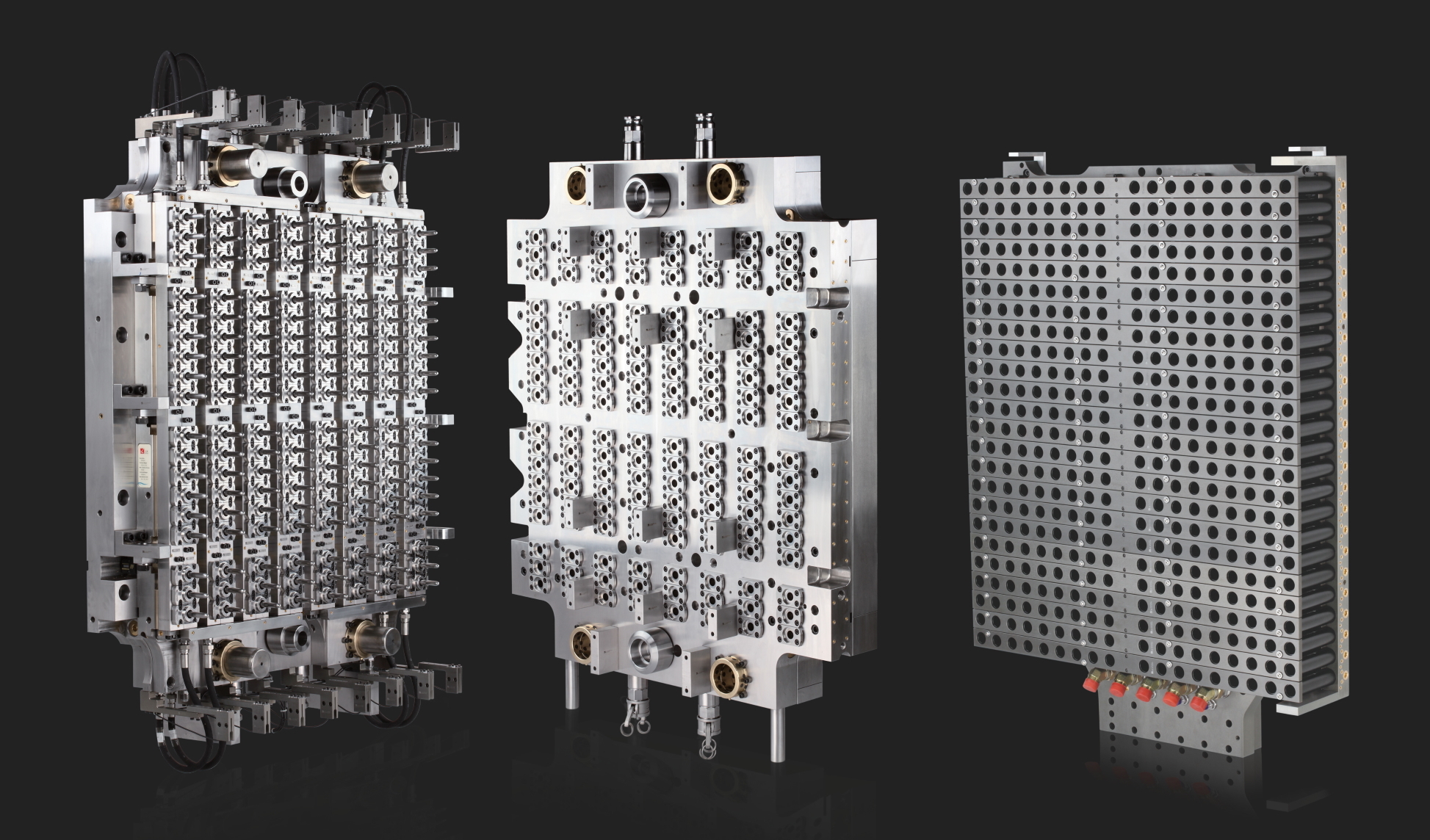 Preform molds
Specification: Cold half of 32, 48, 56, 72, 96 and 144 cavities

Neck finishes: 1716, PCO1810, 30/25, PCO1881, 29/25, 26/22, 38mm, etc.

Applicable machines: various brands of preform injection molding systems



Closure Molds
Specification: one-piece cap and two-piece cap

Neck finishes: 26mm, 28mm, 29/25, 30/25 and 38mm, etc.

Cavities: from 12 to 72 cavities

Applicable machines: various brands of closure injection molding machines and closure compression molding machines



Precision, Accreditation and Recognition


GDXL's production premise is equipped with a high proportion of advanced machining equipment, establishing an intelligent flexible manufacturing system which integrates various types of turn-milling equipment, cylindrical grinding equipment and an intelligent logistic warehousing system. Over 90% of the manufacturing processes are automatically completed and regulated by numerical control machining equipment, achieving a precision of within 5?m.
The company has established a complete quality assurance system which stringently monitors and controls every section of the whole production process, from raw material, heat treatment, machine processing, surface treatment, tools and fixtures, guaranteeing perfect product quality. It also stresses the importance of TQC on parts, complete molds and packages for stably delivering highly consistent, precise and reliable products. It is achieved through the integration of intelligent quality control methods such as in-machine automatic inspection and online inspection, and the expertise of the well-trained professional QA personnel.


GDXL's laboratory has been certified by well-known beverage brands including Coca-Cola, Pepsi-Cola and Danone as one of their third party laboratories. It is equipped with over 60 advanced inspection and testing instruments. Some of the instruments are independently developed by GDXL and patented. The company is capable of providing full set of inspection services in the course of PET packaging projects for its customers or as a third-party, as well as offering lab training courses. Moreover, it is the first laboratory in the industry to attain accreditation in accordance with ISO/IEC 17025: 2017 from the China National Accreditation Service for Conformity Assessment (CNAS). The company has undertaken several national PET packaging R&D projects and participated in the drafting of the national standard for PET blow molds.


Throughout the years, GDXL's continuous dedication and effort in the industry have gained recognitions and trusts from worldwide customers and partners as a reliable PET Engineering Partner.
News
No News available
Get in Touch
GDXL Precise Machinery Co., Ltd.
No. 18 Changjiang Rd., Guicheng, Nanhai
Foshan, Guangdong, 528251
China
Tel: +86 757 86 77 71 68
info@gdxl.com
www.gdxl.com/
Back