ACM was founded in 1982 as an engineer association.
Our business fields are:
Automation of industrial processes
Computer technologies for data capture and processing
Measuring systems for process and laboratory
Measuring equipment and automation solutions are developed and world widely delivered solely to the beverage and soft drink industries.
ACM technologies are used e.g. in Heineken, Carlsberg, AB-InBev, Nestlé, PepsiCo and Coca-Cola groups.
The company´s headquarters including the department development, production and export is situated in Vienna, Austria.
Worldwide Sales is coordinated via the Sales Office in Berlin, Germany, opened in 2003.
In Germany, Austria, Switzerland and Hungary sales activities are handled directly via ACM.
ACM has representatives in the UK, Scandinavia, Spain, Portugal, Czech Republic/Slovakia, Poland, Russia, Ukraine, Greece, Turkey, Israel, India, Pakistan, Taiwan and in the USA.
OEM like FAMIX, VAN DER MOLEN, WILD/INDAG, GEA TDS, KRONES, PAT, HORMES, RULAND EC, SPX-APV, KHS, PENTAIR-SUEDMO, ACTEMIUM and a lot more belong to our clients.
Laboratory CO2-Meter LAB.CO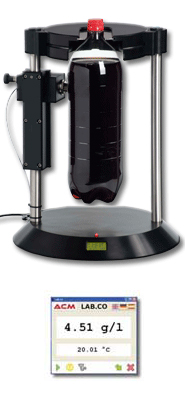 Laboratory CO2-Meter LAB.CO for non-invasive high precision dissolved CO2 content measurement in bottled beverages.
Laser technology, in combination with state-of-the-art electronics and mathematics, lead to a revolutionary new method for CO2determination in bottled carbonated waters, lemonades, beer, cider, sparkling wines and champagne.
No piercing of package is required, therefore no change of physical system "bottle" emerges.
Only ACM direct CO2 content measurement in the closed bottleprovides you with the very true CO2 content of your package!
Advantages
No moving parts, maintenance-free
Extremely fast, easy handling
CO2 selective measurement
Loss-free sample treatment
Measuring range
0 – 10 Vol. / 0 – 20 g/l CO2
Accuracy
+/- 0,025 Vol. / 0,05 g/l
Reproducability
+/- 0,01 Vol. / 0,02 g/l
Measuring time
within 1 minute
Data interface
to ACM process monitors incorporated
Get in Touch
ACM GmbH
Goldschlagstrasse 172
1140 Wien
Austria
Tel: +43-1-7865866 Fax: +43-1-7865866-20
sales@acm.co.at
www.acm.co.at
Contacts
Eduard Harrauer
Project Management
Austria
E-Mail
---
Back