Moretto S.p.A., leading Italian company in the automation for plastics processing, has a high technological content product portfolio which serves all the plastics processing process: feeding&conveying, dosing, drying, storage, grinding, thermoregulation, refrigeration and supervising systems.
Since 1980, Moretto, researches, develops and manufactures intelligent and energy efficient products and systems for the plastics industry. Specialties are process optimization and energy reduction in processing, in particular in injection molding of PET preforms.
In addition to its headquarters in Italy, Moretto maintains a global presence with sales offices in Germany, Eastern Europe, Turkey, Brazil, United States, Russia, India, and China, supporting the plastic processing industry in 57 countries worldwide. Moretto assures its business outlook is global while its daily practices are local and responsive.
Moretto's systems are the result of constant investment in technology, automation and research. Moretto holds more than 164 patents and continues to invest heavily in research and development activities that are carried out by a dedicated R & D center located in the Italian headquarters.
High performance machines with low energy consumption, customized solutions that meet the needs of an increasingly sophisticated clientele.


EUREKA PLUS and MOISTURE METER MANAGER, the revolution in drying of PET resin.
Eureka Plus is the Moretto's innovative drying system designed to continuously reduce energy consumption and improve drying performance, particularly for PET, where energy efficiency makes the difference in profitability for processors.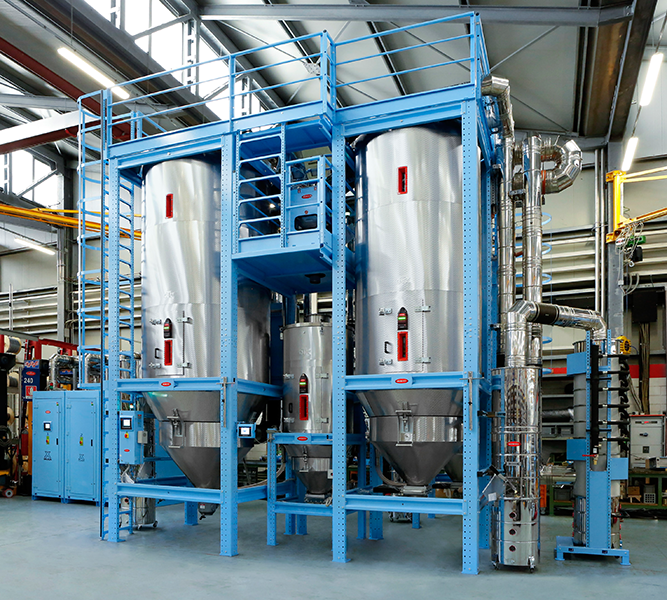 Eureka Plus is comprised of four Moretto patented technologies:
MOISTURE METER MANAGER, a revolutionary device which measures In-line polymer residual moisture and adapts the drying system operations,
X MAX, the unique modular multi-bed dryer with constant performance,
FLOWMATIK, the airflow and temperature management system,
OTX, (Original Thermal Exchanger) drying hoppers with superior mass flow drying characteristics.
The highly innovative, Moretto Moisture Meter Manager effectively closes the loop on resin drying by in-line measurement of each granule's residual moisture and applying this data to the adaptive drying system. Based on the delta measurement between the initial and final moisture content of the granule, Moisture Meter Manager interfaces with the dryer by automatically defining and managing process parameters for proper drying and energy efficiency.
Moisture Meter Manager scans the material and accurately measures in-line and real-time the residual moisture control of the plastic granule, using the exclusive Power-Peak technology.The double control at the hoppers input and output permits Moisture Meter Manager to handle the drying process by creating a fully automatic loop allowing incredible energy efficiency and guaranteeing the production certification.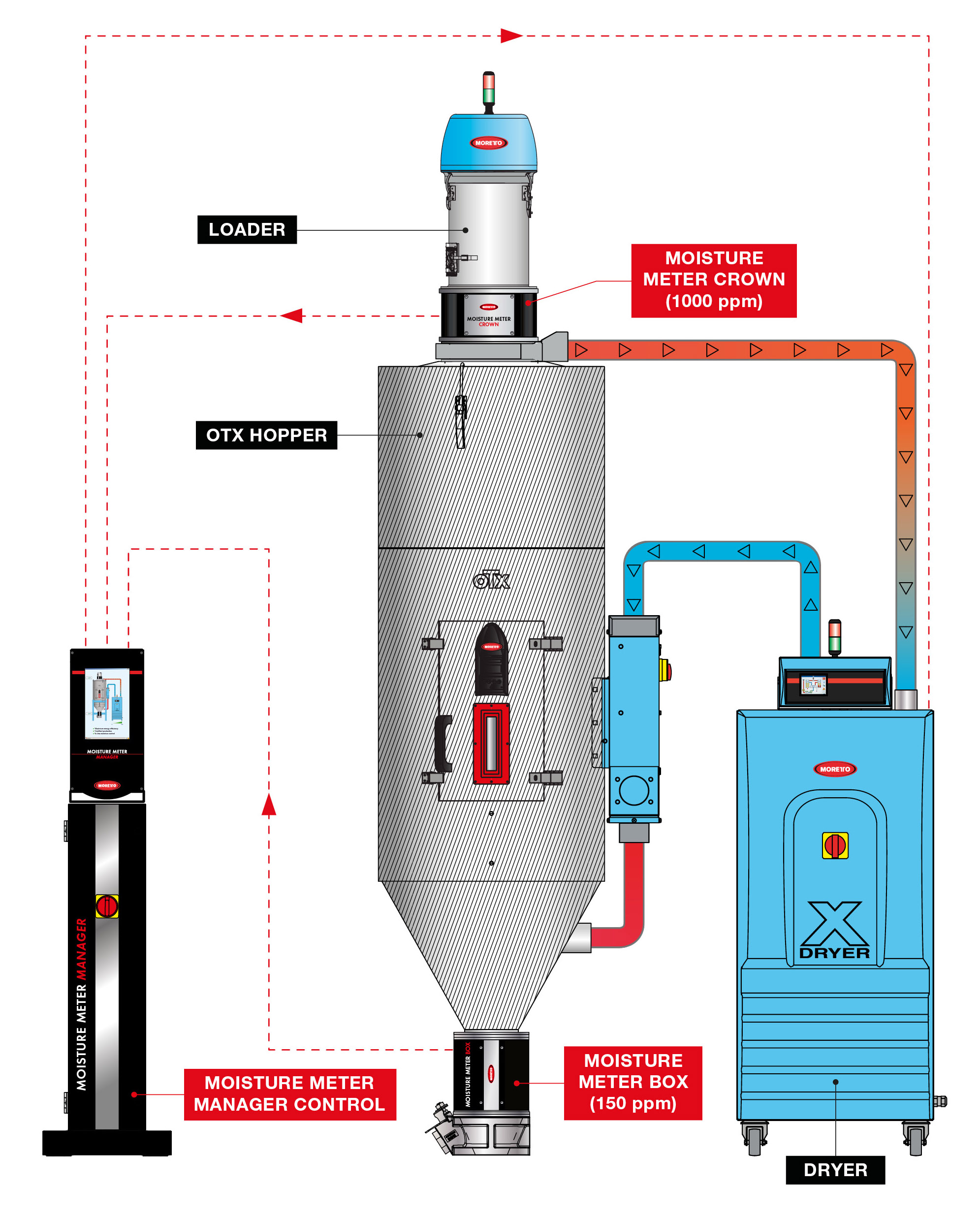 Eureka Plus and Moisture Meter Manager mark a real "Revolution 4.0" in the drying of the polymers that answers to PET preforms current market needs : high quality standards, fitting for guaranteeing the best results in terms of structural and aesthetical properties of the blown container, together with the maximum energy efficiency through the consistent and certified final material moisture and the adaptive management of the dryer depending on the real needs of every single material batch. Eureka Plus is claimed to be "the most advanced low consumption drying system available on the market". Processors that have adopted Moretto Eureka PLUS drying systems have enjoyed an average 56% reduction in energy consumption compared to conventional drying systems.
The entire Eureka Plus drying system integrates seamlessly with Moretto's Smart Factory 4.0 software, where data to and from connected devices is constantly exchanged to push all functions to the highest possible level of efficiency. The brain and human interface with Smart Factory 4.0 is Moretto's Mowis and all the technologies of Eureka Plus are integrated via this revolutionary supervision system. Self-configurable, with intuitive object programming, MOWIS unifies all machines in the plant, allowing integrated process control, monitoring and management from anywhere… on-site or remote.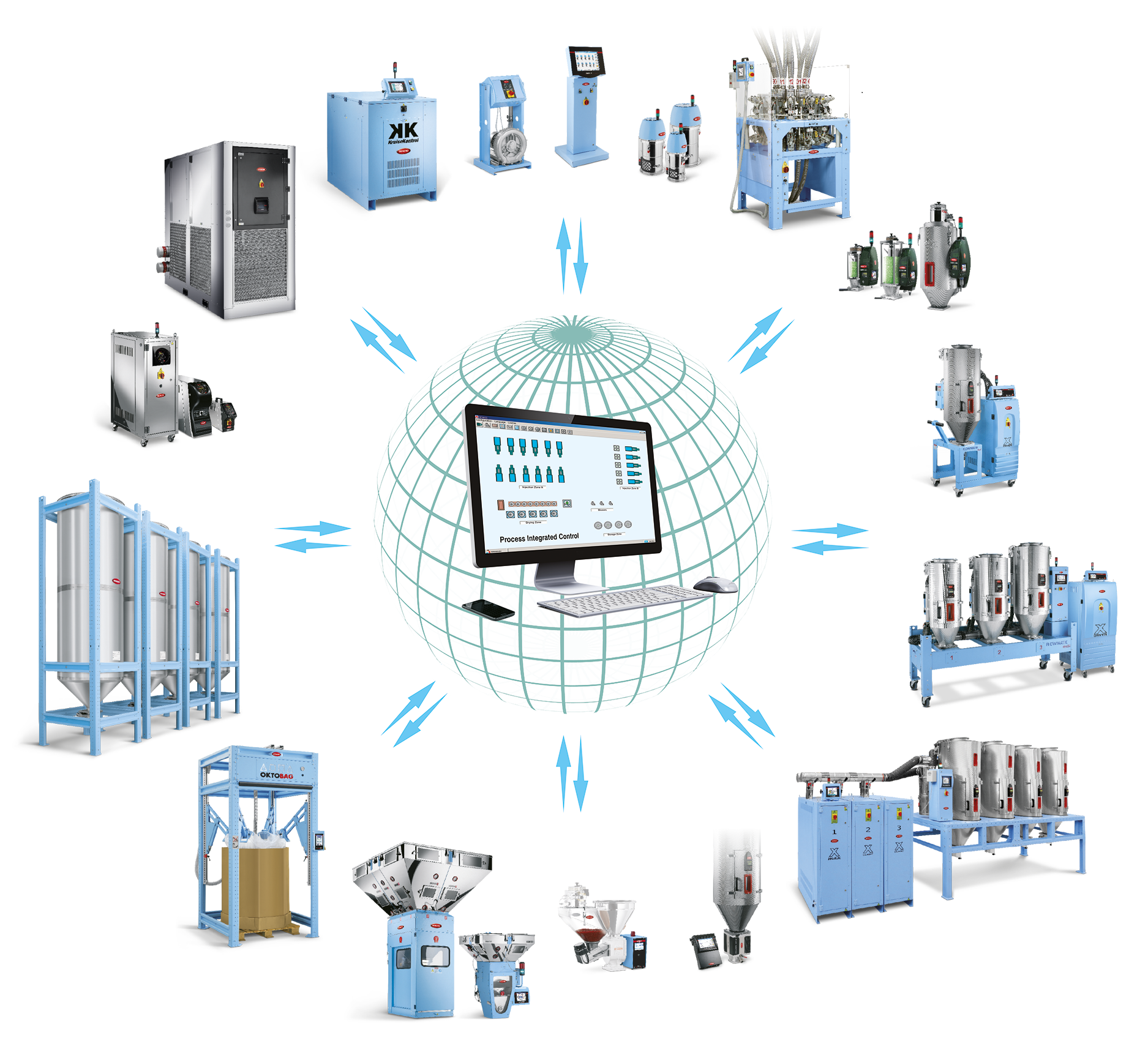 The recycling of plastic is an important and very topical subject. Even in this area, Moretto continues to develop customized solutions for the recycling of PET.
At Plast 2018, Moretto presented a new series of MPK crystallizers. They are absolutely necessary machines in this sector where R-PET and direct regrind, which is the scale coming from bottle granulation, are materials that need dedicated processes and system specifications.
MPK is an innovative crystallizer system designed to guarantee maximum reliability in the PET crystallization process. The MPK main characteristics are robustness, efficiency, ease and speed of maintenance and inspection of parts. The device is equipped with an exclusive mixing system with adjustable blades, and an openable cone that allows quick and safe access to the mixing chamber in under two minutes. The unique design of the hopper allows a single operator to open and close the hopper as needed. The process is controlled by a series of sensors that manage the processing phase through the PLC logic and a touch screen panel for easy operation.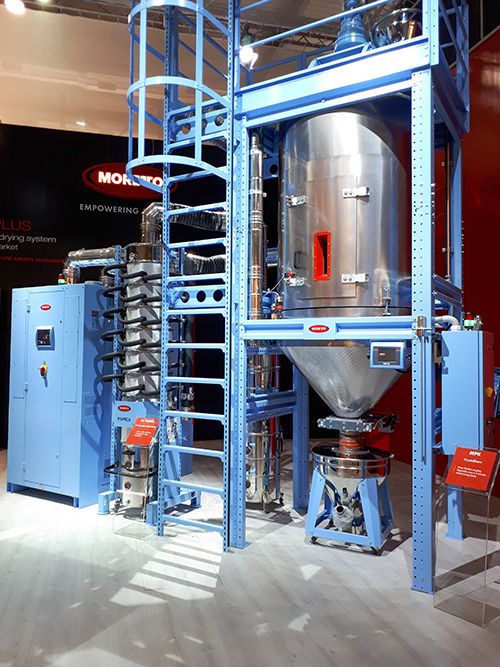 DS Series Mold Space dehumidifiers
Mold space dehumidification is a critical component in high volume production of PET and other hygroscopic plastic products, especially those with elevated processing temperatures. DS mold space dehumidifiers preserve molds from water condensation and maintain a dry atmosphere for the molding process, increasing the performance both in terms of final product quality and energy efficiency and enlarging the life cycle of the molds.
DS mold space dehumidifiers from Moretto are available in a range of 3 sizes to meet the size of the molding area to be dehumidified. The DS provides dew points from -5 to -15 °C assuring the nuisance of mold sweat will be reduced. A honeycomb desiccant rotor is at the heart of the DS dehumidification system, continuously rotating and providing dry air while simultaneously purging itself of moist air. Since the DS dehumidifier works on an open loop with the molding area, it constantly monitors atmospheric conditions to deliver dry air, while operating with the lowest possible energy consumption. Two blowers provide the necessary airflow for mold space dehumidification and for the regeneration of the desiccant wheel honeycomb.
Equipped with an icon-navigated, touch view control panel, the DS is easy to operate and displays both the humidity and air temperature. A security system is included to prevent unauthorized changes.
Two-stage filtration and an air intake condenser prevent contamination of the desiccant while minimizing the need for filter cleaning on both the dry air delivery and the regeneration air circuits.
Key points of Moretto's DS series mold space dehumidifiers are:
High capacity, continuously rotating SilicaGel desiccant rotor.
Adjustable airflow via manual valve.
Dew points from from -5 to -15 °C.
Touch view control showing humidity and temperature.
Two stage filtration.
Stainless steel construction, suitable for high humidity locations.
Compact size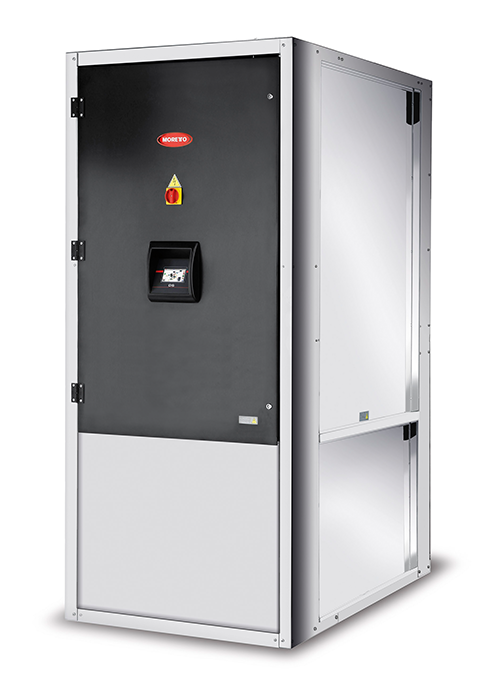 MORETTO @ NPE 2018 Bottle Zone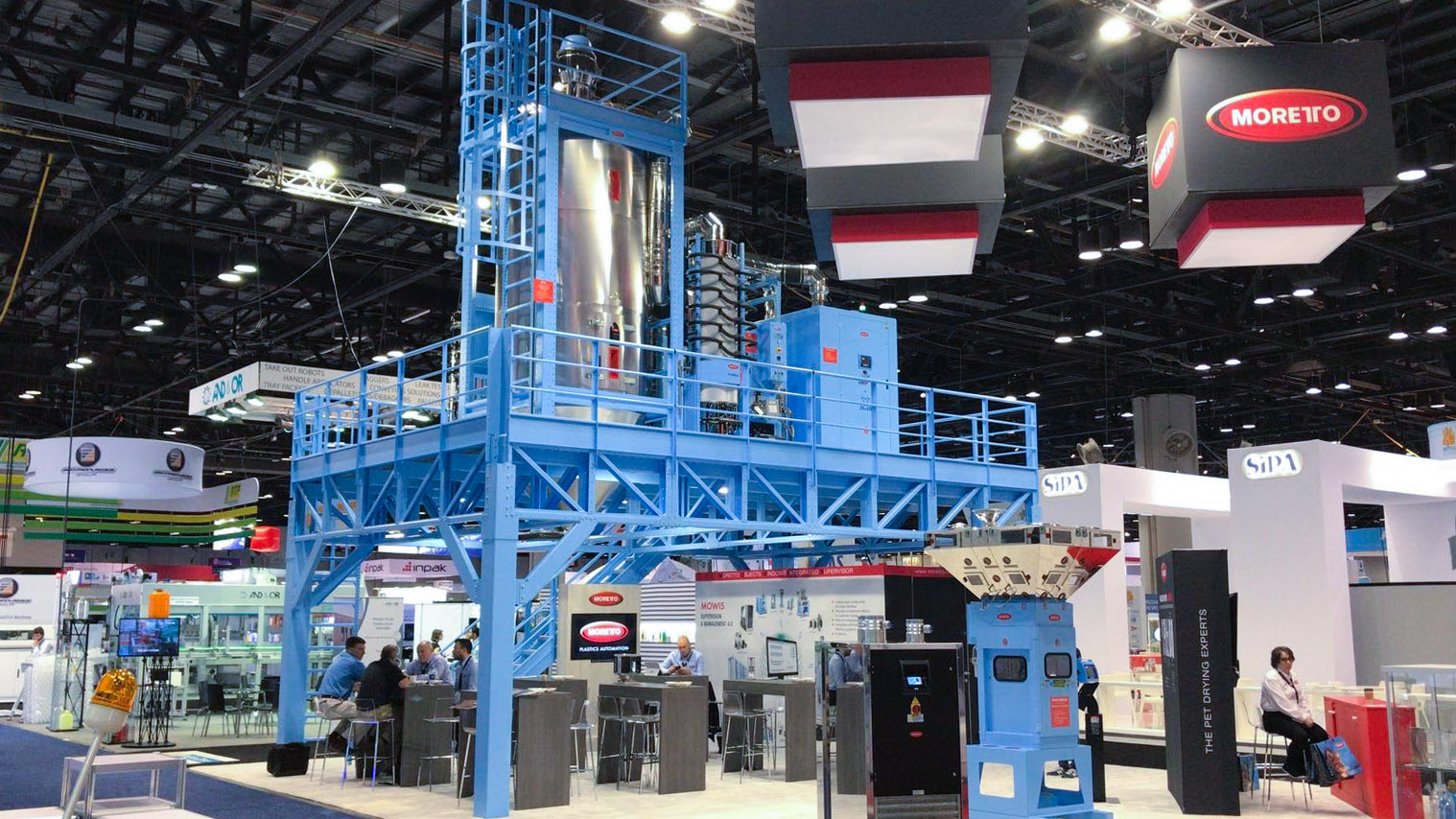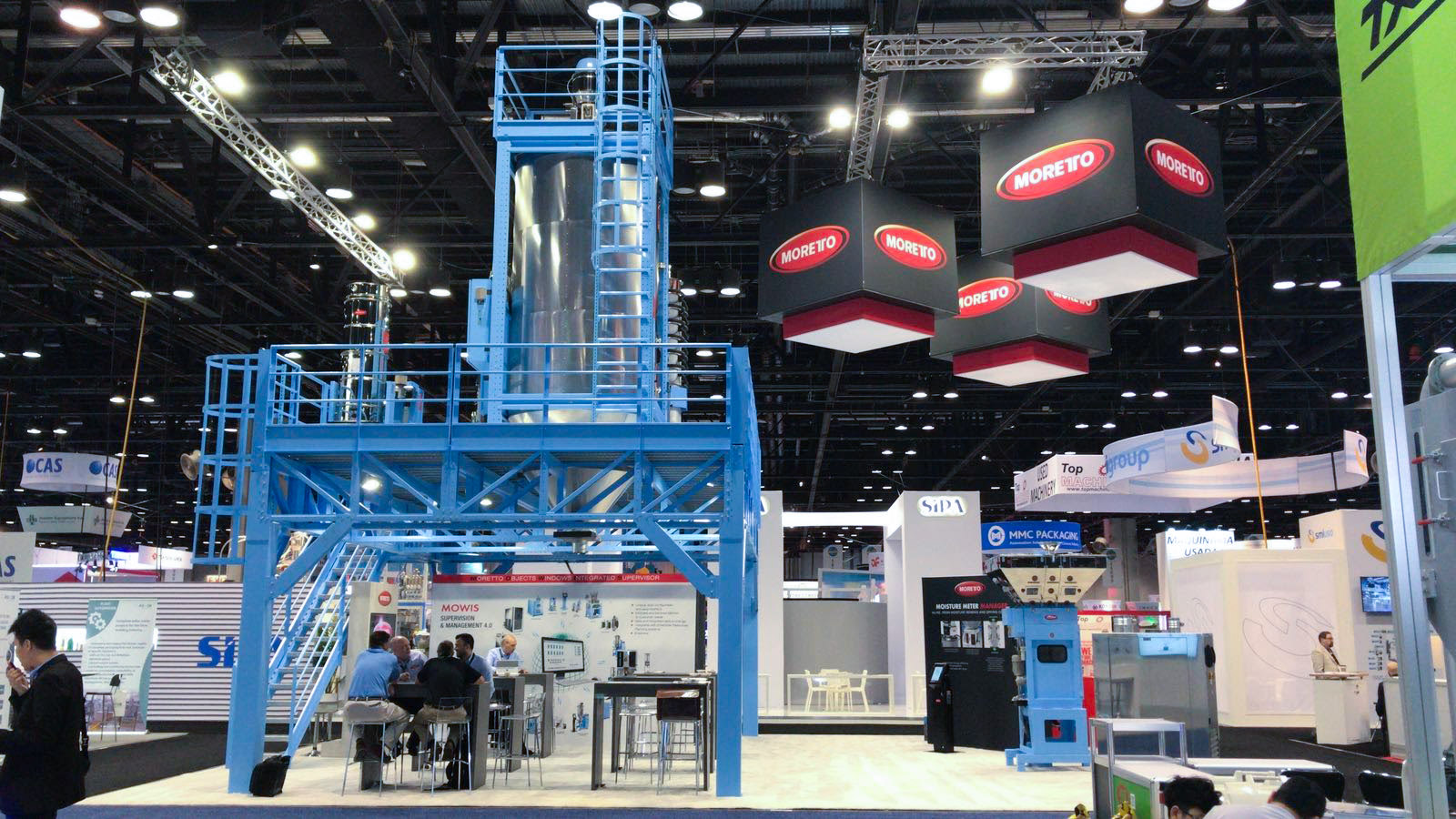 News
Get in Touch
Moretto S.p.A.
info@moretto.com
www.moretto.com
Contacts
---
---
---
---
---
---
---
---
Back